NFL AM: Bits 'n Bobs
The Lions and Falcons are ready to put on a show; more head trauma drama; and another new face under center in Tennessee.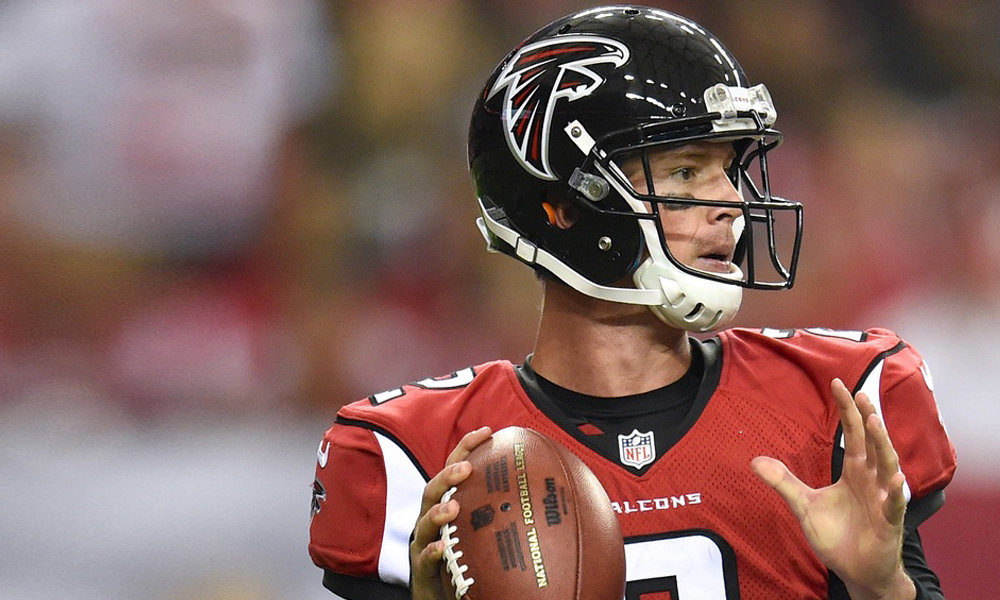 Putting on a Show Overseas
The NFL is trying to drum up interest in London, but someone should cue the league's schedule-makers into that plan. London has seen some ugly games, including Miami's 38-14 win over the Raiders earlier this season. Why the league would send two teams with one combined playoff appearance since 2002 is a mystery.
Sunday's game between the Lions and Falcons should be easier on the eyes. The Falcons, despite an underwhelming 2-5 record, come in with the league's No. 6 offense. Matt Ryan is racking up the yards (fourth in the league with 296.9 yards per game) and Julio Jones is authoring big plays on a weekly basis (14 receptions of 20-plus yards).
Ryan and Jones will be challenged by a dominant Lions defense that is allowing less than 300 yards per game, the only defense in the league able to make that claim. Detroit will need another big game from its defense, as the Lions offense is expected to be without Calvin Johnson (ankle) and Reggie Bush (ankle).
""I played there one time before in 2007, the first game, and it was a great experience," Falcons DE Osi Umenyiora said. "We're expecting a great turnout and we're expecting a great game."
This game has intriguing matchups on both sides of ball and plenty of star power, even without Megatron. Finally, a contest the Brits can sink their teeth into (insert your own joke about Brits and their teeth here).
Chargers Confirm Addae's Concussion
San Diego coach Mike McCoy confirmed on Friday that safety Jahleel Addae suffered a concussion in Thursday's loss to the Broncos. The concussion apparently came on the first place of the game, when Addae immediately fell to the ground after a big collision. Later in the third quarter, cameras caught Addae convulsing while on his feet.
Addae said after the game that he had passed the NFL's concussion test. It was an eerily familiar situation for Chargers fans, who saw Pro Bowl guard Kris Dielman's career end after concussion left him staggering on the field in 2011.
"I understand the concern," McCoy said. "But there are a number of people that are out there that are doing their job and looking at all those things and evaluating players on the sideline. Same as every game for every team. There's a ton of people there evaluating that."
San Diego's handling of Addae's concussion with surely be reviewed by the league office, especially since it took place in front of a national audience.
McCoy, who is always tight-lipped when it comes to talking about injuries, refused to give any indication as to whether Addae will be available when the Chargers face the Dolphins in Week 9. Running back Donald Brown, as a point of comparison, suffered a concussion in Week 5 and has not seen action since.
Tennessee QB Carousel Spins Again
The Zach Mettenberger era begins on Sunday as the Titans host their division rivals, the Texans. For Ken Whisenhunt's sake, it better be a good one.
The Titans hired Whisenhunt hoping he could fix Jake Locker the same way he fixed Philip Rivers the year before in San Diego. It didn't work and now Locker, the eighth-overall pick in 2011, will back up Mettenberger, a rookie sixth-round pick. Charlie Whitehurst, who Whisenhunt hand-picked to be his backup after working with him in San Diego, falls to No. 3 on the depth chart.
This has been the knock on Whisenhunt, that when he has a franchise quarterback he looks great (Rivers, Kurt Warner) but when he doesn't he is indecisive and his teams struggle. The situation in Tennessee is starting to resemble the mess Whisenhunt left in Arizona a couple years back, when he started four different signal-callers during his final season in the desert (John Skelton, Kevin Kolb, Ryan Lindley and Brian Hoyer).
Whisenhunt insists his new team is ready to ride with Mettenberger.
"We are going with Zach and we're going to stay with Zach," he said.
The Titans have scored less than 20 points in five of seven games and have lost five of their last six. You have to wonder if Whisenhunt regrets passing on Detroit's head-coaching job yet, as the Lions (5-2) look much closer to contending than the Titans. Plus, if Whisenhunt had taken the Lions job, he could be eating fish and chips right now.
Buccaneers admit mistake, boot Aguayo
In the NFL, it's always better to admit a mistake than to compound it. For the Buccaneers, the decision to burn a 2016 second-round pick on kicker Robert Aguayo has proven to be a mistake. The Buccaneers made the definitive admission of their error on Saturday, cutting Aguayo. He exits with $428,000 in fully-guaranteed salary [
more
]
Source: Mike Florio of ProFootballTalk
Powered by WPeMatico
Did Bucs put too much pressure on Aguayo?
After the Buccaneers surprised everyone by taking a kicker with the 59th overall pick in the draft, G.M. Jason Licht explained the move by heaping superlatives on the player. "I was very excited along with my staff and coaches about Roberto for a very long time," Licht told PFT Live in May 2016. "It's not [
more
]
Source: Mike Florio of ProFootballTalk
Powered by WPeMatico
Broncos holding their breath on Derek Wolfe
Only two days after losing Billy Winn for the year with a torn ACL, the Broncos are now sweating out another potentially serious injury along the defensive line. Via multiple reports, Broncos defensive lineman Derek Wolfe was carted off the field during practice on Saturday. It's being described as a right ankle injury by coach [
more
]
Source: Mike Florio of ProFootballTalk
Powered by WPeMatico