NFL AM: Best Thanksgiving Football Ever
Great story lines abound as there are three games with playoff implications.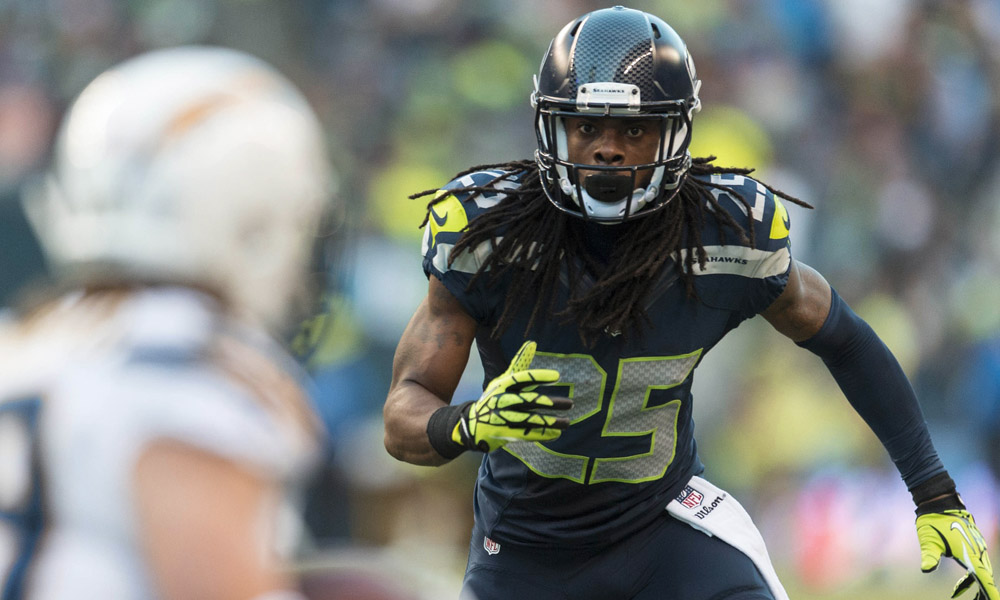 Whereas Thanksgiving Day football has usually been more bark than bite, today's slate of games has real intrigue as each of the three has real playoff implications.
Bears vs. Lions
Although the Bears won't be playing any football in January, they have an opportunity to embrace the role of spoiler against their division rivals.
Lions' head coach Jim Caldwell has helped take the offense out of the Motor City as the team is scoring just 17.9 points per game, good for 28th in the NFL. Detroit is the only team in the Bottom 10 in scoring that has a winning record as they come in at 7-4.
Both Caldwell and first-year offensive coordinator Joe Lombardi have come under fire for the team's lack of firepower.
"You kind of over-plan and have more offense than maybe what you need," Lombardi explained. "There's just kind of some, hey, being prepared for different situations. So it's just being a little bit more precise during the week and maybe having a little less insecurity as a coach. Sometimes you're like, 'Hey, I want all these plays in case,' and we don't need them."
This game features a pair of ultra-talented but overrated gunslingers at quarterback, as there are great similarities between the Bears' Jay Cutler and the Lions' Matt Stafford.
Although Cutler is having a solid year statistically, he bears the much of the blame for Chicago's 5-6 record as his whiny demeanor has once again come into question.
"Jay's got to play better," Bears' head coach Marc Trestman said. "He's got to play better, but he can't do it alone. He's got to play better just like the rest of us do."
Despite having a plethora of weapons at his disposal, Matt Stafford is completing less than 60 percent of his throws with just 13 touchdowns and 10 interceptions.
"He gets a lot of scrutiny and a lot of criticism, but I can tell you he's growing, he's developing, he's getting better, and I think we're going to see that a bit more often here in the future," Jim Caldwell said of his quarterback.
There's no denying Jay Cutler and Matt Stafford's immense talent, but with a combined 15 seasons of NFL service they've collective won just one playoff game. That's with spending most of their careers with the best wide receivers in football. At this point it's safe to assume that Cutler and Stafford are what they are, quarterbacks with great tools that can't get you where you need to be.
Eagles vs. Cowboys
The sandwich game of Turkey Day features a first-place battle between the Philadelphia Eagles and Dallas Cowboys. Both team's are led by their dynamic offenses and playing on a short week you'd think that there would be less of a coaching advantage for Philadelphia.
"One thing we don't worry about is what we don't control and we don't have any control over the schedule," Eagles' head coach Chip Kelly said. "We've got a plan in place. We got our plan in last night as a staff before we went to bed. Players were here this morning, excited about the opportunity; we've got a big game. It's a division game. And then both teams have the same amount of time, so it's not like anybody has an advantage over it."
Dallas has rebuilt their team based on great offensive line play which has opened up holes for running back DeMarco Murray, who is lapping the field in terms of rushing yards. Murray is on pace for nearly 2,000 yards this season and leads the NFL in rushing by more than 400 yards over the next-highest rusher (Le'Veon Bell).
"I think it's vastly improved," Kelly said of the Cowboys' offensive line. "They do a really good job. They've got [G] Zack Martin there: first‑round draft pick, who has really fit in. I think their center [Travis Frederick] who they picked a year ago, he's in his second season, so there's a little bit of continuity. Obviously, they've got [T Tyron] Smith at tackle who is outstanding.
"I think one of their strengths right now up front is what they're doing up front."
Quarterback Mark Sanchez has taken over for Nick Foles and he is making the most of what could be his last chance at proving that he can be a legitimate NFL starter. The Eagles have won three of the four games he's played in and they've averaged nearly 35 points per game.
"I thought Mark did a good job," Chip Kelly said after the Titans' 43-24 victory over the Titans on Sunday. "There were probably two or three throws he wants back: stepped up in the pocket on the one interception that sailed on him, just didn't get a chance to set his feet from a fundamental standpoint, but distributed the ball really well. We ended up ‑‑ when you finish the day, we had 30 completions and spread the ball around really well. I thought, for the most part, he was accurate, but there's a couple throws from a fundamental standpoint, setting his feet, getting his base set, getting his eyes in the right direction, that he needs to improve upon, but I thought he did a good job."
With a win today, Philadelphia can certainly take a giant step forward in winning their second straight NFC East title as they would have a one-game advantage over Dallas, with four games to play. The Eagles close with home games against Seattle and Dallas, while finishing with road games against 3-8 Washington and the 3-8 New York Giants. The Cowboys finish by playing three of their final four games on the road, traveling to Chicago, Philadelphia and Washington, with a home game against AFC South leading Indianapolis sandwiched in.
Seahawks vs. 49ers
This Thursday night's Seahawks-49ers game isn't necessarily an elimination game, but it's close to that. With both teams coming in with identical 7-4 records, there is very little room for error as they both trail NFC West leading Arizona by two games.
"If we're good enough to be in, we'll know," Harbaugh said of the playoffs. "We'll know soon enough."
The always optimistic Pete Carroll is excited about the finishing stretch of games for his team.
"This season is just beginning, with all of the games that we'll be playing here in the next month and a half," Seattle Coach Pete Carroll said.
Carroll's team has their work cut out for them if they're going to have a chance to repeat as Super Bowl champs. Including tonight's clash in San Francisco, Seattle has to go on the road for three games, all against winning teams (Philadelphia and Arizona). Their home games are against these same 49ers as well as a St. Louis Rams team that beat them earlier this year.
"All throughout the season, you always have these opportunities to go one way or another, and to grow, hopefully, in the right direction," Carroll said. "We made a real nice shift and took a nice step forward to getting to where we want to get."
Aside from the home-and-home against Seattle, San Francisco closes with games at Oakland and then they finish with San Diego and Arizona at home. The 49ers will likely be favored in four of their five remaining dates.
San Francisco was 7-4 at this point last year as they were on their way to a 12-4 season with their third-straight NFC title game appearance.
"We're in the same spot we were last year, something we're very familiar with," San Francisco quarterback Colin Kaepernick said. "We just have teams that are in other positions now."
The Seahawks-49ers rivalry is currently the best in the NFL and having it featured on national television when most of the world is watching is a wonderful finish to one of the greatest holidays of the year.
Meaningless predictions:
Lions 21, Bears 20
Eagles 31, Cowboys 24
49ers 17, Seahawks 13.
Buccaneers admit mistake, boot Aguayo
In the NFL, it's always better to admit a mistake than to compound it. For the Buccaneers, the decision to burn a 2016 second-round pick on kicker Robert Aguayo has proven to be a mistake. The Buccaneers made the definitive admission of their error on Saturday, cutting Aguayo. He exits with $428,000 in fully-guaranteed salary [
more
]
Source: Mike Florio of ProFootballTalk
Powered by WPeMatico
Did Bucs put too much pressure on Aguayo?
After the Buccaneers surprised everyone by taking a kicker with the 59th overall pick in the draft, G.M. Jason Licht explained the move by heaping superlatives on the player. "I was very excited along with my staff and coaches about Roberto for a very long time," Licht told PFT Live in May 2016. "It's not [
more
]
Source: Mike Florio of ProFootballTalk
Powered by WPeMatico
Broncos holding their breath on Derek Wolfe
Only two days after losing Billy Winn for the year with a torn ACL, the Broncos are now sweating out another potentially serious injury along the defensive line. Via multiple reports, Broncos defensive lineman Derek Wolfe was carted off the field during practice on Saturday. It's being described as a right ankle injury by coach [
more
]
Source: Mike Florio of ProFootballTalk
Powered by WPeMatico