NFL AM: Backup Quarterbacks Steal Week 17 Spotlight
Backups QBs Chase Daniel, Connor Shaw and Ryan Lindley get surprising starting nods with playoff spots up for grabs.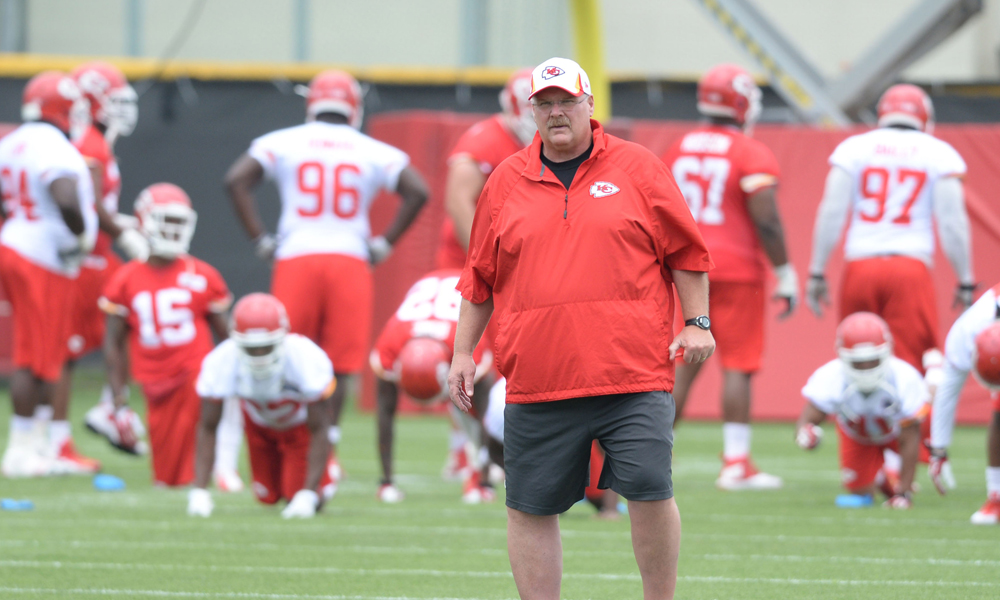 Smith Sits with Lacerated Spleen
Kansas City quarterback Alex Smith will miss this week's showdown against the Chargers, a game that will determine which team claims the AFC's sixth and final playoff opening, due to a lacerated spleen. The injury was discovered after Thursday's practice, giving backup Chase Daniel just one day to practice with the starters ahead of the divisional rematch.
The stakes for the game are extremely high. If the Chargers win, they make the playoffs for a second consecutive season. If San Diego loses, it opens the door for the Ravens (home versus the Browns) to get back into the tournament. The Chiefs and Texans are still alive, as well, although they both need at least three outcomes to fall their way to sneak into the dance.
The Chargers appear to have caught a break in getting the Chiefs sans Smith, but things are never as easy as they seem. The Ravens would be in the driver's seat right now instead of the Chargers had they beaten the Texans last week, when Houston was led by third-string quarterback Case Keenum.
The Chargers will not take Daniel lightly. His lone career start came in last season's finale in San Diego, which was also a win-and-in game for the Chargers. Daniel threw for 200 yards and a score; rushed for 56 yards more; and directed a last-minute drive that should have won the game for Kansas City (Ryan Succop missed a 39-yard field goal before the Chargers rallied to win in overtime).
"Having faced him last year at this time, we have to respect what type of player he is and the success he's had in his career," said Chargers coach Mike McCoy of Daniel. "We still have to go out and play our best game."
The Chargers, of course, will be hard-pressed to feel bad for another team dealing with injuries. San Diego will be without starting RB Ryan Mathews (ankle) and No. 1 receiver Keenan Allen (doubtful with a shoulder injury). San Diego will also have two first-time starters on the offensive line. Trevor Robinson replaces Chris Watt (ankle), making Robinson the fifth man to start at center for the Chargers this season, and Jeremiah Sirles takes over for RG Johnnie Troutman, who went on injured-reserve this week with a knee injury.
Shaw-shank Redemption
Cleveland coach Mike Pettine confirmed undrafted rookie Connor Shaw will start Sunday's season finale in Baltimore. Shaw is pressed into duty by a hamstring injury that sent Johnny Manziel to injured-reserve and a shoulder injury that has kept Brian Hoyer off the field.
This will be the second straight week the Ravens will face a third-string quarterback; they need to do better against the Browns than they did against the Texans to keep their playoff hopes alive.
"Obviously we're disappointed with how we played last week," said Baltimore offensive coordinator Gary Kubiak. "We have to play better than that."
For the Browns, Shaw represents their 22nd starting quarterback in the last 16 years. This also marks the third consecutive season Cleveland will trot out a third-string quarterback for the season finale.
Shaw is a tough quarterback who put up outstanding numbers in college. He also is fairly mobile, so the offense should not have to change much with Manziel unavailable. That being said, the Browns are tempering expectations for Shaw's first start as Cleveland (7-8) looks to avoid a losing season for the first time since 2007.
"You're starting an undrafted rookie quarterback — I don't think we're going to look to go down there and win one, 41-38," Pettine said. "We need to be along the lines of 3-2."
Stanton Suffers a Setback
Drew Stanton has been unable to shake the swelling that has plagued his knee since he was hurt in a win over the Rams a couple weeks ago. As a result, he had his right knee scoped on Wednesday and was put on antibiotics for a possible infection as the Cardinals do everything in their power to get him back for the postseason.
In the meanwhile, coach Bruce Arians confirmed Ryan Lindley will start a second consecutive game, a reversal of his announcement earlier in the week that rookie Logan Thomas would start against the 49ers. Arizona still has a shot to win the NFC West and secure a first-round bye with a win in San Francisco and a Seattle loss to St. Louis.
"I was hoping [Logan] would be able to handle it, but it's not the time right now," Arians said.
Thomas must have been spectacularly awful in practice to prompt Arians to go back to Lindley, who holds the record for most pass attempts to start a career without a touchdown pass (225 and counting). Arians has gone to great lengths to defend Lindley, a former sixth-round pick who spent the bulk of the season on San Diego's practice squad, but it doesn't take a coach's eye to see Lindley's work under center has not been pretty.
It has gotten to the point where Arians is challenging his defense and running game to carry more of the load, rather than demanding more out of the underperforming quarterback position. After all, you can't get blood from a turnip.
"If your defense shuts the other team out, you're not going to lose," Arians said. "That doesn't have a thing to do with the quarterback. Simple. Hopefully, we'll scratch out some more points and win the game."
Arians has been emphatic that his team will run the ball more this week; that his wide receivers will secure more contested passes; and that his defense will not break as it did in the fourth quarter against Seattle. He also stands by his assessment that Stanton will be back under center when the playoffs begin, despite his latest operation, claiming, "He is on schedule for next week."
If that last statement is not accurate, nothing that came before it will matter in the slightest.
Want to talk more about these and other headlines? Join Michael Lombardo for his weekly NFL Chat on Friday at 2pm EST. But you don't have to wait until then … ask your question now!
Buccaneers admit mistake, boot Aguayo
In the NFL, it's always better to admit a mistake than to compound it. For the Buccaneers, the decision to burn a 2016 second-round pick on kicker Robert Aguayo has proven to be a mistake. The Buccaneers made the definitive admission of their error on Saturday, cutting Aguayo. He exits with $428,000 in fully-guaranteed salary [
more
]
Source: Mike Florio of ProFootballTalk
Powered by WPeMatico
Did Bucs put too much pressure on Aguayo?
After the Buccaneers surprised everyone by taking a kicker with the 59th overall pick in the draft, G.M. Jason Licht explained the move by heaping superlatives on the player. "I was very excited along with my staff and coaches about Roberto for a very long time," Licht told PFT Live in May 2016. "It's not [
more
]
Source: Mike Florio of ProFootballTalk
Powered by WPeMatico
Broncos holding their breath on Derek Wolfe
Only two days after losing Billy Winn for the year with a torn ACL, the Broncos are now sweating out another potentially serious injury along the defensive line. Via multiple reports, Broncos defensive lineman Derek Wolfe was carted off the field during practice on Saturday. It's being described as a right ankle injury by coach [
more
]
Source: Mike Florio of ProFootballTalk
Powered by WPeMatico