NFL AM: Arizona Cardinals Still Upset
The Cardinals are still upset, the Falcons aren't utilizing their weaponry and the Lions hope their kicking woes are over.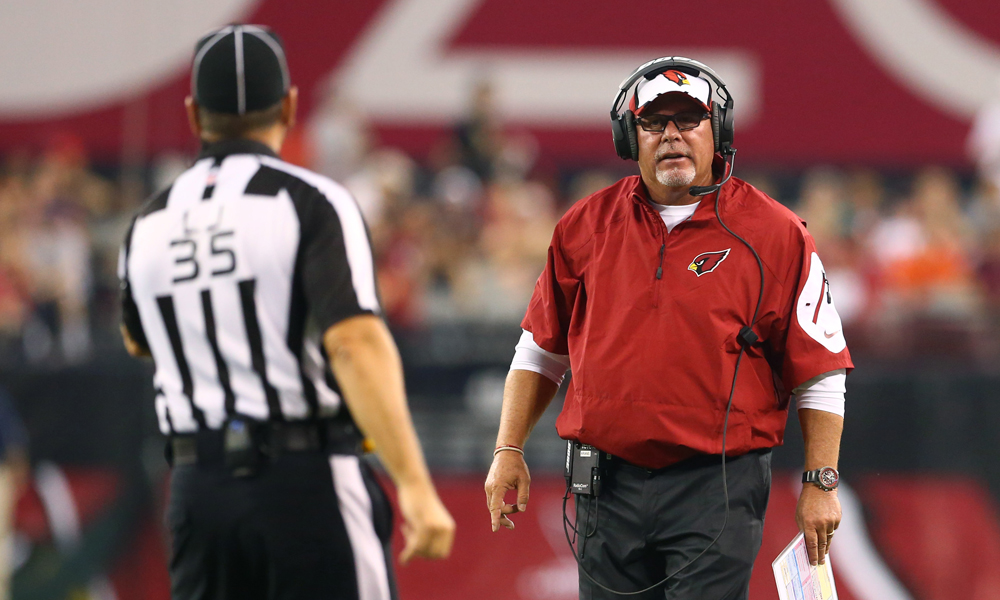 Cards Still Angry Over Thomas' Illegal Block
During the third quarter of Sunday's 41-20 Denver Broncos victory over the Arizona Cardinals, Broncos tight end Julius Thomas took part in a chop block that injured Cardinals defensive end Calais Campbell, leading to an MCL sprain that will keep him out for at least a month.
After the game, Cardinals head coach Bruce Arians had some strong words about the block.
"It was the dirtiest hit I have seen in 37 years of coaching football," Arians said. "They'll fine the guy but what do we get? We lost our guy."
Calais Cambell weighed in with a statement on the Cardinals official website.
"I feel like if my foot had got stuck in the ground, it could have been a lot worse," Campbell said. "It's ended careers before. If my foot was stuck in the ground it could have put me out for a couple of years and this game is not about that kind of stuff. It's not about getting injured.
"You want the best players on the field so we can perform, and play the game we love at a high level for the fans who pay their hard-earned money to watch. It kind of sucks I get taken off the field and have to miss a couple weeks on a play that could have been easily avoided. If I get chipped on that play, he still does a good job limiting my ability to rush the passer. We come back the next play and compete again."
Campbell has been a huge key to the Cardinals' success on defense, as he's one of the best in the game at holding the point of attack in Arizona's 3-4 defense.
Veteran Tommy Kelly and rookie Kareem Martin are expected to fill in for the seventh-year veteran from the University of Miami.
Groundhog's Day?
Although not every week of the NFL season is the same, we've noticed some trends – both positive and negative – through the first five weeks of the season.
The Atlanta Falcons have several high-profile stars on their offense such as quarterback Matt Ryan, wide receiver Julio Jones (who may be the very best at his position in the game), and the unofficial Mayor of Atlanta wide receiver Roddy White. Lost in the shuffle is reserve running back Antone Smith.
Antone Smith is explosive; a really incendiary type of explosive. Smith had just four touches in Sunday's 30-20 loss to the New York Giants but one of those touches went for a 74-yard touchdown. This is becoming quite a trend for Smith and the Falcons as he has a 48-yard touchdown, a 38-yard touchdown and a 54-yard touchdown in the first five weeks of the season.
"We need to have more plays designed for Antone Smith," Falcons coach Mike Smith said. "When he touches the ball, he makes plays. He did another fine job. We caught them in Cover Zero and it was a great throw by Matt (Ryan), getting the ball out of hands. And in zero, there is no defensive depth, and he just outran everybody.
"I know everybody likes Antone. We like Antone a whole lot as well. We have to make sure that we get our playmakers the ball."
What's difficult to comprehend is that Smith is averaging 11 yards per carry on the season and 26 yards per reception, yet only has 11 carries and six receptions on the season. Of course with more touches those incredible averages would likely come down, but it's reasonable to assume that the number of big plays would increase.
Another Groundhog's Day moment came in the second quarter of the Tennessee Titans' crushing loss to the Cleveland Browns when Jake Locker went down with an injured thumb. He left the game and backup Charlie Whitehurst and the defense assisted Cleveland to come back from 25 points down to win, the biggest come from behind victory on the road in NFL history.
"It's something that's out of my control," Locker told the team website. "I just gotta keep working."
Locker can't seem to catch a break as he missed Tennessee's Week 4 loss to Indianapolis, and has been on and off injury reports for his entire career. Locker is currently listed as questionable for the Titans' Week 6 game at home against the winless Jacksonville Jaguars.
In the world of the absurdly strange, Rashean Mathis scores touchdowns when the Jacksonville Jaguars play the Pittsburgh Steelers. Mathis scored his first NFL touchdown in 2005 as he picked off a Tommy Maddox pass and took it to the house in overtime to give the Jaguars a 23-17 victory against the Steelers.
In a 2008 playoff game, Mathis picked off Ben Roethlisberger twice and took one of those back 63 yards to paydirt. The following season, Mathis snagged another Roethlisberger pass and raced down the sidelines 72 yards to the house in a 26-21 Jacksonville loss against Pittsburgh.
Mathis is no longer a member of the Jaguars, but still brought back some good memories for Jaguars fans as he snatched a Kyle Orton pass on Sunday and brought it back 41 yards for a Lions touchdown in their 17-14 loss against Buffalo.
Although Mathis didn't get his fourth pick-six against the Steelers, the Jaguars were playing the Steelers when Mathis scored his touchdown.
Lions Move On From Henery, Sign Prater
The acronym NFL sometimes stands for "Not For Long" when it comes to kickers. The Detroit Lions ended the Alex Henery experiment after just two games as he missed all three of his field goal attempts in the Lions' 17-14 defeat to the Buffalo Bills. Henery was on shaky ground entering the game as he missed one of his two field goals in the Lions' 24-17 victory over the New York Jets the preceding week.
"We got to find a performer, that's basically what we have to get done in that area," Lions head coach Jim Caldwell said. "We've got to get a guy who's consistent under pressure and be able to put us points on the board. In this league there's going to be close games, guys in that position's going to decide a number of games and we've got to make certain we get the right guy for us."
Henery is a former Philadelphia Eagles fourth-round pick, who was with the team for three seasons before being let go after the 2013 season after making 23 of his 28 field goal attempts and just eight of 12 kicks over 40 yards.
The team had auditioned veterans Matt Prater, Jay Feeley and Connor Barth in a winner-take-all kicking death match, and the team decided to sign the strong-legged Prater, according to ESPN.
Prater was released from Denver last week prior to finishing his four-game suspension for violating the league's substance-abuse policy.
Buccaneers admit mistake, boot Aguayo
In the NFL, it's always better to admit a mistake than to compound it. For the Buccaneers, the decision to burn a 2016 second-round pick on kicker Robert Aguayo has proven to be a mistake. The Buccaneers made the definitive admission of their error on Saturday, cutting Aguayo. He exits with $428,000 in fully-guaranteed salary [
more
]
Source: Mike Florio of ProFootballTalk
Powered by WPeMatico
Did Bucs put too much pressure on Aguayo?
After the Buccaneers surprised everyone by taking a kicker with the 59th overall pick in the draft, G.M. Jason Licht explained the move by heaping superlatives on the player. "I was very excited along with my staff and coaches about Roberto for a very long time," Licht told PFT Live in May 2016. "It's not [
more
]
Source: Mike Florio of ProFootballTalk
Powered by WPeMatico
Broncos holding their breath on Derek Wolfe
Only two days after losing Billy Winn for the year with a torn ACL, the Broncos are now sweating out another potentially serious injury along the defensive line. Via multiple reports, Broncos defensive lineman Derek Wolfe was carted off the field during practice on Saturday. It's being described as a right ankle injury by coach [
more
]
Source: Mike Florio of ProFootballTalk
Powered by WPeMatico