NFL AM: A Monday Night Football Bonus
The Jets and Bills were moved to a fast track, Denard Robinson steps up and Jonas Gray sleeps in.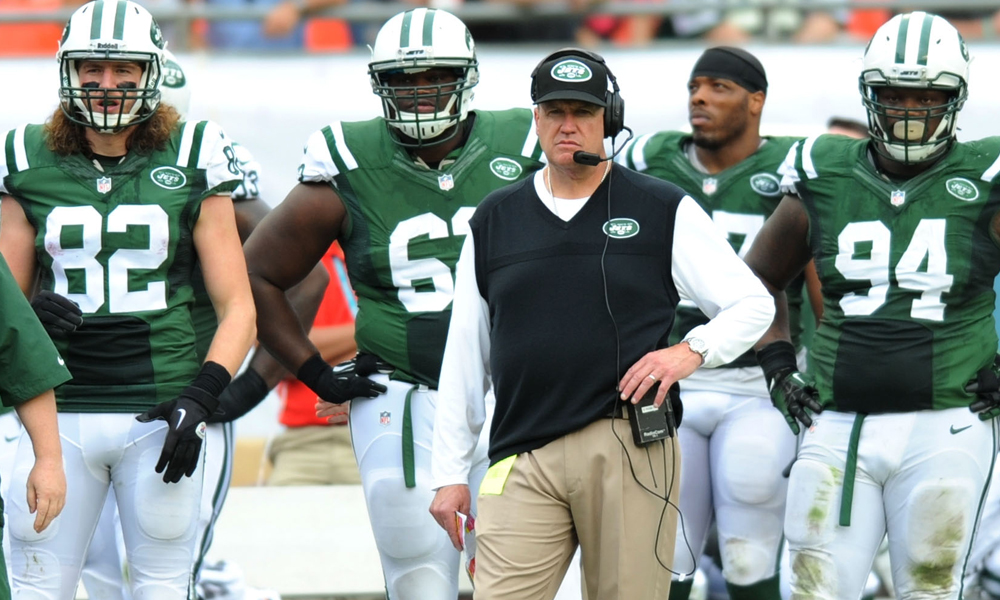 Jets-Bills Moved To Monday Night
With the deadline snowstorm that hit Buffalo this week, Sunday afternoon's game between the New York Jets and Buffalo Bills has been moved to Monday night at 7 PM Eastern, in Detroit.
"I'm sure the priority was to play the game in Buffalo, but obviously we've seen the unbelievable pictures," Jets' head coach Rex Ryan said. "That's clearly the thing, that it's about the people of Buffalo and the fans and all that. But you know that the league never wanted to move the game, there's no way. So, obviously, the conditions have to be just incredible. You hope everybody's safe. I think that's the main thing. And when they did decide to move the game, hey, we just go and we know we're in a different stadium and all that, but quite honestly I think as a fan of football, I would have liked to have gone to Buffalo. I appreciate their fans and all that, but, obviously, that's not the case. Is there an advantage to us? I'm sure it's going to be an easier venue for us to play in than Buffalo. Buffalo's a tough place to play, so I'm happy in that regard, but (as) a fan of football, I would have liked to have gone to Buffalo."
The Buffalo Bills, currently an outsider in the playoff race at 5-5 will now have one less home game giving them yet another disadvantage as they try to end the league's longest playoff drought (since 1999).
"There's never a silver lining when you aren't playing a game at home," Bills head coach Doug Marrone said prior to his team's Friday departure to Detroit. "It is what is it. We're not going to make any excuses. We're going to get ourselves best prepared to play a game."
Although Buffalo has had some extra rest in terms of playing last week's game in Miami on Thursday and not practicing until Friday evening, they could find themselves unprepared on Monday to take on a Jets' team that won their last game.
"You just kind of feel like you're not on the regular routine," Bills running back Boobie Dixon said on Friday. "You just kind of feel like you aren't doing something right. You can definitely feel it. Like I said, we've been huddling together at each other cribs close by and just been talking and vibing and trying to stay on the same page. We're on a mission and we just can't let this snow throw us off."
The Bills still have road trips to Denver and New England remaining on their schedule, along with a home game against red-hot Aaron Rodgers and the Green Bay Packers. To put it in no uncertain terms, Monday's game against the 2-8 New York Jets is a must win if the Bills are going to have any hopes for earning a wildcard berth.
Robinson Turning Into A Bell Cow
With a 1-9 record through 10 games and the league's lowest scoring offense, the Jacksonville Jaguars haven't had much to cheer about in 2014. The most pleasant surprise on the offensive side of the ball has been the emergence of running back Denard Robinson.
Although Robinson was clearly the team's most productive back in preseason, head coach Gus Bradley and offensive coordinator Jedd Fisch were hesitant to give him carries in regular season games, due mainly to his smaller-than-prototypical size and his lack of experience.
Four games ago with Toby Gerhart hurt and both Jordan Todman and Storm Johnson ineffective, Denard Robinson received his chance and won himself a starting job after gaining 127 yards on 22 carries in a 24-6 victory over Cleveland.
"The last time I carried the ball 20 times I was in college," said Robinson, a star quarterback at Michigan. "It's a great feeling. We knew it was coming. We've just got to stack them and up and get back to work."
Since being thrust into the starting role, Robinson has gained 389 yards in four games and is averaging 4.8 yards per carry for the season. His four rushing touchdowns lead all Jaguars running backs. Robinson has even impressed in pass protection, as Pro Football Focus had him ranked fourth in the NFL for his protection in the team's 31-17 loss to Dallas.
"For Denard you've got to give him all the credit, and the coaching staff, for his development," Jaguars' general manager Dave Caldwell said. "He had a mindset. He met with Coach Bradley at the end of the year and asked him what he needed to do and Coach Bradley laid it out for him. Over the offseason he got serious about football, gained about twenty pounds, maintained his weight and he's just going to continue to get better. I think there's even a higher ceiling for him than where he's at now. He too will have some adversity along the way but he's just three games into it with being our feature back and we'll continue to see how he grows."
A player whose position was classified as "OW" for offensive weapon has found a real position and a fantasy position, RB1.
Silent Alarm Causes Red Flags In New England
New England Patriots' running back Jonas Gray was the feelgood story of last weekend. Gray bounced around after going undrafted as he was let go from Miami before spending 2013 on the Baltimore Ravens' practice squad. After being part of the Patriots' final cuts this season, Gray inked on to the team's practice squad before getting called up prior to Sunday's game at Indianapolis.
All Gray did was gain 201 yards and score four touchdowns in the team's 42-20 victory over the Colts. Gray won himself AFC Offensive Player of the Week honors for Week 11.
And that's when the story of the former Notre Dame running back turned stand-up comedian took a negative turn.
With Gray's cell phone battery dying, he overslept and was late to Friday's practice. Just like anyone else, Gray was sent home by Patriots' head coach Bill Belichick.
Gray maintained a positive mindset on his Twitter account.
"So hype for the game this week," Gray tweeted. "Done talking just ready to play some football!
It's unclear how Gray's absence from practice will affect his playing time as the Patriots' inked former Steelers, Patriots, Buccaneers and Titans' running back Legarrette Blount after he was released by the Steelers after leaving Monday night's game early.
"That will be up to him, just like everybody else," Belichick said of Blount's potential playing time. "When he gets an opportunity, [it's] how much he can take advantage of it, how much he can be productive and what he can do with those opportunities [that] will determine how many more there are. It's totally up to him.
"We've talked about that. He knows that's the way it is, and he's excited about it."
Apparently the Patriots have one running back who shows up late, and one who leaves early. Their running game should prosper in the second and third quarters when they take on the Detroit Lions on Sunday.
Buccaneers admit mistake, boot Aguayo
In the NFL, it's always better to admit a mistake than to compound it. For the Buccaneers, the decision to burn a 2016 second-round pick on kicker Robert Aguayo has proven to be a mistake. The Buccaneers made the definitive admission of their error on Saturday, cutting Aguayo. He exits with $428,000 in fully-guaranteed salary [
more
]
Source: Mike Florio of ProFootballTalk
Powered by WPeMatico
Did Bucs put too much pressure on Aguayo?
After the Buccaneers surprised everyone by taking a kicker with the 59th overall pick in the draft, G.M. Jason Licht explained the move by heaping superlatives on the player. "I was very excited along with my staff and coaches about Roberto for a very long time," Licht told PFT Live in May 2016. "It's not [
more
]
Source: Mike Florio of ProFootballTalk
Powered by WPeMatico
Broncos holding their breath on Derek Wolfe
Only two days after losing Billy Winn for the year with a torn ACL, the Broncos are now sweating out another potentially serious injury along the defensive line. Via multiple reports, Broncos defensive lineman Derek Wolfe was carted off the field during practice on Saturday. It's being described as a right ankle injury by coach [
more
]
Source: Mike Florio of ProFootballTalk
Powered by WPeMatico