NFL 10 Big Things: Week 17
Here are 10 stories that will impact games across the NFL in Week 17.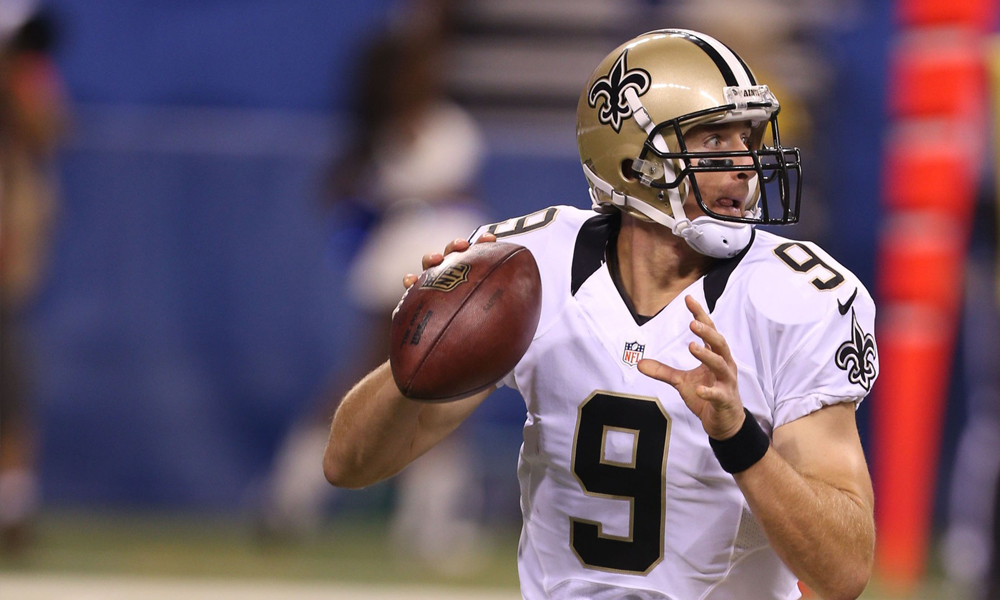 1. The Job that nobody wanted: After a season that went about as well as most Cleveland Browns fans could have hoped, it's going to end on about as anti-climactic a finish as possible. After two downright awful starts by Browns rookie quarterback Johnny Manziel, it could have been an opportunity for him to show something positive to Cleveland fans before ending his rookie campaign, but a hamstring will cause him to miss the final game. It could have been one last, "look what you'll be missing if you let me walk," for Brian Hoyer, but a shoulder injury will likely keep him out as well. The Browns reached out to Rex Grossman who turned them down, and ended up signing Tyler Thigpen, but it looks as if the team will go to rookie Connor Shaw if Hoyer can't go. It will open up a lot of fun conversations for Manziel detractors if Shaw performs better than Manziel on Sunday.
2. Lose one for the fans: It's that time of year where fans of teams towards the bottom of the standings start actually rooting for their teams to lose so that they can improve their draft position, and that sentiment couldn't be felt more strongly than it is in Tennessee and Tampa Bay where both teams' fans are hoping their team loses on Sunday. The Titans would need a loss and a Buccaneer win to end up with the top spot where the Buccaneers just need to lose one more to land the No. 1 pick in April's NFL draft. The Titans host what should be a motivated Indianapolis Colts team which is coming off of an embarrassing loss to the Dallas Cowboys, while the Buccaneers welcome in a New Orleans Saints club likely dejected by being eliminated from the playoff chase a week ago.
3. Will the Jets play for Rex Ryan? There are often two ways that an NFL club responds to knowing its head coach is likely a dead man walking. Ryan has known since before the season that the Jets had to have a really good year for him to keep his job. It's hard to remember a coach being as honest about his situation as Ryan has been during this year when it's become increasingly obvious that he was on his way out, and increasingly obvious that he knew it. For all of their lack of talent, Ryan has often gotten the Jets to play above their heads in games the team deems important, as evidenced by the way they play the Patriots just about every time out. Despite the fact that the Jets were terrible this year, Ryan had them ready to play, and almost beat the Patriots during both meetings. It will be interesting to see if the Jets come out on fire to try and send a message about their departing head coach.
4. Welcome back, Jay: Well the benching of Chicago Bears quarterback Jay Cutler didn't last very long after Jimmy Clausen suffered a concussion on a helmet to helmet shot by Detroit Lions defensive end Ziggy Ansah, which many Bears players considered dirty. The benching of Cutler was bizarre from the start. Regardless of how he was playing, the Bears really can't move on. Cutler has over $15 million guaranteed in his contract next season, and it's hard to imagine another team wanting to take that contract off of the Bears hands. If this were baseball the Bears would trade him to another team and probably pay a chunk of his contract next season, but unfortunately for Chicago, this is the NFL. Whether they like it or not, it's unlikely anyone but Cutler starts the year under center for the Bears next season unless they want to pay their back up over 15 million in 2014.
5. Odell Beckham Jr hopes to cap monster year with another record: Odell Beckham Jr has piled up 79 receptions in his first 11 games. That's more receptions in the first 11 games of his career than any receiver in the history of football. When Beckham made what many call the best catch they'd ever seen back in Week 7, it looked as if the Giants had found themselves and exciting young player with a knack for making unbelievable catches. What wasn't yet clear was that Beckham would prove to already be one of the best receivers in the game before seasons end. While that play was amazing, what might be even more impressive than that singular play, is the fact that Beckham has continued to make difficult catches look ridiculously easy. Beckham's start hasn't just been better than his fellow rookies this season, it's been better than everyone, ever. This Sunday Beckham could finish his rookie season with another astounding feat. If Beckham can pick up 90 yards receiving, he'd do so for the ninth straight time, tying the NFL record held by Dallas Cowboys Hall of Fame receiver Michael Irvin. When you consider that Irvin set that record as part of a Super Bowl championship team, with a great offensive line, and that Beckham could possibly tie that record as part of a below average Giants team with a below average offensive line.
6. Could the end be near for Drew Brees? When rumors started to circulate that the New Orleans Saints might be considering whether or not it's time to start looking for Brees' successor, it was met with some raised eye brows and skeptical replies. We're talking about a guy who's likely a first ballot Hall of Fame inductee, and those guys often get to go out on their own terms. Brees is two years younger than Tom Brady, and three years younger than Peyton Manning, but Brees' play looked to be on decline this season while Brady and Manning are both MVP candidates again. It's hard to imagine anyone but Brees in the position next year, but it suddenly won't be a huge surprise if the Saints were to draft a quarterback early.
7. The get to embarrass yourself at home in the playoffs bowl: Every year there are more and more ridiculously named college bowl games, so let's give the NFL one of their own for Christmas. The Atlanta Falcons and Carolina Panthers have both convinced themselves they could be the team of crappy destiny that actually finds a way to win a Super Bowl after sneaking into the playoffs with a losing record, but we all know that isn't happening. So, while the Falcons and Panthers both want to win the game and the NFC South on Sunday, the question has to asked. Should they really want to? When you consider that the NFC South champion is going to host a team that is likely going to wipe the floor with them, is it really worth it? Remember, the team that wins the South is going to be drafting in the 20's instead of much earlier. Sure, nobody would ever chose to lose a game in which they could win their division, but you have to admit, being embarrassed at home in the playoffs and screwing up your draft position is worse than any consolation prize being handed out to college kids at a bowl game this year!
8. Detroit Lions and Green Bay Packers battle for the North: There might not be a better game to tune into on Sunday. The once offensive heavy Lions are winning with defense this year, and Aaron Rodgers is a little banged up. The Lions took down a healthy Aaron Rodgers and the Packers in Week 3, 19-7, and it wouldn't be surprise to see a close, low scoring game this time around as well. Rodgers threw for 318 yards and a touchdown when the Packers beat the Buccaneers last week, but Rodgers was hobbled by a calf injury, and has been limited in practice this week because of it. Since exploding Week 1 against the Giants, the Lions offense has sputtered and has been inconsistent throughout the year. This Sunday it might just come down to defense once again when these teams meet for the NFC North title and a first round bye in the playoffs.
9. Can the Broncos rest Manning on the field? Peyton Manning has struggled of late and it looks as if maybe the veteran quarterback is tiring as the season winds down. While the Broncos need to win Sunday to ensure a first round bye, playing the Oakland Raiders may just give the Broncos an opportunity to rest Manning while still having him on the field. The Raiders have been much more competitive of late, winning three of their last five, but it wouldn't be a big surprise to see them get down early against the Broncos. If Denver gets up early, don't be surprised if Manning hands the ball off for most of the second half.
10. Cincinnati Bengals and Pittsburgh Steelers meet for AFC North title: It must be maddening being a Bengals or Steelers fan this season. At times, each team has looked like a team that could win a Super Bowl, and at times each of have looked unworthy of a playoff spot. Both teams have secured a playoff spot, but the division, the number three seed and a home game in the first round of the playoffs are all up for grabs when these teams get back together for the second time in four weeks. The Steelers beat the Bengals, 42-21, in Week 14, and haven't lost since, while the Bengals are coming off of a big upset victory over the Broncos Monday night. The Steelers might have won four weeks ago, but if we know anything about the AFC North, it's that we know nothing about the AFC North
Did Bucs put too much pressure on Aguayo?
After the Buccaneers surprised everyone by taking a kicker with the 59th overall pick in the draft, G.M. Jason Licht explained the move by heaping superlatives on the player. "I was very excited along with my staff and coaches about Roberto for a very long time," Licht told PFT Live in May 2016. "It's not [
more
]
Source: Mike Florio of ProFootballTalk
Powered by WPeMatico
Broncos holding their breath on Derek Wolfe
Only two days after losing Billy Winn for the year with a torn ACL, the Broncos are now sweating out another potentially serious injury along the defensive line. Via multiple reports, Broncos defensive lineman Derek Wolfe was carted off the field during practice on Saturday. It's being described as a right ankle injury by coach [
more
]
Source: Mike Florio of ProFootballTalk
Powered by WPeMatico
Buccaneers admit mistake, boot Aguayo
In the NFL, it's always better to admit a mistake than to compound it. For the Buccaneers, the decision to burn a 2016 second-round pick on kicker Robert Aguayo has proven to be a mistake. The Buccaneers made the definitive admission of their error on Saturday, cutting Aguayo. He exits with $428,000 in fully-guaranteed salary [
more
]
Source: Mike Florio of ProFootballTalk
Powered by WPeMatico