NFL 10 Big Things: Week 10
Here are 10 stories that will impact games across the NFL in Week 10.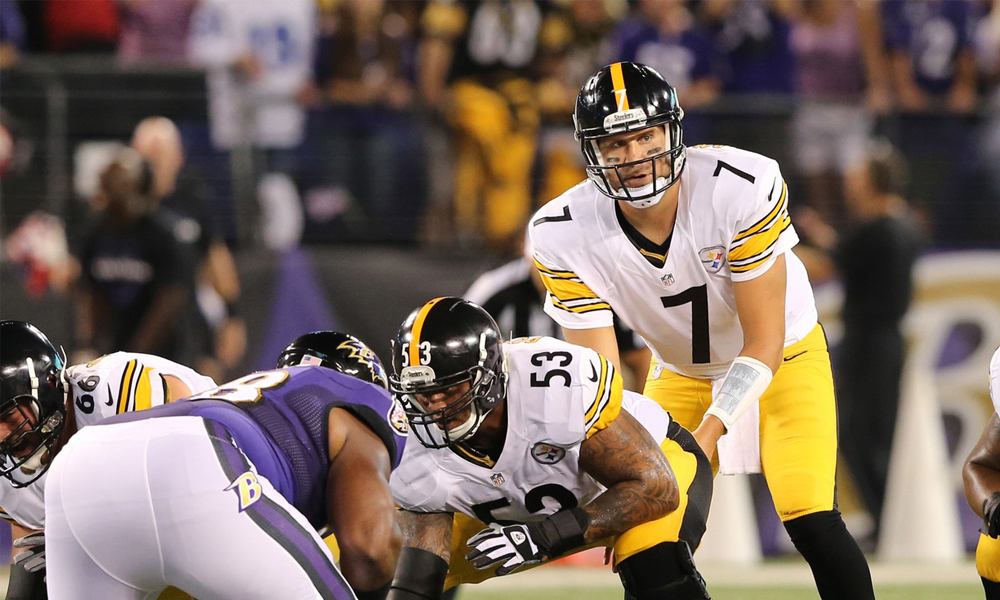 Each week, we'll give you 10 things to keep an eye on during the week's upcoming games. From one-on-one match ups to players on the mend, we'll talk about 10 things that could have an impact on your favorite team, or your fantasy team.
1. A big game for the Cleveland Browns and Cincinnati Bengals: Seriously, just think about that. A big game for the Browns and Bengals, like at the same time, during the same season! How many times do you remember both the Browns and Bengals being relevant enough to be in a big game against each other this late in the season? You almost expect Bernie Kosar and Boomer Esiason to come running out of the tunnel. With all four teams above .500, the AFC North is arguably the best division in football. Despite being in third place, the Browns would walk away from Thursday night's matchup with a piece of first place if they can take down the Bengals in Cincinnati. At 1-2 in the division, the game is huge for Cleveland who is relevant for the first time in a long time.
2. Miami Dolphins look to stay hot in Detroit: If not for the New England Patriots, the Miami Dolphins might be the hottest team in football. Miami has only lost one game in October, and it took late game heroics from Aaron Rodgers to pull off the win for the Green Bay Packers. The Dolphins new offense took some time to click, but since it has Miami looks like a team that can impose its will on opponents; something you probably didn't expect to hear about the Dolphins this season. The Dolphins will look to continue their recent success Sunday in Detroit against a Lions team coming off a bye and expecting to have Calvin Johnson back from injury. Despite the Lions injury woes taking a toll on an offense that's still trying to find its way, Jim Caldwell's group just keeps finding ways to win. Detroit is going to have to play much better Sunday though if they want to stop the red hot Dolphins.
3. The Lions health: The story of the Detroit Lions getting to 6-2 with a dominant defense while their offense struggles to find its way through injuries and inconsistency is as encouraging as it is surprising, but if the Lions are going to hold onto first place in the NFC North, they need to get healthy. Offensively, both Calvin Johnson and Reggie Bush are both practicing and expected to play, but their trio of talented tight ends, Brandin Pettigrew, Joseph Fauria, and first-round draft pick Eric Ebron have not practiced this week. In an offense that can quickly switch from a spread set to a three tight end set in consecutive plays, having all hands on deck is important. At this point, the Lions would be thrilled just to get one of their young tight ends on the field Sunday against the Dolphins. Defensively the enormous question mark is defensive tackle Nick Fairley. According to reports, Fairley's sprained knee will cause him to miss the remainder of the season, and he's been a reason for the Lions' defensive renaissance.
4. Kansas City and Buffalo meet in match-up of surprising playoff contenders: Neither the Kansas City Chiefs or the Buffalo Bills looked like they were ready to make a playoff push in 2014. While the Chiefs were a playoff team a year ago, they lost key pieces across the offensive line and on defense during the offseason, and the team looked like it would be a shell of the team that won 11 games a season ago. NFL Network's Adam Rank told Football Insiders last week that he believed the team wouldn't win more than four games this season. Expectations for the Buffalo Bills may have been even lower after the team watched second year quarterback E.J. Manuel and the offense look downright pathetic during the preseason. While the offense had weapons and the defense was strong, it seemed quarterback play was destined to sink the Bills. The Bills eventually made a switch at quarterback, going to veteran signal caller Kyle Orton, and Orton has responded. Orton is hitting on 67.4 percent of his passes and has nine touchdowns with just three interceptions. Of the AFC's surprise contenders, the Bills might be the hardest to believe in, but if they want to prove that theory wrong, the opportunity is right in front of them as three of their next four games are against other surprise contenders, the Kansas City Chiefs, Miami Dolphins and Cleveland Browns. With games against the Denver Broncos, Green Bay Packers and New England Patriots late in the year, it won't be an easy task.
5. San Francisco 49ers and New Orleans Saints meet in match-up of disappointing .500 teams: It took nine weeks, but the New Orleans Saints are finally .500. Even better news for the Saints is that, as bad as the NFC South has been this year, their 4-4 record is good enough to have them in first place. The last thing they want to do is lose the momentum of two straight wins and finding themselves in first place has provided by dropping one at home for the first time in 11 games. Before the season, nobody would have laughed if you'd have predicted an NFC title game between these two teams, and many had predicted either as Super Bowl champions, but it's unlikely that anyone predicted the teams just trying to stay afloat in the playoff race when the teams would meet in Week 10. The Niners have lost two straight for the second time this season, and can ill afford to lose a third straight this week considering they're looking up at both the Seattle Seahawks and Arizona Cardinals who both have very winnable games on Sunday. The 49ers are going to be a much better team when they get Aldon Smith, Patrick Willis and Navorro Bowman back, but the question is if it will be too late by the time that happens.
6. The Tampa Bay Buccaneers try to show pride in rematch of 56-14 loss to Atlanta Falcons: It's not that the Buccaneers are 1-7 that's bothering Buccaneers fans so much. It's the way they've lost games. It's the fact that the team doesn't look to be progressing, and everything they were promised Lovie Smith would change, hasn't. If the Buccaneers looked like a team headed in the right direction, or for that matter, any direction, Buccaneers fans wouldn't be as frustrated as they are. But it seems team has spent the season finding new and less exciting ways to lose. The worst of the Buccaneers blunders this season was a 48-17 drubbing at the hands of the Baltimore Ravens, who seemingly took it easy on the Bucs after Joe Flacco threw four first quarter touchdown passes, and a 56-14 throttling by the Atlanta Falcons, who haven't won a game since. Losing 56-14 is embarrassing enough, but losing 56-14 to a 2-6 football team that has 89 points combined over its next five losses, is almost absurd. The Buccaneers are trying anything to find a spark. More so than even a victory, Buccaneers fans just hope to see some pride out of their 1-7 football team this Sunday at Raymond James Stadium in Tampa.
7. Are the Dallas Cowboys rushing Tony Romo back for London? What the hell are the Dallas Cowboys doing, exactly? Some 12-year old playing Madden 15 probably sits Tony Romo in London, against the Jaguars, a week before a bye. Somewhere, Mike Shanahan thinks the idea of playing Romo Sunday is too risky. Honestly, there just isn't a good reason for Romo to even be in London, let alone playing in this game. The Dallas Cowboys have finally figured out that turning and handing the football to one of the league's best backs is a pretty good idea. Finally, Dallas has figured out that they needed to build their team inside out instead of wasting draft picks on flashy skill position players who would turn out useless on teams weak on the lines. Frankly, to stick a guy with Romo's injury on a plane for nine hours is a bad enough idea. They should go with Brandon Weeden, and given Romo the extra two weeks to rest. Instead, it seems the Cowboys are getting ready to make one of the most shortsighted, and possibly just dumb decisions in the history of sports. If Romo re-aggravates his injury and it bothers him for the rest of the year, and it cost the Cowboys a playoff spot, or loses the Cowboys a playoff game, it will be an absolute travesty. One has to wonder if Jerry Jones is behind this push because he doesn't want his team to look bad in front of an international crowd, but if this decision backfires, he's going to have a lot of explaining to do back in front of his fans in Dallas, because rushing him back for this game, and even just flying him out there, was an awful, awful decision.
8. Ben Roethlisberger looks to continue ridiculous hot streak: A couple weeks ago we thought that Roethlisberger's six touchdown performance against the Indianapolis Colts was a sign that the Colts defense had tricked us because they had stunk all along. Then Roethlisberger did it again. But this wasn't just any six touchdown performance. It was a six touchdown performance against their hated rival, Baltimore Ravens. Granted Ray Lewis and Ed Reed are no longer Ravens, but you'd have suspected that Terrell Suggs would sooner kidnap Roethlisberger mid-game and take him to some secluded underground layer before he'd allow Ben to throw six touchdowns against his Ravens defense. Earlier this season the Steelers' offense looked bad at times, but since the team's 31-10 loss to the Browns, the team has scored 124 points on the back of Roethlisberger's 14 touchdown passes in three straight wins over the Texans, Colts and Ravens. The Steelers look to take on a Jets team that's defense is actually okay for a 1-8 team, so maybe they can hold Roethlisberger to only four or five touchdowns.
9. Are the Jacksonville Jaguars auditioning for London? First, allow me to stress that I hate the idea of putting an NFL team in London. This isn't wishful thinking on my part. Jaguars' owner Shahid Kahn has always said his intentions are to keep the Jaguars in Jacksonville, and we should all hope that happens. Losing a professional sports franchise is awful for a city, and we should frankly never root for it to happen. That said, as opposed to a London franchise as most NFL fans are, the league seems determined to make it happen. Given that the league is unlikely to expand from 32 teams, if London were to get a team, it would likely be because of relocation. For that reason, as it has been and will be with Los Angeles, the Jaguars will be mentioned as a possible fit for a franchise across the pond. Sadly, it seems that maybe the team has embraced this. Perhaps this is trying to read the tea leaves a little too much, but the Jaguars have a whole section of their website, including a drop down menu on the home screen, to "Jaguars UK." While other teams have traveled to London, it doesn't seem that any has embraced the trip or the opportunity to build a fan base in London quite like the Jaguars have. Whether or not that should give their fans in Jacksonville remains to be seen, but as a guy who doesn't want to see any NFL franchise over there, the whole thing just feels dirty.
10. Mark Sanchez tries to become the "Sanchize" in Philly: While the "Butt Fumble" may have been one of the more played out jokes in the history of sports, it was more pleasing to the ears than that ridiculous nick name "Sanchize." Sanchize is so bad, it makes you long for the days of "He Hate Me." Regardless, we all know how the name came to be for Sanchez. The Jets moved up in the draft for Sanchez, and he was going to be the answer for a Jets team that had searched for a quarterback for what seemed like decades. We all know how that worked out. Some thought Mark Sanchez may once again get the opportunity to be a starting quarterback in the NFL again, but it's unlikely anyone suspected we'd be throwing around that foolish nickname again anytime soon. Nick Foles played in 13 games for the Eagles a year ago, starting 10 contests, and taking the league by storm by putting up historic numbers. While Foles' yardage and touchdown numbers weren't that out of the ordinary, his ability to protect the ball was vital to the Eagles turnaround. Foles' 27 touchdowns were impressive, but throwing only two interceptions all season a year ago had many considering him as the Eagles franchise guy. This year Foles hasn't been as fortunate, and ball security was starting to become an issue when Foles went down with an injury. Nobody expected Foles to be able to duplicate a two-interception, two-fumble season again in 2014, but Chip Kelly certainly expected less than the 10 interceptions and three fumbles the quarterback had after eight games. While there was no sign that there would be an immediate move if not for the injury, there were whispers that the Eagles may be souring on their young quarterback. Those whispers and the subsequent injury to Foles have many believing that Mark Sanchez might just hold onto the starting quarterback position in Philadelphia, already pushing some to once again spew out that ridiculous word, "Sanchize." Fortunately for Mark Sanchez, people have a short memory, and he has a shot to turn his career around. He better succeed in Philadelphia though, because if he can't move the ball in Chip Kelly's offense, he might never get this shot again.
Buccaneers admit mistake, boot Aguayo
In the NFL, it's always better to admit a mistake than to compound it. For the Buccaneers, the decision to burn a 2016 second-round pick on kicker Robert Aguayo has proven to be a mistake. The Buccaneers made the definitive admission of their error on Saturday, cutting Aguayo. He exits with $428,000 in fully-guaranteed salary [
more
]
Source: Mike Florio of ProFootballTalk
Powered by WPeMatico
Did Bucs put too much pressure on Aguayo?
After the Buccaneers surprised everyone by taking a kicker with the 59th overall pick in the draft, G.M. Jason Licht explained the move by heaping superlatives on the player. "I was very excited along with my staff and coaches about Roberto for a very long time," Licht told PFT Live in May 2016. "It's not [
more
]
Source: Mike Florio of ProFootballTalk
Powered by WPeMatico
Broncos holding their breath on Derek Wolfe
Only two days after losing Billy Winn for the year with a torn ACL, the Broncos are now sweating out another potentially serious injury along the defensive line. Via multiple reports, Broncos defensive lineman Derek Wolfe was carted off the field during practice on Saturday. It's being described as a right ankle injury by coach [
more
]
Source: Mike Florio of ProFootballTalk
Powered by WPeMatico