NFC: Studs And Duds
Who's stepping up and who's disappointing in the NFC during this NFL season? Football Insiders takes a look.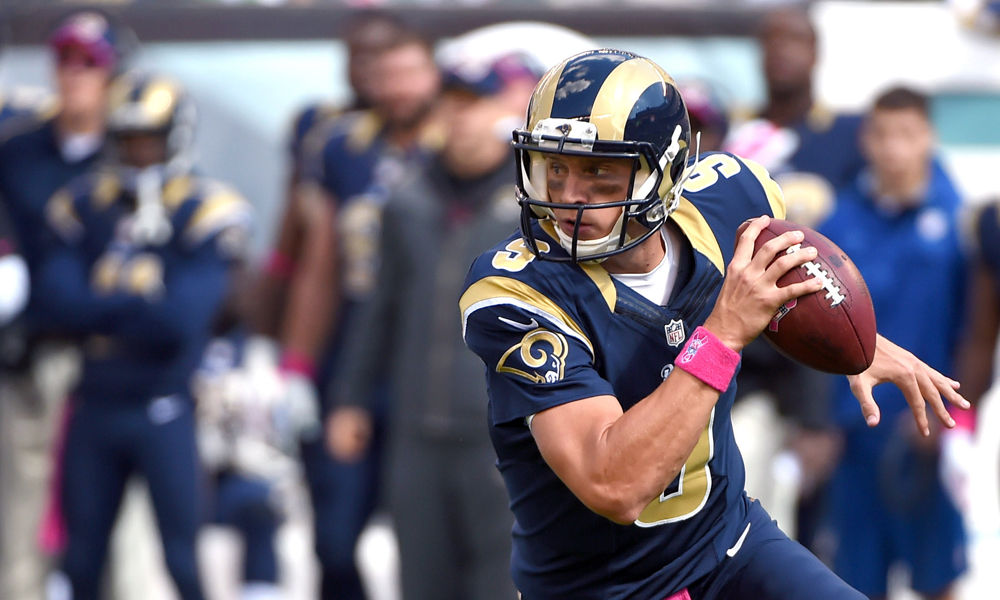 The NFL season has been an entertaining one thus far. There have been plenty of upsets and such parity within the league that prognosticators are having trouble predicting outcomes on a consistent basis. One reason for this parity are individuals playing at levels that were unexpected of them, both good and bad. Some teams and players have burst onto the scene and been reliable, while others have struggled and failed to live up to expectations.
Entering Week 8, here's a look at some players who have been playing on point and some who can't get out of their own way as we reach the half way mark of the season. These players may be an elite player performing at their highest level, an ascending youngster making a name for himself, a veteran on the decline or a player not delivering on expectations.
NFC WEST
STUD: Austin Davis – QB – St. Louis Rams
The St. Louis Rams may be in last place within their division, but at least they've been competitive. To understand that statement, this situation needs to be put into perspective. Austin Davis entered this offseason on the roster bubble in a fight for an opportunity to handle clipboard duties. Davis isn't starting because he was the back-up quarterback replacing a scrub; Davis was a third stringer pressed into action because of an injury to Shaun Hill. Most quarterbacks in these shoes would have been overwhelmed going through consistent growing pains, but not Davis. He's grabbed a hold of the starting spot and looks to be growing comfortable. With a quarterback rating over 94, Davis has been a huge key to this offense and why the Rams have been able to remain balanced on the offensive side of the ball. What Davis has been able to provide this team, with no expectations of his performance, is amazing. If Davis continues to develop at the rapid rate he has been on this year, he could become St. Louis' quarterback of the future, grabbing the title away from the injured Sam Bradford. Rams fans hope history is repeating itself and they've found another diamond in the rough like they did with Kurt Warner.
DUD: Cliff Avril – DE – Seattle Seahawks
One sack, one measly sack. No way the Seahawks expected this out of Cliff Avril, since they banked on him to follow up last season's success with another productive year and carry the team's pass rush. The Seahawks made it to the Super Bowl last year behind a stellar defense that fed off of a great pass rush, but this year their defense has struggled mightily. The reasons for that struggle lie in the fact that Seattle's pass rush has been nearly non existent. After posting eight sacks and five forced fumbles last year, the Seahawks let Chris Clemons leave in the offseason partly because Avril had better injury history and is still in his prime. What seems to have happened is with less quality players in the rotation and Avril having to play more snaps plus defend the run more often, his effectiveness rushing the passer has suffered as he hasn't recorded a sack since the opening game of the year.
NFC NORTH
STUD: Jordy Nelson – WR – Green Bay Packers
Aaron Rodgers' favorite receiver has been a really good player for a couple of years now, but injuries always seemed to shut him down for a few games here and there, limiting him from reaching his full potential. This year, that hasn't been the case. A physical player who has surprising long speed, Nelson is able to run the whole route tree, beat his defender downfield and out leap coverage to bring down contested jump balls. His exceptional body control allows him to work in unison with his quarterback on their patented back shoulder throws. Nelson's chemistry with the best quarterback in the league is a thing of beauty and Nelson's talent isn't fully appreciated until it's realized that he regularly takes some of the best defensive backs to school, evidenced by his abuse of Dolphins corner Brent Grimes, who was instrumental in shutting down Brandon Marshall the following week. Pundits need to realize that Nelson's standing as the third leading receiver in the league in yardage is as much about his own skills as it is about Rodgers' arm.
DUD: Jay Cutler – QB – Chicago Bears
Jay Cutler's home record is 0-3 at the moment and as Brandon Marshall was ranting after the Bears' loss to the Dolphins, "It's unacceptable." Cutler is paid like a franchise quarterback, but he's never really proven he is one. Yes, he has shown he's capable of being one with spurts of the spectacular and late game heroics, but the wild inconsistencies persist even though he is a veteran quarterback. The mistakes Cutler still makes are issues that can be expected and tolerated from a quarterback who still young and inexperienced. These are also things that could be understood if he were learning a new system, but that isn't the case. Can he turn it around? Sure, it's not like Cutler is bereft of talent and incapable of playing well. But the real question is if it hasn't happened by now, will he ever be that franchise guy to lead them to a Super Bowl? It's not looking good.
NFC SOUTH
STUD: Greg Olsen – TE – Carolina Panthers
Olsen is the top receiver on the Panthers, leading them in receptions, yards and tied for touchdowns. With the departure of Steve Smith in the offseason and a receiving core led by a rookie in Kelvin Benjamin, Olsen has really become the first option in the passing game. Always a productive pass catcher since he entered the league, Olsen has taken his game to another level. Olsen currently ranks first among tight ends in the league in catches and yards. Blessed with exceptional speed and agility for a man his size, Olsen has become Cam Newton's favorite target and is playing extremely well in an offense that is finally featuring him as a primary target. In his prime, Olsen looks to be peaking, taking full advantage of the opportunity that has presented itself.
DUD: Steven Jackson – RB – Atlanta Falcons
A veteran on the downside of his career, Jackson looks older and older with every passing week. Still in tremendous shape when you look at him, his play on the field can't hide the wear and tear and mileage compiled on his wheels. Brought over to Atlanta to be the work horse back last year, he couldn't stay healthy and was a disappointment. While he has been available to play in every game this year, he just hasn't been able to return to form. Instead he's just a big, slow running back who no longer has the lateral quickness and burst that once made him special. With every passing week, his involvement in the Falcons' offense diminishes, as Atlanta has turned more and more to their younger quicker running backs who are averaging more yards per carry than Jackson. Despite being the team's leading rusher, Jackson's ability to hold onto that title is likely to dwindle over the course of the rest of the year, as his role on the team is trending more and more towards the bench.
NFC EAST
STUD: DeMarco Murray – RB – Dallas Cowboys
There isn't another player more responsible for the Cowboys' dominant start to the season than Murray. On pace for a 2,000-yard season, Murray leads the league in rushing with 913 yards through seven games. Always a heck of a player, Murray's effectiveness had been stifled by a combination of injuries and a head coach in Jason Garrett who lacked commitment to the running game. This season with Tony Romo working his way back from an offseason injury and a defense that was historically bad last year, the Cowboys had no choice but to lean heavily on the running game to have a chance to win games. That necessity helped the Cowboys stumble upon their winning recipe: run the football and control the clock. Behind what just might be the best offensive line in football and the best they've had since the Larry Allen era, the Cowboys have ridden the legs of Murray to the best record in the NFC. If Murray can stay healthy for the rest of the year and stay on his torrent pace, he will definitely be in the MVP discussion at the end of the year.
DUD: Kirk Cousins – QB – Washington Redskins
You know that saying, "The most popular player on a bad team is the back up quarterback"? Well, this saying rang true during the time Robert Griffin III was struggling to return to pre-injury form. Kirk Cousins was the most popular player in Washington, and former Redskins QB Joe Theismann even came out publicly stating that Cousins was a better quarterback then Robert Griffin regardless of health. And through his first two games at the helm of the ship, he posted quarterback ratings over 100 in back to back games and Theismann looked to be right. Then, teams started to figure Cousins out and the jig was up, he became a turnover machine with eight interceptions in his last four starts. That last start against the Tennessee Titans featured head coach Jay Gruden benching Cousins at halftime, turning to the new popular face on the team, back up quarterback Colt McCoy. McCoy came in during the second half and led a comeback rally in dramatic fashion. Cousins had every opportunity to stake his claim and take a strong hold of his position, but instead he squandered it with turnovers and finds himself holding the clipboard.
Buccaneers admit mistake, boot Aguayo
In the NFL, it's always better to admit a mistake than to compound it. For the Buccaneers, the decision to burn a 2016 second-round pick on kicker Robert Aguayo has proven to be a mistake. The Buccaneers made the definitive admission of their error on Saturday, cutting Aguayo. He exits with $428,000 in fully-guaranteed salary [
more
]
Source: Mike Florio of ProFootballTalk
Powered by WPeMatico
Did Bucs put too much pressure on Aguayo?
After the Buccaneers surprised everyone by taking a kicker with the 59th overall pick in the draft, G.M. Jason Licht explained the move by heaping superlatives on the player. "I was very excited along with my staff and coaches about Roberto for a very long time," Licht told PFT Live in May 2016. "It's not [
more
]
Source: Mike Florio of ProFootballTalk
Powered by WPeMatico
Broncos holding their breath on Derek Wolfe
Only two days after losing Billy Winn for the year with a torn ACL, the Broncos are now sweating out another potentially serious injury along the defensive line. Via multiple reports, Broncos defensive lineman Derek Wolfe was carted off the field during practice on Saturday. It's being described as a right ankle injury by coach [
more
]
Source: Mike Florio of ProFootballTalk
Powered by WPeMatico