Nebraska's Abdullah Making His Case For Heisman
Coming into the college football season, the Heisman talk revolved around Jameis Winston and Marcus Mariota. A new name had entered the mix.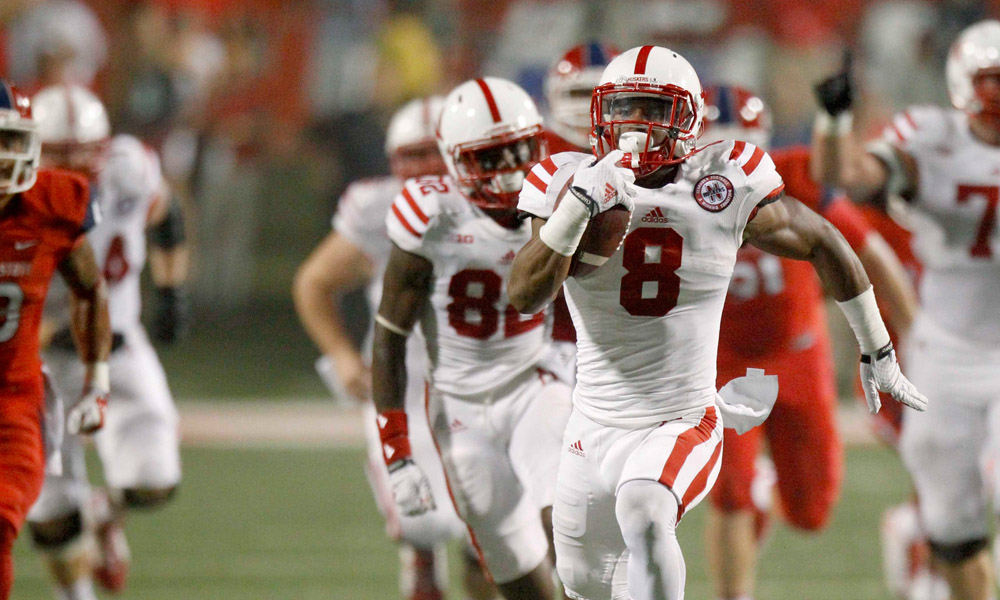 We are just a month into the college football season but, as certainly as Jameis Winston will find himself in the midst of an off-the-field controversy, a few surprise names have emerged as front-runners for a title Winston already holds: Heisman Trophy winner.
Coming off one of the best rushing seasons in the illustrious history of the Nebraska football program – a program which is known for buttering its bread with the run game – Ameer Abdullah has thrust himself into the conversation surrounding the 2014 Heisman race.
Abdullah ran for 1,690 yards and nine touchdowns in 2013 while being named third-team All-America by the Associated Press and earning consensus first-team All-Big Ten honors. He also finished the season as Nebraska's third-leading receiver with 26 receptions for 232 yards and two touchdowns.
The senior has helped the Cornhuskers get off to a 4-0 start – their best since 2011 – by piling up 625 yards rushing (2nd most nationally) and five touchdowns on 92 carries. He has added five receptions for 108 yards and two more scores.
In Nebraska's season-opening, 55-7, win over Florida Atlantic, Abdullah carried the ball 21 times for a career-high 232 yards and a touchdown and has continued to carry the offensive burden for his team since.
The 5-foot-9, 195 pound Abdullah put together another Heisman-worthy performance in his team's 41-31 win over Miami on Sept. 20, scoring three total touchdowns and running for 229 yards on a career-high 35 carries. His 10-yard touchdown run with 4:13 to play gave the 'Huskers a 41-24 lead and put the game out of reach.
Winning a Heisman Trophy is extremely difficult, particularly if you aren't a quarterback. The last four recipients of the award – and 12 of the last 14 – have been signal callers. As much as the voters have favored quarterbacks, however, they have put equal weight into one other group of players: winners.
Beginning with Chris Weinke's (yes, he was a QB) Heisman Trophy-winning season in 2000, all but one recipient led a team that won at least 10 games (Tim Tebow and the Florida Gators went 9-4 in 2007). Only two teams (Tebow's Gators and Robert Griffin III's Baylor team in 2011) lost more than two games.
Without team success, you can forget about winning the Heisman.
Nebraska hasn't recently been as dominant as it once was. (And, if you didn't pick up on this earlier, Abdullah isn't a quarterback.) But the storied program has some reason for optimism is 2014 – largely due to the productivity of its star running back.
The Big Ten Conference isn't the meat-grinder it once was, either, so seeing Abdullah lead this team to a 10-win campaign (seemingly the standard for anyone not named Tebow) isn't out of the question.
Nebraska only has two teams currently ranked in the Associated Press Top 25 on its schedule this season (they play at Michigan State on Oct. 4 and visit Wisconsin on Nov. 15). If the Cornhuskers can find a way to win one, or both, of those games and avoid any missteps along the way, Abdullah could very well find himself in the thick of the Heisman race.
Another qualifier over the years had been having a "Heisman Moment". Abdullah may have already had his.
Nebraska hosted FCS-opponent McNeese State on Sept. 6 and, after blowing a 10-point lead, found itself tied when it got the ball with 1:14 to play. On third-and-6, Abdullah turned a short pass into a 58-yard touchdown – breaking five would-be tackles on the way – and gave his team a 31-24 lead with 20 seconds remaining.
Game over.
But play-making skills on the field alone won't, necessarily, bring home the hardware.
According to the mission statement posted on the Heisman Foundation website, the "Heisman Memorial Trophy annually recognizes the outstanding college football player whose performance best exhibits the pursuit of excellence with integrity. Winners epitomize great ability combined with diligence, perseverance, and hard work" and should "symbolize the fostering of a sense of community responsibility and service".
While such high standards sometimes cast a shadow on a Heisman hopeful, they only help to illuminate Abdullah's candidacy.
He has been named to the Nebraska Scholar-Athlete Honor Roll four times while being named to the 2014 Tom Osborne Citizenship Team and being given the 2014 Nebraska Student-Athlete HERO Award for his dedication to community service.
While Abdullah still has a lot of football to play in this young football season, a Heisman Trophy is well within his sights.
Buccaneers admit mistake, boot Aguayo
In the NFL, it's always better to admit a mistake than to compound it. For the Buccaneers, the decision to burn a 2016 second-round pick on kicker Robert Aguayo has proven to be a mistake. The Buccaneers made the definitive admission of their error on Saturday, cutting Aguayo. He exits with $428,000 in fully-guaranteed salary [
more
]
Source: Mike Florio of ProFootballTalk
Powered by WPeMatico
Did Bucs put too much pressure on Aguayo?
After the Buccaneers surprised everyone by taking a kicker with the 59th overall pick in the draft, G.M. Jason Licht explained the move by heaping superlatives on the player. "I was very excited along with my staff and coaches about Roberto for a very long time," Licht told PFT Live in May 2016. "It's not [
more
]
Source: Mike Florio of ProFootballTalk
Powered by WPeMatico
Broncos holding their breath on Derek Wolfe
Only two days after losing Billy Winn for the year with a torn ACL, the Broncos are now sweating out another potentially serious injury along the defensive line. Via multiple reports, Broncos defensive lineman Derek Wolfe was carted off the field during practice on Saturday. It's being described as a right ankle injury by coach [
more
]
Source: Mike Florio of ProFootballTalk
Powered by WPeMatico