NCAA Top 25 Poll Reactions
College Football Editor Luke Byrnes reacts to the over-reactions in the latest AP and Coaches Polls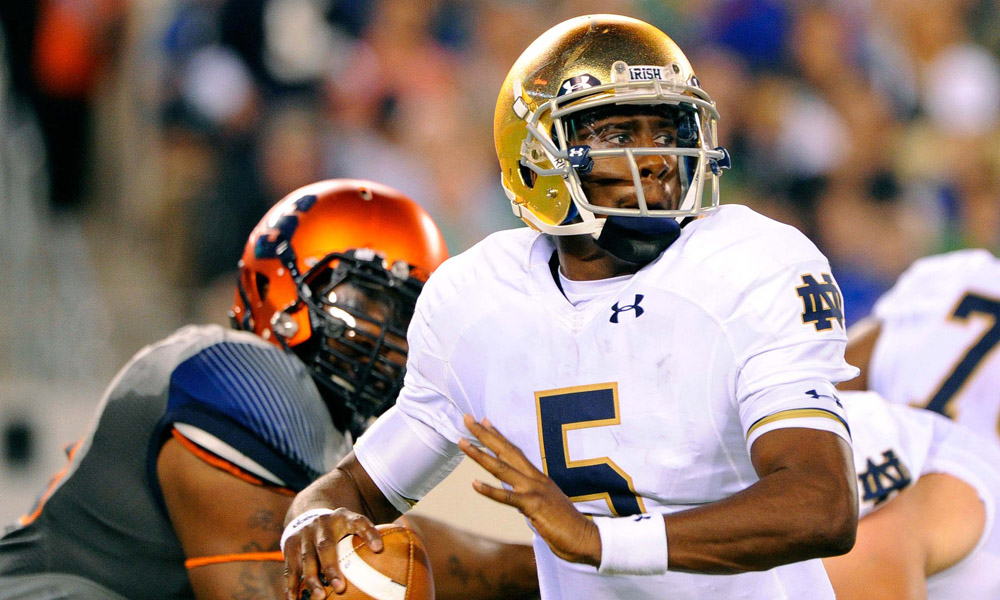 The most recent AP and Coaches polls are out and once again, like the plot lines in terrible television, some teams' rankings are logically flawed. Since nobody likes crappy TV programing (I actually watched an episode of 'Saved by the Bell' while most of America was watching NFL pregame shows on Sunday) and college football more than I do, I bring you, "Whatchoo Talkin' 'Bout, Willis?", my weekly reaction to the latest polls.
This weekend was billed as the best slate of action in the 2014 college football season; a schedule full of Top 25 match-ups as well as games between up-and-coming programs – in search of signature wins – and ranked opponents.
It didn't disappoint with five of the top eight ranked teams falling and three more Top 25 squads losing to unranked adversaries.
With so many top teams stumbling, there was sure to be a great deal of movement in the polls, but some of the fluctuation that resulted is simply unjustified.
Here is a look at some of the more iniquitous changes after this exciting weekend of college football action.
Arizona (No. 10, Associated Press; No. 13, Coaches)
The Wildcats went into Eugene and upset then second-ranked Oregon on Thursday night, holding on for a 31-24 victory and starting a season 5-0 for the first time since 1998. (For reference, that was the year of the Monica Lewinsky scandal. And Chan Gailey replaced Barry Switzer as the coach of the Dallas Cowboys.)
Coach Rich Rodriguez has done a tremendous job of returning Arizona to relevance in the Pac-12 – particularly considering the concurrent resurgence of the conference as a whole – but a jump into the Top 10 makes about as much sense as hiring Chan Gailey, or Barry Switzer for that matter, to run an NFL team.
Arizona had played its way into the 'Others Receiving Votes' category of both polls heading into the Oregon game. And deservedly so.
The Wildcats have an explosive offense that has proven to be one of the most potent in the country with a couple of solid wins (Nevada and Cal, though both came at home) on their resume.
Add Oregon to the list.
But is anyone supposed to believe that Arizona is the 10th-best team in the country? Better than Oklahoma or Texas A&M? Just because several teams ranked ahead of RichRod's bunch lost (mostly to other ranked teams)?
I'm not there yet.
Stealing a line from the 1980's sit-com 'Greatest American Hero': "I am disgusted with the both of you (voters in the AP and Coaches Polls)."
Utah (No. 24, AP; ORV, Coaches)
Great win over UCLA on Saturday. Not great enough to make me forget about your home loss to Washington State on Sept. 27, though.
WSU has found so many creative (ridiculous?) ways to lose football games – you know, like missing a 19-yard field goal in the game's waning seconds – that the phrase "Coug'd it" has a decades-long history and even its own entry in the Urban Dictionary.
Somehow, Utah "Coug'd it" against the Cougs (whose only other win this season came against FCS Portland State), blowing a 27-14 fourth-quarter lead after leading 21-0 at the end of the first quarter.
To paraphrase Ricky Ricardo from 'I Love Lucy', "Voters, you got some 'splainin' to do!"
Oklahoma State (No. 16, AP; No. 18 Coaches)
Yes, Oklahoma State is 4-1 and its only loss came against top-ranked, and defending national champion, Florida State on opening weekend. But looking at the OSU resume a little more closely shows how asinine it is to rank the Cowboys so highly.
The combined record of the four teams Oklahoma State has beaten is 7-13, including the three wins Missouri State – the only team with a winning record (3-2) that Oklahoma State has beaten. Does that sound like enough to yield a Top-20 ranking?
I don't think so, either.
Like Robin Williams said, as Mork, in 'Mork and Mindy': "Mind', that's a joke, right? Like the volunteer army?"
Notre Dame (No. 6, AP; No. 5, Coaches)
After a win over Stanford on Saturday, the Fighting Irish are 5-0 for just the third time in the post-Lou Holtz era, but the second time in three seasons.
Maybe I'm just a cynic, but I remember how that undefeated start from a couple of seasons ago ended. Brian Kelly's team beats up on the military academies, Purdue, a Michigan program that is barely relevant any more and a couple lower-tier ranked teams and we're all supposed to believe it us the second coming of Touchdown Jesus.
Well, Everett Golson is no Tony Rice.
The only offensive or defensive unit that Notre Dame has faced that ranks in the top 50 nationally in points per game or points allowed per game is Stanford's defense (which, in the interest of full disclosure, allows just 8.6 points per game – tops in the country).
I mean, shouldn't the Irish be undefeated?
Notre Dame is a very good football team. But don't we know how the story goes when it plays the Alabama's of the world?
Notre Dame being so highly ranked summons this exchange from 'Cheers':
Sam: "You're trying to plant a seed in my brain."
Diane: "Don't be silly. I know of nothing that grows in solid rock."
For a look at the complete rankings, click this link:
Did Bucs put too much pressure on Aguayo?
After the Buccaneers surprised everyone by taking a kicker with the 59th overall pick in the draft, G.M. Jason Licht explained the move by heaping superlatives on the player. "I was very excited along with my staff and coaches about Roberto for a very long time," Licht told PFT Live in May 2016. "It's not [
more
]
Source: Mike Florio of ProFootballTalk
Powered by WPeMatico
Broncos holding their breath on Derek Wolfe
Only two days after losing Billy Winn for the year with a torn ACL, the Broncos are now sweating out another potentially serious injury along the defensive line. Via multiple reports, Broncos defensive lineman Derek Wolfe was carted off the field during practice on Saturday. It's being described as a right ankle injury by coach [
more
]
Source: Mike Florio of ProFootballTalk
Powered by WPeMatico
Buccaneers admit mistake, boot Aguayo
In the NFL, it's always better to admit a mistake than to compound it. For the Buccaneers, the decision to burn a 2016 second-round pick on kicker Robert Aguayo has proven to be a mistake. The Buccaneers made the definitive admission of their error on Saturday, cutting Aguayo. He exits with $428,000 in fully-guaranteed salary [
more
]
Source: Mike Florio of ProFootballTalk
Powered by WPeMatico