NCAA Football Top 25 9/28/14
College Football Editor Luke Byrnes bring you his Top 25 rankings.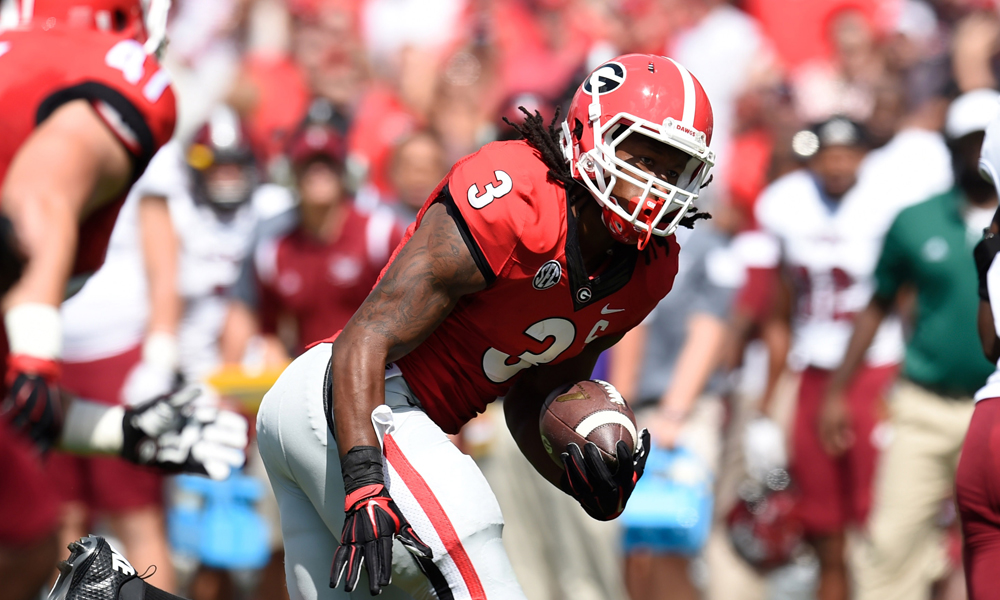 Florida State survived another scare and Arkansas took Texas A&M to overtime, but the top of this list saw very little movement. Nebraska and TCU continue to rise, but both programs have huge games (at Michigan State and vs Oklahoma, respectively) on the horizon.
1. Florida State 4-0, 2-0 ACC
There are very few weaknesses for this Florida State team that went undefeated and won the final BCS National Championship last season. It returns Heisman Trophy-winning QB Jameis Winston and a full stable of NFL talent on both sides of the ball, including 15 starters from last year's squad.  THIS WEEK: Jameis Winston returned from his one-game suspension. Florida State overcome a sloppy first half to beat N.C. State 56-41 after trailing by as much as 17. Karlos Williams rushed for 126 yards and three touchdowns on 21 carries. Next up: Oct. 4 vs Wake Forest
2. Alabama 4-0, 1-0 SEC
Head coach Nick Saban has consistently brought in one of top, if not the top, recruiting classes since his hiring in January of 2007 and the Crimson Tide has been the class of the SEC since the start of the 2009 season, going 34-6 while winning three BCS National Titles. Alabama is led by running back T.J. Yeldon, wide receiver Amari Cooper and safety Landon Collins, all of whom will likely be selected early in the 2015 NFL Draft. QB Blake Sims, who had 445 yards passing and a school-record 484 total yards in Alabama's Sept. 20 win over Florida, has seemingly wrestled control of the position from Jake Coker.  THIS WEEK: Alabama was off this week after a 42-21 win over Florida last Saturday. Sims is nursing a bruised AC joint in his throwing (right) shoulder and has been limited in practice this week. Next up: Oct. 4 @ Ole Miss
3. Oregon 4-0, 1-0 Pac-12
Oregon continues to field one of the best offensive units in the country, ranking in the top seven nationally in scoring offense since 2008. Quarterback Marcus Mariota, a Heisman Trophy candidate, has 16 total touchdowns (13 passing, three rushing) and leads the nation in passing efficiency . The program has the reputation of a finesse team, but had its way with a tough, physical Michigan State team on Sept. 6, perhaps quelling the notion that the Ducks can't play a rugged style of football.  THIS WEEK: Oregon had a bye this week after escaping Pullman with a 38-31 win over Washington State on Sept. 20. The Ducks average 48.5 points (No. 5 in the nation) 555.3 yards (10th) per game. Next up: Oct. 2 (Thurs) vs Arizona
4. Oklahoma 4-0, 1-0 Big 12
Oklahoma returns 16 starters from a team that won 11 games and beat Alabama in the Sugar Bowl a year ago. Sophomore QB Trevor Knight is a tantalizing talent, but is completing just 58 percent (76 of 130) of his passes this season. The Sooners have a stable of running backs and an experienced offensive line to go along with one of the best defenses in the Big 12.  THIS WEEK: The Sooners were idle this week. Freshman Semaje Perine (5-foot-11, 243 pounds) piled up 242 yards and four touchdowns in Oklahoma's 45-33 win over West Virginia last week and is averaging 6.3 yards per carry this season. Sterling Shephard has emerged as a big-play threat with 23 receptions for 436 yards (19.0 yards per receptions) and two touchdowns. Next up: Oct. 4 at TCU
5. Auburn 4-0, 1-0 SEC
The Tigers came into the season on the heels of a heart-breaking loss to FSU in the final BCS Championship game. Dual-threat quarterback Nick Marshall is considered a Heisman Trophy candidate, but is completing only 56 percent of his passes (18.3 attempts per game) to this point. Ellis Johnson's defense has been solid despite the losses of defensive end Dee Ford and cornerback Chris Davis.  THIS WEEK: Marshall ran 13 times for 105 yards and had three TD passes but the offense went three-and-out four times in Auburn's 45-17 win over Louisiana Tech. Cameron Artis-Payne ran for 122 yards and a score. Starting linebackers Kris Frost and Cassanova McKinzy as well as right OT Patrick Miller all left the game – and did not return – with unspecified injuries. Next up: Oct. 4 vs LSU
6. Baylor 4-0, 1-0 Big 12
Bryce Petty captains head coach Art Briles' offense, which is averaging 56.8 points (No. 1 nationally) and 416 yards passing (No. 3). The defense some question marks at linebacker and inexperience in the secondary, despite allowing just 13.8 points per game through the first month of the season.  THIS WEEK: The Bears jumped out to a 35-7 lead in the first half and Iowa State never got closer than 21 the rest of the way. Bryce Petty ran for two scores and threw for 336 yards and another touchdown. The Bears ran for 244 yards and had 32 first downs while beating the Cyclones 49-28. Next up: Oct. 4 @ Texas
7. Texas A&M 5-0, 2-0 SEC
Holy cow… Kevin Sumlin's offense can put up some points, can't it? Kenny Hill is making it pretty easy for the folks in College Station to forget about Johnny Manziel. It feels like the Aggies caught South Carolina at the right time, but Texas A&M can score with anybody (51.2 points per game). All that being said, the schedule in the SEC West is brutal and the defense still has a lot to prove.  THIS WEEK: The Aggies got pushed around on defense by Arkansas – except when it mattered most. After falling behind by 14 late in the third quarter, Kenny Hill and the A&M offense scored 21 straight, on TD passes of 86, 49 and 25 yards – the last of which came in OT – by Kenny Hill. Kevin Sumlin's group showed some real grit in beating a good Arkansas team 35-28.Next up: Oct. 4 @ Mississippi State
8. Ohio State 3-1
The loss of Braxton Miller, who will miss the season after re-injuring his throwing shoulder, was a huge one for Urban Meyer's Buckeyes. This, however, isn't a one man team. There is a ton of talent on this roster. Maybe I'm overrating this defense, but if J.T. Barrett can avoid losing games for his team – and it feels like he's getting more comfortable – THE Ohio State University will be just fine  THIS WEEK: J.T. Barrett passed for 330 yards and 4 TDs and Ezekiel Elliott ran for 182 and a score as Ohio State beat Cincinnati 50-28. The Buckeyes had 45 first downs and 710 total yards. Big plays on back-to-back Bearcats' drives kept this game close longer than it should have been, but Cincy had just 27 yards on its final four possessions. Next up: Oct. 4 vs Maryland
9. Michigan State 3-1
Don't let a loss on the road to Oregon fool you. Michigan State can play. The offensive line is both good and experienced, and has talent around and behind it. Quarterback Connor Cook was the MVP of both the Big Ten Championship Game AND the Rose Bowl and all Jeremy Langford did was run for 1,422 yards and 18 TDs last season. The defense has to replace seven starter, four of which are now playing in the NFL, but still has elite talent like DE Shilique Calhoun.  THIS WEEK: Michigan State reached pay dirt on each of its first six offensive possessions – only the end of the half could slow Cook, Langford and Co. down – in a 56-14 win over Wyoming. The Cowboys had a 57-yard touchdown run, a 52-yard pass that set up another score and only 177 yards the rest of the game. Next up: Oct. 4 vs Nebraska
10. UCLA 4-0. 1-0 Pac-12
The Bruins didn't look great in their first three games but the health of quarterback Brett Hundley, who many believe will be a top pick in the 2015 NFL Draft, is no longer a question mark. This group has talent but outside of Hundley, most of it is unproven. Mora must've known something when he resisted overtures from Washington (his alma mater) and Texas in the offseason. Right?  THIS WEEK: UCLA appeared to be in a dogfight with Arizona State, but got a 95-yard interception return for a touchdown by Ishmael Adams with two seconds left in the first half and Jordan Payton had an 80-yard touchdown to open the second half. ASU pulled within 14 before Adams took the ensuing kickoff 100 yards for another touchdown and the rout was on – 62-27. Next up: Oct. 4 vs Utah
11. USC 3-1, 2-0 Pac-12
I took some heat for having USC ranked so highly after its disappointing loss to Boston College on Sept. 13, but this is still a super talented team. It is going to take some time to adjust to new head coach Steve Sarkisian and his staff. That Stanford win looks even more impressive after the Cardinal went to Seattle and beat Washington.  THIS WEEK: Oregon State – a pretty good team with a possible NFL quarterback – was totally out-classed by the Trojans. The same USC defense that was beaten up for 600 yards by B.C. held the Beavers to 181 yards (123 passing). The OSU offense scored just three points, but got a 97-yard kickoff return for a TD from Ryan Murphy. Next up: Oct. 4 vs Arizona State
12. Ole Miss 4-0, 1-0 SEC
The Rebels have several talented skill players on the offensive side of the ball, including a third-year starter in quarterback Bo Wallace and tight end Evan Engram. The defense has a chance to be one of the best in the country and if this team can get over the injury bug that bit it a year ago, Ole Miss will be in the hunt in the SEC West.  THIS WEEK: The Rebels may have been caught looking ahead, as the struggled to get past Memphis this week. That being said, the Ole Miss defense allowed just 104 total yards and didn't allow the Tigers' offense to cross midfield in the fourth quarter. Four Rebel turnovers and 10 penalties for 117 yards overshadowed 426 yards of offense. Next up: Oct. 4 vs Alabama
13. Notre Dame 4-0
Since coach Brian Kelly's arrival in South Bend, the Irish have been known for their defensive prowess. With five starters from the front seven departed, the defense will take some time to develop. Quarterback Everett Golson, who led the team to the BCS Title Game two years ago, returns for an offense that will have to carry the load, particularly in the first several weeks of the season.  THIS WEEK: After beating Syracuse 31-15 – the Orange trailed by double-digits from the midway point of the second quarter on – Notre Dame has scored at least 30 points in every game this season. Can the Irish keep it up as the competition continues to stiffen? Next up: Oct. 4 vs Stanford
14. Stanford 3-1, 1-1 Pac-12
New defensive coordinator Lance Anderson's group doesn't seem to have missed a beat, despite having to replace Shayne Skov, Trent Murphy, Ben Gardner and Ed Reynolds. Quarterback Kevin Hogan, who continues to improve, has Ty Montgomery and deep threats Devon Cajuste (22.9 yards per catch last season) and Michael Rector (30.8) on the perimeter.  THIS WEEK: The Cardinal went on the road, into a hostile environment, and gutted out a 20-13 win over a solid Washington team, holding the Huskies to just 179 total yards. Stanford has allowed 26 points in four games this season. Next up: Oct. 4 @ Notre Dame
15. Georgia 3-1, 1-1 SEC
Georgia's offense continues to revolve around Heisman Trophy candidate running back, Todd Gurley. Hutson Mason, replacing record-setting quarterback Aaron Murray, has to give this offense something in order for the Bulldogs to survive – even if the SEC East isn't great. The defensive front seven should is solid but, like Gurley on offense, has to get something from its back end.  THIS WEEK: Georgia fell behind 10-0 to Tennessee early and, after scoring 21-straight, held off the Volunteers late. Gurley was his typical phenomenal self and Josh Dawson and the defensive front scored a late TD. Next up: Oct. 4 vs Vanderbilt
16. Mississippi State 4-0, 1-0 SEC
Dan Mullen's team came into 2014 with some lofty expectations. The defense is solid all around (allowing 16.5 points per game), with a chance to be terrific if it can get to opposing quarterbacks. Dak Prescott is developing into a top dual-threat quarterback with weapons all around him, like running back Josh Robinson and wide receivers Jameon Lewis and De'Runnya Wilson.  THIS WEEK: Mississippi State was off this week after barely escaping Death Valley with a win over LSU on Sept. 20. Time to refocus as the next two opponents are Top 10 teams. Next up: Oct. 4 vs Texas A&M
17. Nebraska 5-0, 1-0 Big Ten
Ameer Abdullah is back as the focal point of the offense after running for nearly 1,700 yards and catching 26 passes last season. He and Imani Cross, along with Sophomore quarterback Tommy Armstrong, lead one of the nation's top rushing offenses (329.0 yards per game). Defensive end Randy Gregory, who led the Big Ten with 10.5 sacks last season, is one of just three returning starters on the defense that is rounding into shape.  THIS WEEK: Nebraska cruised to a 45-14 win over Illinois behind Abdullah's 208 yards and three TDs on just 22 carries. Cross added a career-high 109 yards and another score as the Cornhuskers ran for 458 yards and grinded out 35 first downs. Next up: Oct. 4 @ Michigan State
18. LSU 4-1, 0-1 SEC
Gone to the NFL are quarterback Zach Mettenberger, running back Jeremy Hill and wide receivers Jarvis Landry and Odell Beckham, all of whom were selected in the 2014 NFL Draft. The Tigers have a very good offensive line, a solid defense and tons of untapped potential (freshman running back Leonard Fournette is emerging as a star), but will have to mature quickly to keep up in the ultra-competitive SEC West.  THIS WEEK: LSU responded to its 34-29 home loss against Mississippi State by beating New Mexico State 63-7. Backup quarterback Brandon Harris led the Tigers to touchdowns on each of his seven drives, completing 11 of 14 passes for 178 yards and three touchdowns, after replacing Anthony Jennings. Who will start next week when LSU returns to SEC play? Next up: Oct. 4 @ Auburn
19. BYU 4-0
The Cougars return all sorts of weapons on the offensive side of the ball and are off to a hot start, averaging 37.5 points per game. Dual-threat quarterback Taysom Hill has become a more efficient passer after running for 1,344 yards last season. Running back Jamaal Williams added 1,223 yards for an rushing offense that ranked 10th nationally. Mitch Matthews and Jordan Leslie have done a nice job of replacing Cody Hoffman, the school's all-time leading receiver. Defensively, Kyle Van Noy moved on to the NFL but the Cougars have been able to limit opponents to 18.8 points per game so far this season, with two wins over Power 5 Conference schools Texas and Virginia.  THIS WEEK: BYU had the week off after holding off Virginia on Sept. 20. The Cougars are 4-0 for the first time since 2008. Next up: Oct. 3 (Fri)vs Utah State
20. TCU 3-0, 1-0 Big 12
TCU is coming off its first losing season since 2004, but new offensive co-coordinators Doug Meacham and Sonny Cumbie as well as Trevone Boykin, who moved back to quarterback from wide receiver, have this offense clicking. The defense returns eight starters from a unit that was one of the best in the Big 12 a year ago and is allowing just seven points per game (No. 2 nationally.)
THIS WEEK: The Horned Frogs could do no wrong in a 56-0 drubbing of winless SMU. Boykin passed for 280 yards and four TDS, adding 62 yards and two time scores on the ground. Deante' Gray had six catches for 92 yards, both career-highs, and two touchdowns. B.J. Catalon had 109 yards rushing, also a career-high, and a score. Next up: Oct. 4 vs Oklahoma
21. Wisconsin 3-1
Wisconsin has a Heisman Trophy candidate in running back Melvin Gordon, who ran for 1,600 yards and 12 touchdowns last season. Only seven other starters return (although for along the OL) for this team that has little main for error. Quarterback Tanner McEvoy is a talented runner but still developing as passer.  THIS WEEK: Gordon had another big game, timing for 182 yards and two touchdowns on 32 carries as the Badgers beat USF 27-10. Wisconsin has gained 70 percent of its yards on the ground while leading the nation in rushing (359.7 yards per game) and yards per rush (7.8). Next up: Oct. 4 @ Northwestern
22. East Carolina 3-1, 0-0
East Carolina can put up some big offensive numbers with quarterback Shane Carden – a darkhorse Heisman candidate – and wide receiver Justin Hardy. Don't believe me? Check out the 70 points ECU hung on North Carolina. THIS WEEK: ECU goes into the American Athletic Conference schedule off a bye this week. Carden has thrown for a combined 865 yards, with seven touchdowns and one interception, in wins at Virginia Tech and over North Carolina in East Carolina's last two games. Next up: Oct. 4 vs SMU
23. Missouri 4-1, 1-0 SEC
Maty Mauk is developing into a clutch quarterback, throwing for 14 TDs in five games this season. Consistency and accuracy are both issues, but he is a very confident kid with a solid group of runners behind him, led by Ryan Hansbrough. The defense is a work in progress after losing seven starters – four of whom were All-SEC selections – from a year ago.  THIS WEEK: Mauk was anything but spectacular, completing 12 of 34 passes for 132 yards, in Missouri's 21-20 road win over South Carolina. But he didn't turn the ball over and made big plays down the stretch as the Tigers rallied from a 13-point deficit in the fourth quarter. Next up: Oct. 11 vs Georgia
24. Kansas State 3-1, 1-0 Big 12
Senior quarterback Jake Waters has been solid in directing the Wildcats' offense but struggled against the skill and athleticism of the Auburn defense. Can he guide this group through the Big 12 schedule?  THIS WEEK: Kansas State jumped out to a 45-0 lead before beating UTEP 58-28. Charles Jones ran for 78 yards and three touchdowns on just 12 carries. He has eight touchdowns this season and has scored at least one in each game thus far. Next up: Oct. 4 vs Texas Tech
25. Florida 2-1, 0-1 SEC
Florida is coming off a disastrous season during which injuries ravaged the roster and wins were difficult to come by, finishing 4-8. Kurt Roper was brought in from Duke to revitalize the offense and, with a trio of quality RBs and a pair of WRs it can hang its hat on, the group appears to be improved. The defense has an impact player at every level and should be among the best in the conference.  THIS WEEK: Florida had the week off to lick is wounds after Alabama pulled away late for a 42-21 win over the Gators on Sept. 20. Athletics Director Jeremy Foley said that coach Will Muschamp will be judged on the entire body of work after the season. Will his players respond in time to save Muschamp's job? Next up: Oct. 4 @ Tennessee
Just missed the cut: Oklahoma State (3-0, 1-0 Big 12); Washington (4-1, 0-1 Pac-12); Arizona State (3-1, 1-1 Pac-12); Arkansas (3-2, 0-2 SEC); Clemson (2-2, 1-1 ACC)
Is someone ranked too high or too low? Did I miss someone completely? Leave a comment in the section below or hit me up on Twitter: @LukeBNCAA
For a look at the national polls, click this link:
Buccaneers admit mistake, boot Aguayo
In the NFL, it's always better to admit a mistake than to compound it. For the Buccaneers, the decision to burn a 2016 second-round pick on kicker Robert Aguayo has proven to be a mistake. The Buccaneers made the definitive admission of their error on Saturday, cutting Aguayo. He exits with $428,000 in fully-guaranteed salary [
more
]
Source: Mike Florio of ProFootballTalk
Powered by WPeMatico
Did Bucs put too much pressure on Aguayo?
After the Buccaneers surprised everyone by taking a kicker with the 59th overall pick in the draft, G.M. Jason Licht explained the move by heaping superlatives on the player. "I was very excited along with my staff and coaches about Roberto for a very long time," Licht told PFT Live in May 2016. "It's not [
more
]
Source: Mike Florio of ProFootballTalk
Powered by WPeMatico
Broncos holding their breath on Derek Wolfe
Only two days after losing Billy Winn for the year with a torn ACL, the Broncos are now sweating out another potentially serious injury along the defensive line. Via multiple reports, Broncos defensive lineman Derek Wolfe was carted off the field during practice on Saturday. It's being described as a right ankle injury by coach [
more
]
Source: Mike Florio of ProFootballTalk
Powered by WPeMatico