Minnesota Vikings Are Better Off Without Adrian Peterson
Adrian Peterson is undoubtedly a Hall of Fame running back. He's been a tremendous player on the field and without him, the Minnesota Vikings would have far few victories, as he has carried the team on the many occasions when they have lacked a quarterback.
The Vikings will certainly miss him while he's out with a torn meniscus, as reported by Adam Schefter of ESPN on Monday.
Or will they?
This isn't the first time even in recent history that the Vikings have had to get along without Peterson. While we've all conveniently forgotten, Peterson missed 15 games in 2014 when he was suspended for domestic abuse of his son.
During that span, Jerick McKinnon and Matt Asiata emerged as a viable alternative to Peterson. In some ways, maybe even a better alternative to Peterson.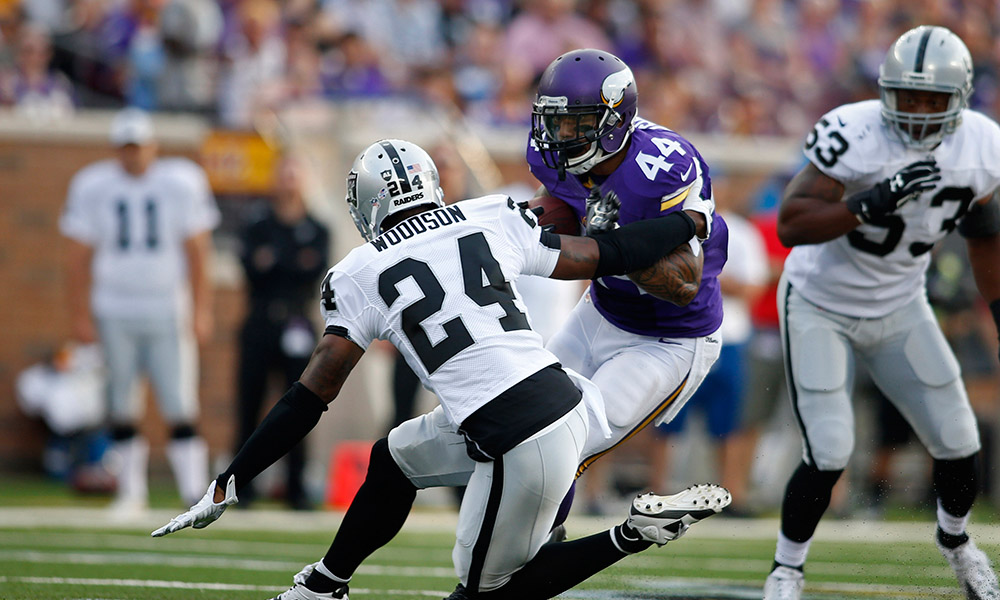 While some might agree just based on the last few games—where Peterson has struggled behind a shaky offensive line—the truth is it has almost nothing to do with that.
We all know that as good as Peterson can be running the ball, he is almost useless in pass protection and receiving. He's improved over the last year or so, but it's still a major limitation of his game. As that's the case, his presence in the backfield tips off the defense that the next play is more than likely a run.
While his increased ability on passing downs has helped that issue a little, it's not enough.
The Vikings now have a pair of backs they can use interchangeably in Asiata and McKinnon. Both can run the ball well and are solid on passing downs as well. McKinnon in particular is a very talented back in passing situations, but the Vikings have shown a willingness to throw to Asiata as well.
While neither player is going to produce ground yards like Peterson (although they combined for 1,108 rushing yards and a 4.0 yards per carry average in 2014), both can run the ball well while not tipping off the defense as to the nature of the play.
There's another benefit to the injury—it forces offensive coordinator Norv Turner to move away from just feeding Peterson the ball.
Reports from Vikings camp had McKinnon with a larger role, but that had yet to emerge, despite Peterson's struggles before his injury. That's in large part because Turner loves to focus on a back like Peterson.
And it's been a detriment to this offense for the most part. It certainly hindered Teddy Bridgewater's development last year, as Turner preferred to run the ball over trying to stretch the field. It's similar to how he coached in San Diego with the Chargers. He was content to run LaDainian Tomlinson and hope that Philip Rivers could get out of the way when the pass rush came, and somehow sync up with his players despite not throwing the ball often enough.
This has been the case since he arrived in Minnesota. At first, it made sense given Bridgewater's inexperience, but as of last season it's been hard to fathom. This year, Peterson has been so bad that Turner has had to throw the ball more often.
Replacing Peterson with McKinnon and Asiata would continue to force Turner to open the offense up more.
The offensive line is a mess, as head coach Mike Zimmer told the media this week.
"We didn't play very good up front last night; we didn't pass protect very well, and we didn't do a good job in the run block," Zimmer said Monday. "They got after us up front. We've got to do better."
Given the offensive line issues, the Vikings need to make adjustments to the game plan. They need throw to the ball to open up the running lanes and they need to do so with some shorter routes to keep Sam Bradford from getting destroyed. Short passes to the flat or on bubble screens can keep the defense honest and disrupt the pass rush.
McKinnon can run those routes effectively. So can Asiata.
Peterson does not run those routes well and is not as effective a receiver.
So having him out actually opens up the playbook more, something the Vikings have needed to do for a long time.
It's crazy to think that losing a future Hall of Famer might improve a team but in the case of the Minnesota Vikings, that's just what the reality is. They are better without Peterson.
Buccaneers admit mistake, boot Aguayo
In the NFL, it's always better to admit a mistake than to compound it. For the Buccaneers, the decision to burn a 2016 second-round pick on kicker Robert Aguayo has proven to be a mistake. The Buccaneers made the definitive admission of their error on Saturday, cutting Aguayo. He exits with $428,000 in fully-guaranteed salary [
more
]
Source: Mike Florio of ProFootballTalk
Powered by WPeMatico
Did Bucs put too much pressure on Aguayo?
After the Buccaneers surprised everyone by taking a kicker with the 59th overall pick in the draft, G.M. Jason Licht explained the move by heaping superlatives on the player. "I was very excited along with my staff and coaches about Roberto for a very long time," Licht told PFT Live in May 2016. "It's not [
more
]
Source: Mike Florio of ProFootballTalk
Powered by WPeMatico
Broncos holding their breath on Derek Wolfe
Only two days after losing Billy Winn for the year with a torn ACL, the Broncos are now sweating out another potentially serious injury along the defensive line. Via multiple reports, Broncos defensive lineman Derek Wolfe was carted off the field during practice on Saturday. It's being described as a right ankle injury by coach [
more
]
Source: Mike Florio of ProFootballTalk
Powered by WPeMatico