Michael Bennett Verbally Attacks Reporter In Locker Room
Find out what Michael Bennett said to a reporter after losing to the Falcons.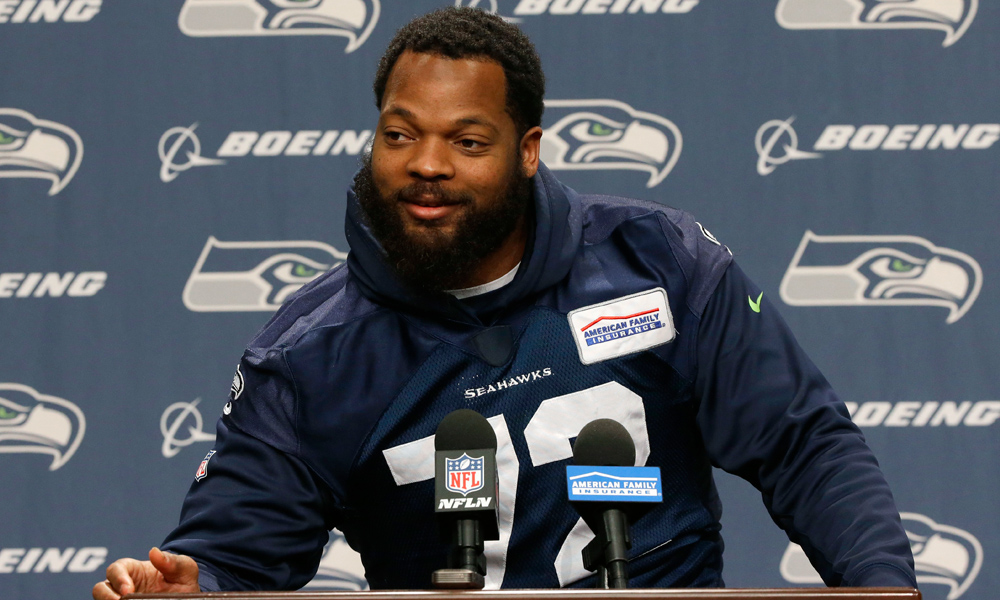 The true mark of a champion is being able to handle losing just as well as you handle winning. Every since Seattle won the Super Bowl three years ago, they're starting to become known as sore losers.
When things aren't going well, you'll know it when seeing Seahawks players argue amongst themselves, which is exactly what happened yesterday in Atlanta. The top-ranked Falcons offense exposed Seattle's secondary, as MVP candidate Matt Ryan completed 26-of-37 passes for 338 yards to go along with three touchdowns.
'Matty Ice' looked very comfortable in the pocket for majority of the night. Following the game, a reporter asked defensive end Michael Bennett about the lack of pass rush.
"We got a lot of pressure," Bennett said. "He threw the ball really fast. There was some busted stuff going on so obviously you don't know football. He threw the ball pretty fast. He did his thing. We rushed as good as we could. Don't point and say we didn't do what we needed to do, OK? Don't do that.
The veteran wasn't quite done.
"Get out of my face now. Don't tell me I didn't do my job (expletive). OK, exactly. Get the (expletive) out of my face. Like I said, get out of my face. Don't play with me. Don't play with me. I just put my heart on the (expletive) field. Don't (expletive) play with me. Get the (expletive) out of my face then. Try me again, see what happens. I ain't one of these (expletive) out here. Don't try to tell me what I didn't do (expletive)."
For a team as talented as Seattle, they're setting a poor example for younger kids looking up to them. You can't take all the credit when things are good and not take blame for when you lose.
It doesn't work like that.
Source: Seattle Times
Buccaneers admit mistake, boot Aguayo
In the NFL, it's always better to admit a mistake than to compound it. For the Buccaneers, the decision to burn a 2016 second-round pick on kicker Robert Aguayo has proven to be a mistake. The Buccaneers made the definitive admission of their error on Saturday, cutting Aguayo. He exits with $428,000 in fully-guaranteed salary [
more
]
Source: Mike Florio of ProFootballTalk
Powered by WPeMatico
Did Bucs put too much pressure on Aguayo?
After the Buccaneers surprised everyone by taking a kicker with the 59th overall pick in the draft, G.M. Jason Licht explained the move by heaping superlatives on the player. "I was very excited along with my staff and coaches about Roberto for a very long time," Licht told PFT Live in May 2016. "It's not [
more
]
Source: Mike Florio of ProFootballTalk
Powered by WPeMatico
Broncos holding their breath on Derek Wolfe
Only two days after losing Billy Winn for the year with a torn ACL, the Broncos are now sweating out another potentially serious injury along the defensive line. Via multiple reports, Broncos defensive lineman Derek Wolfe was carted off the field during practice on Saturday. It's being described as a right ankle injury by coach [
more
]
Source: Mike Florio of ProFootballTalk
Powered by WPeMatico