Mario Williams is One of NFL's Top Defensive Ends
Mario Williams is one of the best defensive ends in the NFL. Find out why.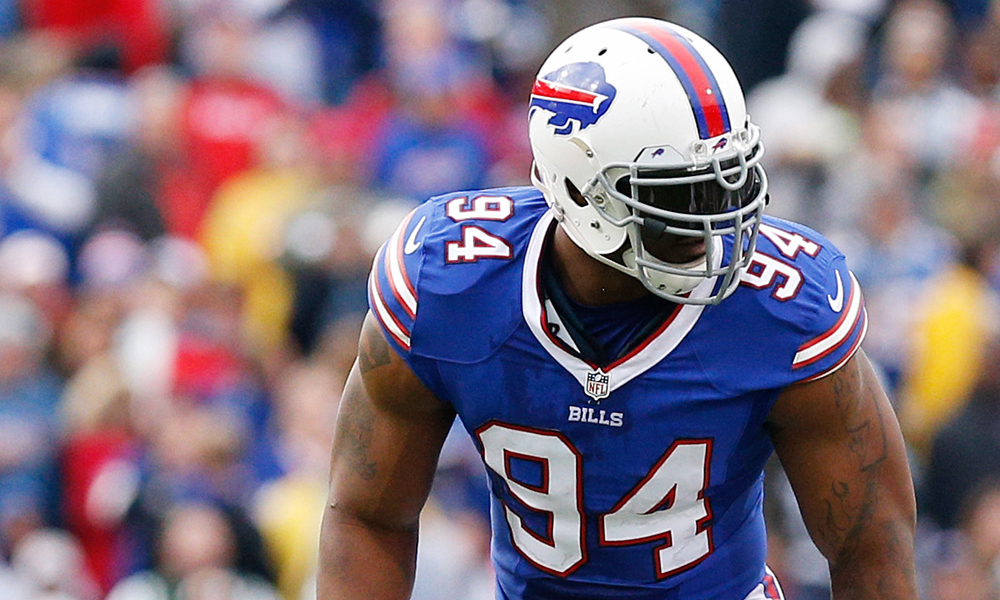 Just imagine that you are Green Bay Packers quarterback Aaron Rodgers. You are down 19-13 to the Buffalo Bills with 1:51 left in the fourth quarter with the ball on your own 10-yard line. To most quarterbacks this is a daunting task, but you aren't a normal quarterback, you have had 11 game-winning drives in your career and you are in the midst of one of the greatest seasons ever as a quarterback.
This should be another walk in the park for you. You should be able to put together another one of your majestic drives and win the game. However, Mario Williams has other plans as het gets into the backfield and strips the ball out of your hands in under two seconds, which ices the upset win for the Buffalo Bills.
"It was frustrating," Rodgers said. "They did a good job on defense, kind of slowed us down a little bit. We had some opportunities and didn't execute very well on them."
Williams is not just some scrub that got lucky on a play. He is one of the most dominant defensive ends in the NFL today.
In a league that has the largest collection of athletic marvels in the world. These players are height, weight, speed and strength freaks compared with 99 percent of the world.
At 6-foot-6 and 292 pounds, with 34.125-inch arms, a 4.7 second 40-yard dash, 40.5-inch vertical leap, 4.37 second short shuttle and 35 reps of 225 pounds on the bench press; Mario Williams may be the freakiest of them all.
His elite athletic ability, coupled with his incredible college production at North Carolina State led to him becoming the first overall pick by the Houston Texans in 2006.
Through his first three seasons, he appeared to be living up to the hype of an overall pick as he accumulated 30.5 sacks and 122 tackles as he appeared to be on his way to becoming one of the most dominant defensive ends in the NFL; however, it didn't seem to pan out that way.
In his next three years he recorded just 22.5 sacks and 70 tackles as he dealt with a variety of injuries and a coaching change.
This apparent downturn in his career led to the Texans allowing him to test free agency in 2012. Despite the appearance that he was already on the downside of his career, a number of teams had significant interest in him. The Buffalo Bills won the Mario Williams sweepstakes as he signed a six year contract worth $96 million with $50 million guaranteed, which was the most for any defensive player in the history of the NFL at the time.
This contract was heralded as "one of the worst investments in NFL history" and was ridiculed by fans and media alike.
Despite that, Williams has gone on to become one of the best defensive ends in the NFL as he has recorded 35.5 sacks (sixth most in that time span) and 94 tackles since signing that contract in the 2012.
One of the traits that have allowed to be so productive is his ability to set up an opposing blocker with his feet then beat the opposing blocker with his hands.
In the Buffalo Bills 4-3 defense, Mario Williams lines up almost exclusively at the left defensive end position. This means that he is rushing against right tackles who are usually slower-footed and less adept at pass-blocking than their left tackle counterpart. This leads to right tackles trying to compensate by overreacting to any movement from Williams, which puts Williams in an advantageous position to get around them and sack the quarterback.
This play is a great representation of Mario's ability to do just that: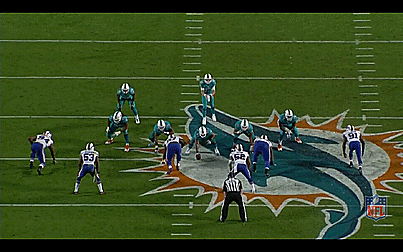 Williams is lined up at the left defensive end spot in the Bills' four-man line. After the snap, Williams comes off the ball kind of nonchalantly to try and lull the right tackle into a false sense of security. Then, Williams takes a hard left-to-right stutter step, which causes the right tackle to take a hard inside step in anticipation of Williams making an inside move. However, this allows Williams to get to the outside and easily knock away the tackle's hands and perform a swim as he makes his way into the backfield for the sack.
Williams ability to set up blockers with his nuanced footwork is very subtle, but it is the type of thing that separates player's with great physical ability from Just plain great players.
Another distinguishing quality is that for a player as big as he is, he has impressive upfield burst and the ability to bend around the corner. The ability of a defensive end to get upfield quickly and attack the outside shoulder of an offensive tackle is extremely important as he really stressed the tackle's pass set. Couple that upfield burst with the ability bend your body around the corner makes a defensive end nearly unstoppable.
Here is a great example of Williams' upfield burst and ability to bend around the edge: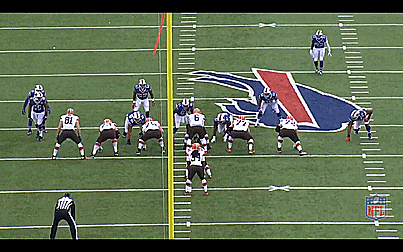 Once again Williams is lined up as the left defensive end in a wide-nine alignment. After the snap, Williams comes off the ball with two hard steps. Then, he slightly raises his upper body to give the tackle a large target to aim for; however, Williams dips his shoulders as he sticks his right foot in the dirt, sinks his hips and leans his body inside to sharpen his angle to the quarterback. He finished it with a rip to get the tackle's hands off of him as he hurries and gets a nice hit on the quarterback.
While he is known for his ability to rush the passer, Williams is very adept at defending the run as well. He does a great job of utilizing his length to keep blockers off his body as he diagnoses the play where he shed the blocker and make the tackle on the ball carrier.
This showcases his ability against the run: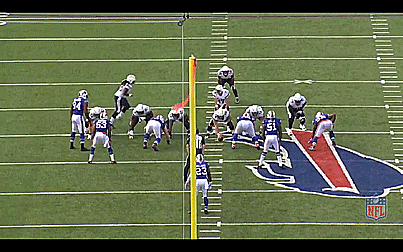 Williams finds himself as the left defensive end lined up over the tight end. After the snap the offensive line slants to Williams' left. Therefore, he engages the eight immediately at the line of scrimmage. He does a great job of creating separation with his arm extension, locating the ball, shedding the tackle with his right arm and making the tackle for no gain.
On this play, Williams showcased a great understanding of hand usage, leverage and mental processing to make the tackle.
Through the first 14 games of the 2014 regular season, the former first overall pick has recorded 37 total tackles and 13 sacks (tied for fifth in the NFL) as he has been a constant disruptor along the monstrous Bills' defense. Thus far this season, Williams has played at an All-Pro level and he deserves to be recognized as such.
Aaron Rodgers certainly knows that Mario Williams is worthy; it is about time you know too.
Buccaneers admit mistake, boot Aguayo
In the NFL, it's always better to admit a mistake than to compound it. For the Buccaneers, the decision to burn a 2016 second-round pick on kicker Robert Aguayo has proven to be a mistake. The Buccaneers made the definitive admission of their error on Saturday, cutting Aguayo. He exits with $428,000 in fully-guaranteed salary [
more
]
Source: Mike Florio of ProFootballTalk
Powered by WPeMatico
Did Bucs put too much pressure on Aguayo?
After the Buccaneers surprised everyone by taking a kicker with the 59th overall pick in the draft, G.M. Jason Licht explained the move by heaping superlatives on the player. "I was very excited along with my staff and coaches about Roberto for a very long time," Licht told PFT Live in May 2016. "It's not [
more
]
Source: Mike Florio of ProFootballTalk
Powered by WPeMatico
Broncos holding their breath on Derek Wolfe
Only two days after losing Billy Winn for the year with a torn ACL, the Broncos are now sweating out another potentially serious injury along the defensive line. Via multiple reports, Broncos defensive lineman Derek Wolfe was carted off the field during practice on Saturday. It's being described as a right ankle injury by coach [
more
]
Source: Mike Florio of ProFootballTalk
Powered by WPeMatico