Lost In The Wash: Some Good News For Some Bad Teams
While the NFL fan is all doom and gloom when their teams are losing, there's usually more behind the misery if you look close enough.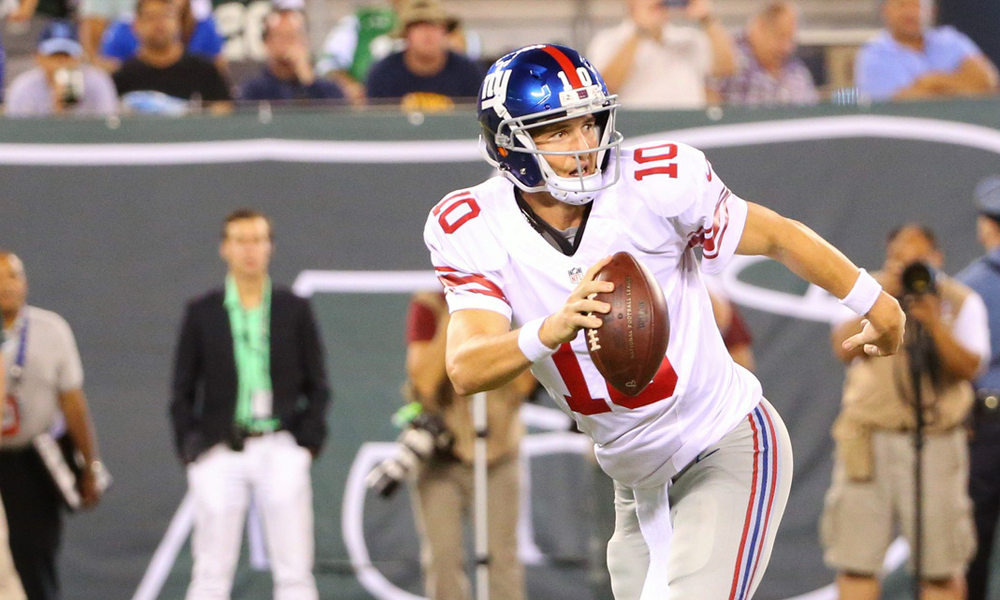 When NFL teams are losing, it seems like everything is going wrong. However, sometimes a peek behind the curtain reveals some good signs for a better future. Let's take a look at a couple of good stories coming out of bad situations.
A budding relationship.
Jacksonville Jaguars rookie receiver Allen Robinson had one catch for zero yards in his first game as a pro against the Philadelphia Eagles. Despite the optimism about what the young receiver would bring to the Jaguars, his career was off to a slow start. A week later, Robinson was featured more by the Jaguars as he led the team with four receptions for 75 yards in the team's 41-10 loss to the Washington Redskins. Week 3 the Jaguars were down 30-0 at halftime to the Indianapolis Colts. Robinson went into the locker room with just one catch for 29 yards, but head coach Gus Bradley made a call at the half that would change the Jaguars offense, and Robinson's output dramatically.
At the half, Bradley decided to turn the team over to rookie quarterback Blake Bortles, and time after time since, Bortles has looked for Robinson when dropping back. Two and a half games into his pro career, Robinson had six catches for 104 yards. In the second half against the Colts, Robinson had six more receptions and 50 more yards, and it was clear that he was quickly becoming one of Bortles go to options. Bortles has targeted Robinson at least seven times in each game since becoming the starter in Jacksonville, and the pair have connected at least four times each game. In his six and a half games as the Jaguars starter, Bortles has connected with Robinson 37 times for 384 yards and a pair of touchdowns, and it looks like the two are going to be building on this budding relationship for years to come.
The Minnesota Vikings are getting defensive.
While the 4-5 Vikings are stumbling through having a very young offense led by a rookie quarterback, they're quietly putting together a very talented defense. While the Vikings defense doesn't have a name as flashy as Jared Allen any longer, they have young, underrated players at each level of their defense. It looked as if maybe the Vikings over spent by resigning defensive end Everson Griffen in the offseason given that Griffen had never had more than the eight sacks he tallied in 2012. However, this season Griffen has proved that not every guy gets comfortable after a big pay day as the defensive end has already recorded career highs with 35 tackles, and nine sacks, and he's been a big part of the reason the team is second in the league with 30 sacks this season. Griffen isn't getting it done alone up front, as the team has a pair of talented tackles in Sharrif Floyd, who the team drafted a year ago, and former New York Giants defensive tackle Linval Joseph who signed with the Vikings in the offseason.
Like the defensive line, the linebackers are blessed with veteran leadership, and youth. The veteran leadership comes from one of the game's most underrated players, ninth year linebacker Chad Greenway. Greenway's unit has been bolstered by the Vikings first pick in this May's draft, UCLA's Anthony Barr.  For some, Barr seemed like a tweener who may not be stout enough to play linebacker in a 4-3 scheme.  Barr hasn't wasted time quieting those concerns as he's burst onto the scene and is a strong candidate for defensive rookie of the year. Barr is third amongst NFL rookies in tackles behind only middle linebackers CJ Mosley and Preston Brown. Barr also leads rookies with four sacks, and he showed just how much of an impact he can have when he stripped Tampa Bay Buccaneers rookie Tight End Austin Seferien-Jenkins of a pass on the first play of overtime, picking up the fumble and returning it the distance for a game winning touchdown.
The Vikings didn't only draft defensive tackle Sharrif Floyd in the first-round of last year's draft, as it spent the second of its three eventual first-rounders on Florida State corner Xavier Rhodes. While Rhodes has yet to record his first career interception for the Vikings, he added to what is, like the rest of the Vikings defense, an underrated secondary. While Rhodes and Captain Munnerlyn probably aren't keeping offensive coordinators up at night, the Vikings safeties should. Robert Blanton and Harrison Smith aren't the best safety combination in football, but they're probably football's most under appreciated. Robert Blanton is a tackling machine. Blanton started just three games a season ago for the Vikings, but has already amassed 61 tackles in the team's nine games this season, and Harrison Smith might be one of the NFL's best kept secrets. Smith was hampered by injury in 2013, but he's been a solid player with a nose for the ball since coming into the league.
A giant step forward for Eli Manning.
This season, in large part due to a shaky offensive line, the New York Giants offense has been very up and down. At times the Giants offense has looked as inept as it did a year ago when Eli Manning threw for a career low 18 touchdowns and a career high 27 interceptions, and at other times it's looked as good as the Packers' offense, which the Giants scheme has been built around. Former Packers quarterback coach and new Giants offensive coordinator Bob McAdoo thought he could change Manning's approach and make the Giants offensive struggles a thing of the past.
McAdoo was half right. The Giants offensive struggles have continued, but there are signs that a turnaround could be in the not so distant future. While it may be too late for the Giants to have real success in 2014, there are signs that the 2015 offense could be explosive. A quick glance at the Giants 3-5 record, or the fact that the team has been blown out several times, including a 27-0 shutout at the hands of the Philadelphia Eagles may lead you to believe that it's the same old thing for the Giants offense and for Manning. However, a closer look at the numbers actually tell a pretty surprising story for Manning who is playing with what is his least experienced group of receiving options to date.
Despite losing Hakeem Nicks to free agency and Victor Cruz to season ending injury, Manning is on pace to throw 32 touchdowns which would be one more than his career high. Even more important to Manning and the Giants is Manning is on pace to throw only 10 interceptions which would match his career low from 2008. Given that Reuben Randle has been slow to come around in his third season, Odell Beckham Jr. missed the beginning of the season, and the team has lost its two top receiving threats from a season ago, Manning's progression in the West Coast Offense has been a surprise.
If the Giants can find a way to improve the offensive line before 2015, this is an offense that could do a lot of damage. While the Giants would never choose to lose Cruz, his absence for the remainder of this season could be a blessing in disguise when it comes to next season. The experience that players like Larry Donnell, Beckham Jr. and Randle are getting this year because of Cruz's absence will pay huge dividends for them and the team when Cruz rejoins the Giants in 2015.
If Eli Manning can put up career numbers in his first year in this offense, with everything that's gone wrong for this team, and with all of its changes, it has to lead you to wonder if year two in this offense and some continuity, could make the Giants very dangerous in 2015.
Buccaneers admit mistake, boot Aguayo
In the NFL, it's always better to admit a mistake than to compound it. For the Buccaneers, the decision to burn a 2016 second-round pick on kicker Robert Aguayo has proven to be a mistake. The Buccaneers made the definitive admission of their error on Saturday, cutting Aguayo. He exits with $428,000 in fully-guaranteed salary [
more
]
Source: Mike Florio of ProFootballTalk
Powered by WPeMatico
Did Bucs put too much pressure on Aguayo?
After the Buccaneers surprised everyone by taking a kicker with the 59th overall pick in the draft, G.M. Jason Licht explained the move by heaping superlatives on the player. "I was very excited along with my staff and coaches about Roberto for a very long time," Licht told PFT Live in May 2016. "It's not [
more
]
Source: Mike Florio of ProFootballTalk
Powered by WPeMatico
Broncos holding their breath on Derek Wolfe
Only two days after losing Billy Winn for the year with a torn ACL, the Broncos are now sweating out another potentially serious injury along the defensive line. Via multiple reports, Broncos defensive lineman Derek Wolfe was carted off the field during practice on Saturday. It's being described as a right ankle injury by coach [
more
]
Source: Mike Florio of ProFootballTalk
Powered by WPeMatico