Lost In The Wash 2: More Good News For More Bad Teams
While fans are feeling doom and gloom as their teams are losing, there's usually more behind the misery if you look close enough.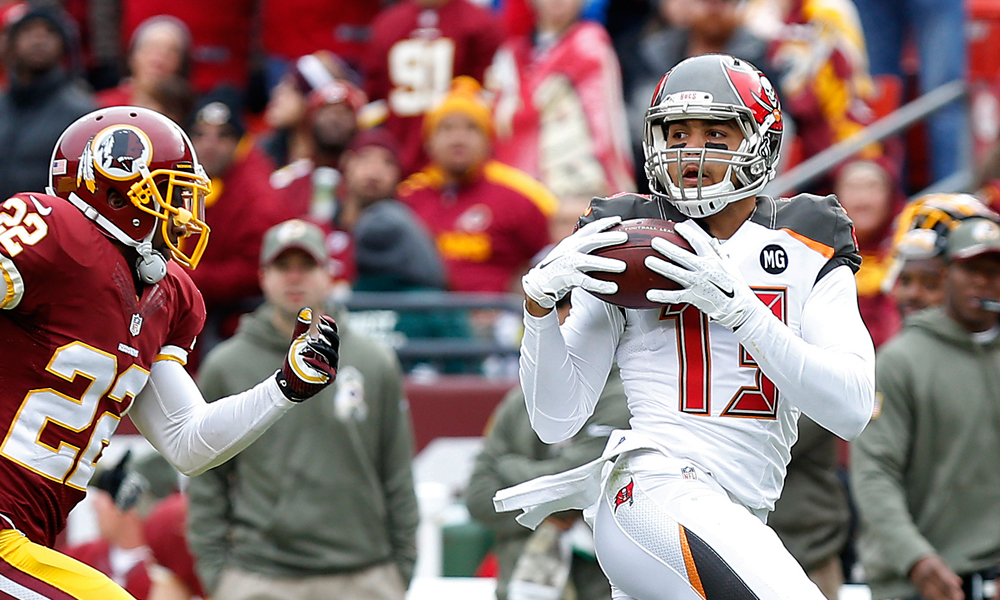 When NFL teams are losing, it seems like everything is going wrong. However, sometimes a peek behind the curtain reveals some good signs for a better future. Let's take a look at a couple of good stories coming out of bad situations.
A sign of strength in Tampa
There's not a lot to cheer for in Tampa right now, and with as many holes as the Tampa Bay Buccaneers have, that's unlikely to change quickly. Sure, some thought the turnaround under Lovie Smith would be quick and dramatic, but this season showed they were a lot farther away from competing than just about anyone thought.
The Buccaneers have had a few bright spots including the play of a couple of unheard of defenders like linebacker Danny Lansanah and defensive end Jacquies Smith, but nobody has shined brighter for the Buccaneers than rookie wide receiver Mike Evans. While the preseason included concern over Evans' work ethic, those concerns have been quickly put to rest as Evans has been consistent and explosive since the season began. Two words you won't hear often in regards to the Buccaneers. After the Bucs were clobbered 34-17 Sunday, Evans play was one of the few bright spots to look at for head coach Lovie Smith.
"Mike has made a lot of big plays for us," Lovie told the Buccaneers Radio Network after Sunday's loss to the Detroit Lions. "On days like today you have to look at the bright spots and Mike has made them. He is a good football player."
With his two-touchdown performance against the Lions on Sunday, Evans became the first receiver in Buccaneers history to have three multiple touchdown games in a single season. However, Evans isn't satisfied to put up big numbers or to be in the rookie of the year conversation. Evans wants to win, and he clearly sees that the Buccaneers offense isn't doing enough for a defense that has played better of late.
"We've got to do better, I know that. Our defense played great, especially the past few games," Evans said after the team's loss to the Cincinnati Bengals. "They've been playing great and we haven't been helping them much. Our defense is stronger than our team right now. We've got to help them."
The Buccaneers have a big hole at quarterback, several holes across the offensive and defensive lines, as well as in the secondary and at linebacker, but the good news is, they've found a bona fide superstar at wide receiver to build whatever offensive scheme they bring in next season around!
Driving the right Carr
The Oakland Raiders are bad. Sure they're playing tougher since interim head coach Tony Sparano took the reins from Dennis Allen, but this is still a team without much direction. It's difficult to figure out what Reggie McKenzie's plan is when he had more salary cap space to play with than any other team in football, and his offseason consisted of letting guys like Lamarr Houston and stud left tackle Jared Veldheer walk, while bringing in older players like Donald Penn and Justin Tuck to replace them.
For all the things McKenzie and the Raiders got wrong over the offseason, it seems they may have got it right at quarterback. While it's way too early to be sure Carr is going to be a great quarterback, (see Robert Griffin, III) he has certainly done a good job of impressing Sparano.
"He really, I thought, played well today. The kid is a competitive kid," said Sparano. "He's just getting better and better and better. On that first play, the first touchdown play, they came with pressure, we expected the pressure, the guys handled it pretty good up front, but Derek kept through the progression and getting the ball to the right guy, that's progress."
While the Raiders have struggled mightily this season, it's been a steady progression for Carr. The young quarterback has seen his ups and downs like any rookie, but it's no coincidence that the Raiders have picked up their two victories over the last three weeks. Yes, there was a shutout in which Carr struggled sandwiched between the victories, but the Rams defense is pretty damn good as they showed again with their second consecutive shutout last Sunday, and Carr showed a down performance wouldn't affect him moving forward as he had his best game of the year Sunday against a good 49ers defense.
"I felt like for the first time there wasn't the little detail mistakes that ruined it," Carr said after the team's 24-13 victory over the 49ers. "I felt like I've grown, and I felt like the game is slowing down, obviously, week by week. There's going to be highs and lows as a rookie player. I'm just trying to limit those low ones the best I can."
Unfortunately for Carr, he's likely to experience quite a few more lows as a member of the Raiders, but if the Raiders bring in a competent general manager, or if Reggie McKenzie suddenly figures out how to build a football team, the Raiders look like they might just have their guy at quarterback who can lead them to many highs.
A quarterback away
The St. Louis Rams might just be the polar opposite of the Raiders. The Rams have done a very good job of building their roster of late, but they just can't find the right fit at quarterback to get the team over the hump. The Rams, in large part thanks to the Washington Redskins, have built a roster loaded with talent, including a defensive line that, when healthy, boasts four first-round draft picks. If you missed it last week, the Rams had some fun at the Redskins' expense, sending all six of the players they ended up acquiring as part of the Robert Griffin III trade out for the coin toss before shutting out the Redskins 24-0.
While the Rams quarterback play has caused them to go only 6-7 so far this season, it's quite clear how much talent there is in St. Louis, and their last two victories over the Redskins and Raiders by a combined score of 76-0 is an indicator of just how good St. Louis can be.
Despite the Rams issues at quarterback, a look around the roster shows they have some of the strongest units in the NFL, and a look at their schedule shows just how close this team was to competing this year in spite of the quarterback play. While the Rams are just 6-7 on the year, they beat the Denver Broncos and Seattle Seahawks, and lost to San Diego, Philadelphia and Dallas by 12 points combined.
While the Rams don't really scare anyone offensively, they struck gold in the draft picking up Tre Mason as late as they did, and Tavon Austin, Jared Cook and Kenny Britt are certainly talented enough to get the job done if the Rams were to get some consistent quarterback play.
The defensive side of the ball is stacked. While they could probably still use a big time shut down corner, (if those can exist in today's game) you wouldn't call Janoris Jenkins and E.J. Gaines weak, although the secondary is the least talented group on the defense. The safety position could also use some help, and the team tried to address that by trading for former Buccaneers first-round pick Mark Barron, but he hasn't impressed either. Moving forward, rookie safety Lamarcus Joyner looks like he could see more time on the field as he's flashed some exciting skills and an affinity for hitting during his rookie campaign.
The Rams front seven is as good as it gets. Aaron Donald became the fourth Rams defensive lineman drafted in the first round last May, and he's stepped right in and played great alongside Michael Brockers, Robert Quinn and Chris Long to form what is unquestionably one of the best defensive lines in today's game. Sometimes lost in the fact that they play behind such a good defensive line is the fact that the Rams have one of the best linebacker groups in the NFL as well, with James Laurinaitis, Alec Ogeltree and Jo-Lonn Dunbar.
So, while the Rams aren't in position to contend for a playoff spot in 2014, it's not inconceivable that they could be in position to contend for a Super Bowl if they ever figure out how to fill that pesky quarterback position.
Buccaneers admit mistake, boot Aguayo
In the NFL, it's always better to admit a mistake than to compound it. For the Buccaneers, the decision to burn a 2016 second-round pick on kicker Robert Aguayo has proven to be a mistake. The Buccaneers made the definitive admission of their error on Saturday, cutting Aguayo. He exits with $428,000 in fully-guaranteed salary [
more
]
Source: Mike Florio of ProFootballTalk
Powered by WPeMatico
Did Bucs put too much pressure on Aguayo?
After the Buccaneers surprised everyone by taking a kicker with the 59th overall pick in the draft, G.M. Jason Licht explained the move by heaping superlatives on the player. "I was very excited along with my staff and coaches about Roberto for a very long time," Licht told PFT Live in May 2016. "It's not [
more
]
Source: Mike Florio of ProFootballTalk
Powered by WPeMatico
Broncos holding their breath on Derek Wolfe
Only two days after losing Billy Winn for the year with a torn ACL, the Broncos are now sweating out another potentially serious injury along the defensive line. Via multiple reports, Broncos defensive lineman Derek Wolfe was carted off the field during practice on Saturday. It's being described as a right ankle injury by coach [
more
]
Source: Mike Florio of ProFootballTalk
Powered by WPeMatico