Leonard Williams is as Close to a Sure Thing as There Can Be in the NFL Draft
Leonard Williams is the best defensive player in the 2015 NFL draft class. Find out why.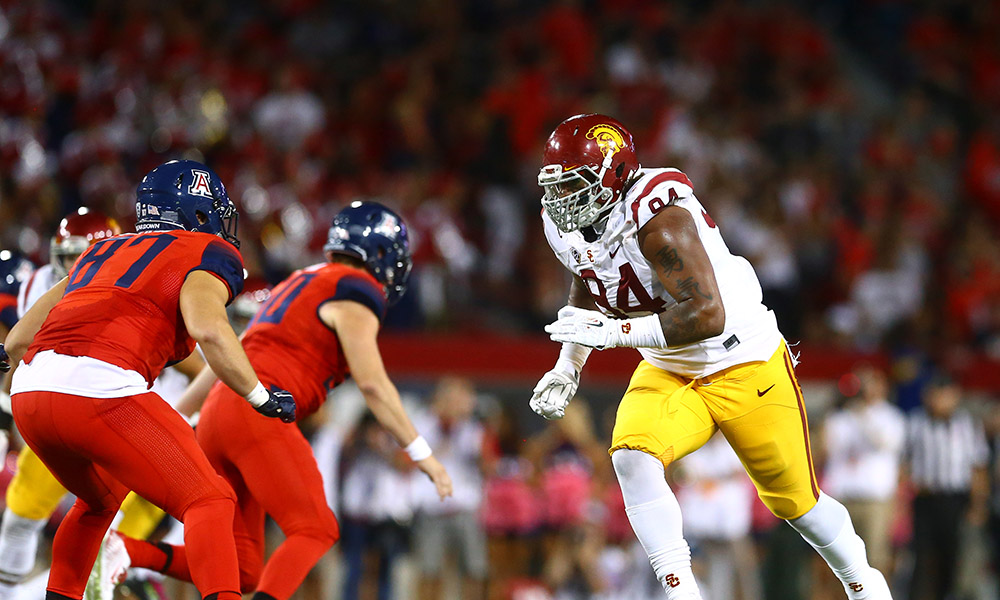 The top 2015 draft-eligible prospects are some of the most talented in recent memory. However, they all have large enough flaws that make you wonder if they will succeed in the NFL. Oregon quarterback Marcus Mariota plays in an offense that doesn't really demonstrate many NFL qualities, plus he has some serious ball security issues that make DeMarco Murray look secure with the ball. Texas A&M offensive tackle Cedric Ogbuehi has suspect hand usage, which may give him huge problems in the NFL. Nebraska defensive Randy Gregory has great size and athleticism, but is still raw enough that it makes you wonder if he will develop enough to be successful. Iowa offensive tackle Brandon Scherff is an athletic freak for an offensive lineman, but his lack of length will make some wonder if he can survive on the edge in the big leagues.
There is one prospect that doesn't have these types of flaws. There is one player who is so well rounded and dominant that he could be a Pro-Bowl caliber player at multiple positions. There is only one draft-eligible college football player that has the height, weight, athleticism, production and talent that warrants the label of a "sure thing."
This player's name is Leonard Williams.
Williams is a 20-year-old junior defensive lineman at the University of Southern California who has some thinking he could be the best defensive lineman prospect since Ndamukong Suh. Williams has 137 tackles, 17 sacks and 30.5 tackles for loss in his almost three year career, which is incredible for a player that receivers the type of attention he does from opposing offenses.
University of Arizona head coach Rich Rodriguez recently stated this in regards to Williams; "You're talking about a guy who is 6-foot-6 (He's actually listed at 6-foot-5), 300 pounds, that is as fast as our skill players. He is a first-rounder who is going to be playing for a long time."
Now you may be wondering, what makes Williams such a great prospect?
Position Flexibility
In the NFL, J.J. Watt has the unique ability to excel at multiple positions along the defensive line. He has been extremely productive as a 5-technique defensive end in a 3-4 defense, a 3-technique defensive tackle and 6- or 7-technique defensive end in any nickel packages.
It would be unfair to compare Williams with J.J. Watt, the best defensive player in the NFL; however, this is one area where Williams compares well with Watt. Williams has lined up at nearly every position along USC's defensive line. He has been productive as an edge rusher as well as an interior gap penetrator.
There is a huge difference between being able to play a variety of positions and being to thrive in a variety of positions. Williams is one of the few prospects who can thrive in multiple positions.
Size
Last year, the NFL draft had two defensive tackles with incredible talent and abilities in Aaron Donald and Dominique Easley. Nevertheless, both players were shorter than 6-foot-2 and lighter than 290 pounds, which is less than ideal for interior defensive lineman.
Williams, who is listed at 6-foot-5 and 300 pounds, won't have those same size concerns when he enters the draft.Even though it is nearly impossible to know for sure, Williams appears to have extremely long arms for a defensive lineman. His long arms give him the ability to go toe-to-toe with guards and tackles alike down after down. His size best fits the profile of a 3-technique defensive tackle in a 4-3 or a 5-technique defensive end in a 3-4, but it won't stop him from play on the edge as well.
While Williams certainly passes the eye test in terms of height and weight, he also has the athleticism and technique of an elite-level player. The best defensive linemen in the NFL mix their technical acumen with their great athletic traits to become the monster under the bed for opposing offensive coordinators, the player that keeps them up at night.
Strength and Quickness as the Point of Attack
The most impressive aspect of Williams is his ability to be productive despite being double-teamed for a large majority of his snaps. When faced with double-teams, most young players try to go around the block, instead of trying to work through the double team. Williams does a great job of either beating the double team with quickness or holding his ground with his impressive strength, balance and use of leverage. Rarely, do you see a player as comfortable against multiple blockers at the point of attack as Williams is.
Williams is also a very active player at the line of scrimmage. He doesn't wait or "catch" opposing blockers, he tries to attack or jolt them at the snap, which allows him to then utilize his wide array of pass-rush techniques. He uses his extremely long arms to create separation between his body and the opposing lineman's body, which allows him to either disengage to pursue or tackle the ball carrier against the run or start working up field to get pressure on the quarterback.
Pass-Rush Ability
When rushing the quarterback, Williams does a fantastic job of having a plan and not letting offensive linemen get their hands on him. This allows him to keep working up field, while employing a variety of primary and counter pass-rush moves. For a player the size of Williams, he has an impressive array of speed and power rush moves. He can win with a quick swim move off the line of scrimmage or he can employ a fantastic push and pull power move that sends opposing blockers face first into the turf. He can also utilize a straight bull rush; spin, inside and outside rip.
Williams' best pass-rush move is his ability to convert speed to power, which is where a defensive linemen fakes like he is going up field for a speed rush to get the offensive lineman off-balanced before he puts his hands in the opposing lineman's chest and drives him backwards toward the quarterback. Moreover, Williams is relentless and nasty when he is rushing the passer.
He never allows his feet to stop, which allows him to continue to work toward the quarterback. If his first pass-rush move doesn't work, he will work to his second or third move to try and get around opposing linemen. He can collapse the pocket while rushing as a defensive tackle or blow by a tackle while rushing as a defensive end.
Disruptive Against the Run
Last year's top defensive tackle Aaron Donald could only win with his quickness against the run. If an offensive lineman engaged with him, Donald would likely be washed out of his gap because he didn't have the necessary girth to hold his ground.
Williams does not have this problem. He can be disruptive against the run by getting into the backfield with his quickness off the snap or he can also anchor down, neutralize the block and leverage his gap before disengaging and making the tackle.
Furthermore, he is great at working through the traffic to get to the ball carrier. Williams has displayed the ability to defeat multiple blocks on his way to making a tackle on several occasions. That is what makes Williams so special, he wins in numerous ways where most only win in a couple distinct ways. This allows Williams to keep opposing blockers guessing because they never know how he is going to attack them. If an opposing lineman to get in position to defend the speed rush then he will be susceptible to his powerful bull rush. If the blocker comes prepared for Williams' power rush, then he will be left in the dust as Williams executes a lightening quick swim move to blow by him to get into the backfield. This varied skill set causes a lot of opposing lineman to be unsure how to attack Williams, which causes them to be out of balance with no chance of stopping him.
Toughness
Some traits are impossible to teach, you either have them or you don't, toughness is one of those traits. Williams has proven in multiple instances this year that he is indeed a tough player.
Against Stanford, Williams came into the game with a bad ankle injury that was supposed to hold him out. However, not only did Williams still play, but he still managed to get 11 tackles and a sack, while injured against one of the best collegiate offensive lines in the country. He was notably slower because of the injury, but he still found ways to fight through the pain and still be effective. That is the kind of guy that every coach wants on his team.
Areas to Improve
Even though Williams is a tremendous college football player and an incredible NFL draft prospect, he is by no means perfect. He still has areas that he needs to improve as well. The first area that Williams needs to improve is his pad level. Far too often, Williams fires off the ball with his body in an upright position. This is bad because it allows offensive linemen to limit the gap between their hips and expose the lack of leverage that the defensive lineman has, which means the defensive lineman is likely getting blown out of his gap or even worse, put on his back.
The amazing thing is that even though Williams has played too high on a large amount of plays, he still wins at the point of attack, because of his strength, quickness and balance despite losing the leverage battle.
Also, Williams has a very good initial burst, but it is one of the few aspects of his game that is not on an elite level. It is good enough to be NFL offensive linemen, but it's not something he is going to be able to win with play in and play out.
Next Level Projection
Williams' size, athleticism and technical traits seem to best be suited as a 3-technique defensive lineman in a one-gapping 4-3 defense. He has the size to hold his ground against double teams in the run game, while having enough power, lateral agility and quickness to penetrate his gap and beat interior offensive lineman on run and passing plays.
Williams' skill set also would thrive as a 5-technique defensive end in a 3-4. He has the length and strength to be able to play in a two-gap system, in which he plays head up with the opposing tackles and must control the gaps on both sides of his body to allow the linebackers free reign behind him.
His skill set doesn't best lend itself to an every down defensive end in a 4-3 defense, but he could line up their on occasion to give the offense a different look, much in the same way the Texans use Watt in their nickel package.
Williams is a three-down player who can give you immense impact and production against the run and the pass. There is no limit on the number of ways a coach could utilize Williams to help their team.
He has the skills and measurable to be a perennial All-Pro in any defense. He is the best defensive prospect in the draft by far.  He is a special kind of talent and any team that drafts him will be extremely happy for eight to 10 years.
In the spirit of Halloween, Williams will be that thing that goes bump in the night for opposing offensive coordinators.
Projection: Top-5
Buccaneers admit mistake, boot Aguayo
In the NFL, it's always better to admit a mistake than to compound it. For the Buccaneers, the decision to burn a 2016 second-round pick on kicker Robert Aguayo has proven to be a mistake. The Buccaneers made the definitive admission of their error on Saturday, cutting Aguayo. He exits with $428,000 in fully-guaranteed salary [
more
]
Source: Mike Florio of ProFootballTalk
Powered by WPeMatico
Did Bucs put too much pressure on Aguayo?
After the Buccaneers surprised everyone by taking a kicker with the 59th overall pick in the draft, G.M. Jason Licht explained the move by heaping superlatives on the player. "I was very excited along with my staff and coaches about Roberto for a very long time," Licht told PFT Live in May 2016. "It's not [
more
]
Source: Mike Florio of ProFootballTalk
Powered by WPeMatico
Broncos holding their breath on Derek Wolfe
Only two days after losing Billy Winn for the year with a torn ACL, the Broncos are now sweating out another potentially serious injury along the defensive line. Via multiple reports, Broncos defensive lineman Derek Wolfe was carted off the field during practice on Saturday. It's being described as a right ankle injury by coach [
more
]
Source: Mike Florio of ProFootballTalk
Powered by WPeMatico