Justin Houston Leading The NFL's Top Pass Defense
Chiefs' linebacker Justin Houston may be the best player in the NFL that you don't know.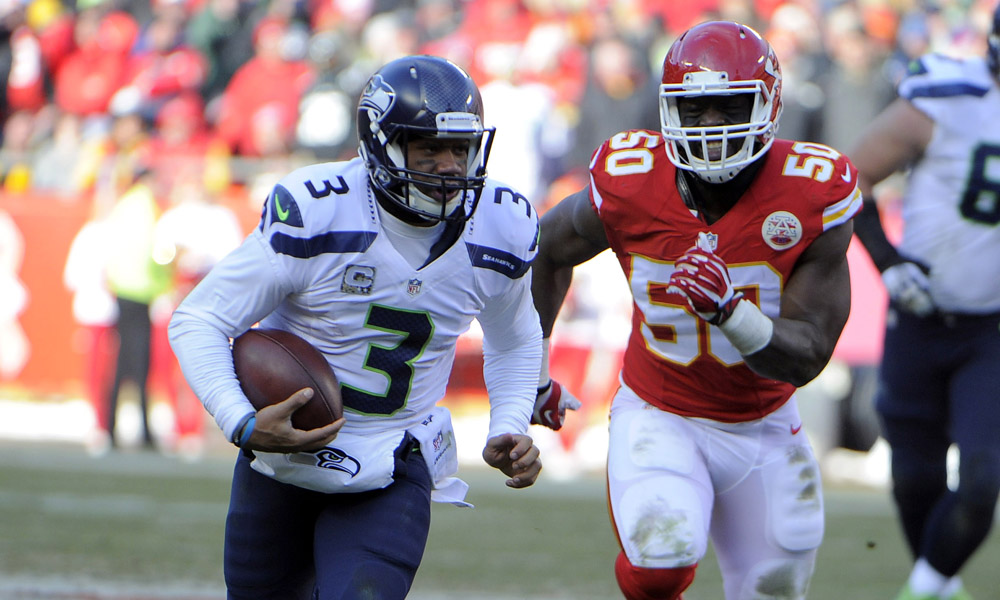 When you think about impact guys on the defensive side of the ball, names like J.J. Watt, Richard Sherman and Patrick Peterson will immediately come up. One name you should add onto your list is Justin Houston.
Kansas City selected Houston with the 70th overall pick in the 3rd round of the 2011 NFL Draft. While the Chiefs thought Houston could become an impact player one day, it's hard to imagine they expected it to come this soon.
The 25-year old outside linebacker is only in his fourth season and he's already putting up monster numbers. Houston has gathered 176 tackles to go along with nearly 40 sacks.
While others may continue to overlook Houston, the California native has supreme confidence in his abilities.
"I think I'm the best any time I step on the field."
When you've reached two pro bowls in three seasons, you have the right to feel this way.
"I think any player thinks that. As a player, you're supposed to think that you're the best at what you do. So if you ask me about me, (I'll say), 'Yes,' but I'm going to let the next person be the judge, though."
After 11 games, Houston leads the league in sacks with 13, which surpasses his previous season high of 11 last season. He also has 45 tackles.
With free agency looming, Houston realizes the importance of his play.
"I (want) to have a big season every year — that's my goal, that's my plan. I plan on continuing to have that as long as I play football."
3-time pro bowler Derrick Johnson tore his Achilles week one against the Tennessee Titans, which is what makes Houston's play that much more impressive.
Should Kansas City give Houston what he wants this off-season?
The short answer here is yes. You don't find pass rushers with the speed and strength like Houston very often. Rookie linebacker Dee Ford understands how special Houston is.
"Hard work pays off, man. And I sit there and I watch it. I'm a part of it. Hard work pays off. The skill of pass rushing, it's not underrated anymore, but it used to be. But it's an important skill, and it's a hard skill, and you have to be in another zone in order to make this thing work. Justin, he's just really hitting his prime right now. It's a beautiful thing to watch," the former first-round pick from Auburn said.
While everyone is fretting over what will happen to Houston in free agency, Houston himself isn't all too concerned, for now at least.
"You can't let (the contract talks) be a distraction at all. I sit back and watch the other guys. And I talked to some of the coaches, and the coaches, they'll be honest with me. And they tell me: 'Don't let it distract you, your time is coming.' And I know I've just got to be patient. My time will come."
Kansas City will have a major decision to make in the off-season, but it should be relatively easy. Pay Houston!
Buccaneers admit mistake, boot Aguayo
In the NFL, it's always better to admit a mistake than to compound it. For the Buccaneers, the decision to burn a 2016 second-round pick on kicker Robert Aguayo has proven to be a mistake. The Buccaneers made the definitive admission of their error on Saturday, cutting Aguayo. He exits with $428,000 in fully-guaranteed salary [
more
]
Source: Mike Florio of ProFootballTalk
Powered by WPeMatico
Did Bucs put too much pressure on Aguayo?
After the Buccaneers surprised everyone by taking a kicker with the 59th overall pick in the draft, G.M. Jason Licht explained the move by heaping superlatives on the player. "I was very excited along with my staff and coaches about Roberto for a very long time," Licht told PFT Live in May 2016. "It's not [
more
]
Source: Mike Florio of ProFootballTalk
Powered by WPeMatico
Broncos holding their breath on Derek Wolfe
Only two days after losing Billy Winn for the year with a torn ACL, the Broncos are now sweating out another potentially serious injury along the defensive line. Via multiple reports, Broncos defensive lineman Derek Wolfe was carted off the field during practice on Saturday. It's being described as a right ankle injury by coach [
more
]
Source: Mike Florio of ProFootballTalk
Powered by WPeMatico