Is Rex Ryan Set Up For Failure?
Sometimes it feels like the New York Jets don't want Rex Ryan to succeed.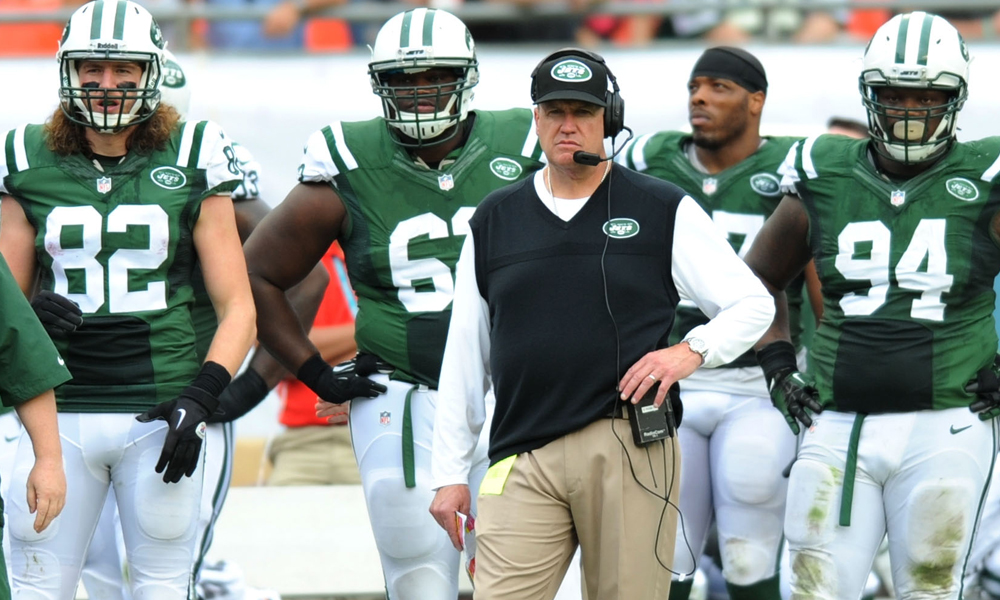 He's brash, loud and sometimes foolish, but to say the man can't coach some football would be way off base. New York Jets head coach Rex Ryan catches a bad rap for his antics and shenanigans but when it comes to motivating a team, the guy gets the job done.
Starting his head coaching career on fire and establishing the ground-and-pound identity, Ryan's teams won games by running the ball down the opposition's throat and keeping their offense from doing much of anything against his top-notch defense. This identity fueled two consecutive trips to the AFC Championship Game, where his teams came up short of the Super Bowl both times.
Despite optimism running high after back-to-back playoffs seasons and a young quarterback who had played well in the postseason runs, things began to go sour. After loading up on veteran free agents the next two seasons and not drafting particularly strong, especially on the offensive side of the football, the team started to regress.
Due to mismanagement of the team's cap space by former general manager Mike Tannenbaum and the failed progression of their former first-round quarterback Mark Sanchez, the franchise began taking a step back after starting the Ryan era off so promising. To top it all off, the Tim Tebow media circus would come during a six-win season and Ryan nearly lost his job. However, Ryan put up a fight and managed to remain on the Jets' sideline.
Shortly after the Jets hired a new general manager, John Idzik. Usually when a new general manager is hired, he wants to bring in his own coach. With Ryan having the saving grace of early success on his side, Idzik was basically forced to stick with him.
Ryan survived last season, despite being saddled with a rookie quarterback and no receivers in an anemic passing game, leading his team to an 8-8 record and buying himself at least one more season. The fact that Coach Ryan was able to motivate his team to win that many games last year was a victory in itself.
Then, coming into this 2014 season, things got a little weird as to what the front office was doing to support Rex Ryan. Which leads me to wonder, has Ryan been set up by the Jets for failure?
The offseason featured a tripwire set up by the front office, bringing in veteran quarterback Michael Vick and telling him he'd have a chance to compete for the starting job. Meanwhile, Ryan was maintaining that the organization is behind Geno Smith 100 percent. This led to a confusing start of training camp, with the front office contradicting the coaching staff. The franchise is lucky that Vick has handled the situation better than anyone could have expected. The Jets were one diva-like tantrum from Vick away from having an all-out quarterback controversy on their hands this offseason and probably still are, if Smith doesn't make big strides in his game this year.
While on paper, it would seem like the Jets made some strides in the offseason to improve the weapons on offense – with the acquisitions of Eric Decker, Chris Johnson and Jace Amaro – the front office did very little in supplementing the loss of their top cornerback for the second consecutive year. This has forced coach Ryan to play a former safety in Antonio Allen out on the boundary. Although they have one of the better front sevens in all of football, their glaring weakness (which is their secondary) was on full display versus the Green Bay Packers, when they stormed back from an early deficit behind the pitch-and-catch tandem of Aaron Rodgers and Jordy Nelson.
That combination was unstoppable last week, and things don't look to get better Monday night if the Chicago Bears' imposing receiver tandem of Brandon Marshall and Alshon Jeffery is fit to play. Getting into a shootout is not the recipe for victory for this team, as they have a below-average secondary and they don't have a true threat on the outside with Decker banged up, because David Nelson and Jeremy Kerley aren't scaring anyone.
This will be Ryan's hurdle this season, and if I was a betting man, I'd bet on Ryan to navigate his way out of these murky waters. He has a winning career record in the regular season and playoffs, his players love him and, in turn, play their hearts out for him. This will always make a Rex Ryan coached team more competitive than they should be talent wise. While Ryan's coaching will have them competitive, the front office hasn't done much to ensure his success, which should be a source for grief among Jets fans.
Buccaneers admit mistake, boot Aguayo
In the NFL, it's always better to admit a mistake than to compound it. For the Buccaneers, the decision to burn a 2016 second-round pick on kicker Robert Aguayo has proven to be a mistake. The Buccaneers made the definitive admission of their error on Saturday, cutting Aguayo. He exits with $428,000 in fully-guaranteed salary [
more
]
Source: Mike Florio of ProFootballTalk
Powered by WPeMatico
Did Bucs put too much pressure on Aguayo?
After the Buccaneers surprised everyone by taking a kicker with the 59th overall pick in the draft, G.M. Jason Licht explained the move by heaping superlatives on the player. "I was very excited along with my staff and coaches about Roberto for a very long time," Licht told PFT Live in May 2016. "It's not [
more
]
Source: Mike Florio of ProFootballTalk
Powered by WPeMatico
Broncos holding their breath on Derek Wolfe
Only two days after losing Billy Winn for the year with a torn ACL, the Broncos are now sweating out another potentially serious injury along the defensive line. Via multiple reports, Broncos defensive lineman Derek Wolfe was carted off the field during practice on Saturday. It's being described as a right ankle injury by coach [
more
]
Source: Mike Florio of ProFootballTalk
Powered by WPeMatico