Is LSU Becoming a Victim of Its Own Recruiting Success?
LSU's penchant for losing talent to the NFL early is catching up to the Tigers this year — but it may just be a temporary side effect of strong recruiting.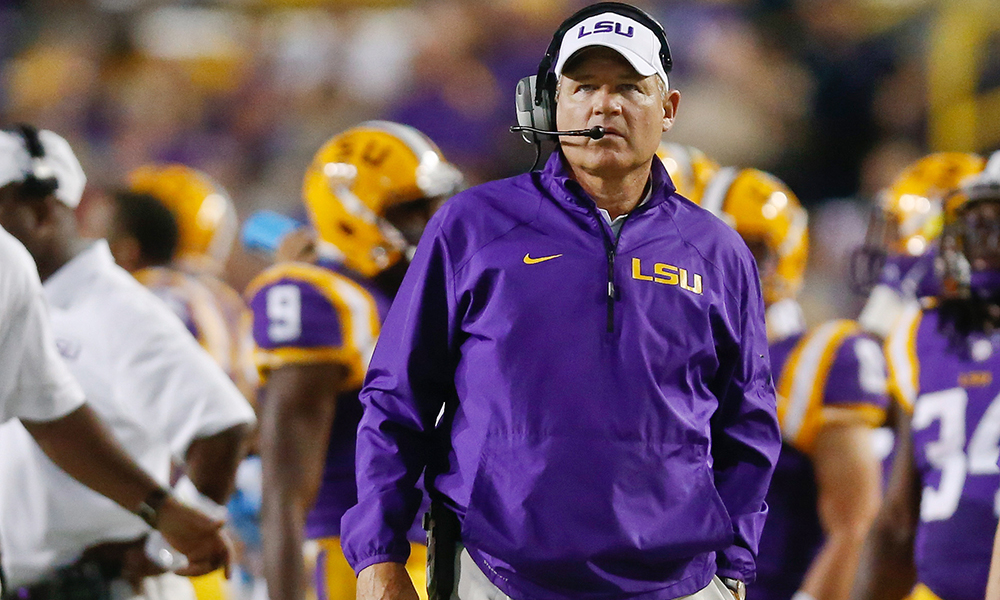 Believe it or not, it's possible to be too good at recruiting.
Kentucky basketball was the poster child for this syndrome in college sports the past two years. The overhyped Wildcats missed the NCAA tournament a year after riding to a national championship on the wings of Anthony Davis, then underachieved all season in 2013-14 before slipping into the tournament as an 8-seed. It wasn't until then that the callow 'Cats found their groove, stringing together an improbable series of wins all the way to the national championship game.
Even though college football doesn't have one-and-done players, it's possible for a program to recruit too well. Yes, it sounds counter-intuitive and possibly moronic. But that doesn't mean it isn't true.
Players whose coaches were hoping they would be around as seniors don't bother waiting that long when a good NFL paycheck can reach them a year sooner. That bug appears to be hitting LSU hard this year — and unfortunately for Tigers fans, there's not a big enough playoff field in college football for the team to turn into a contender if and when it finally finds its stride.
Death Valley has been a lifeline to the NFL, particularly in the past two years, as 18 underclassmen departed LSU early to play in the pros. That, combined with the loss of senior quarterback Zach Mettenberger, helps explain how the Tigers lost to Mississippi State at home for the first time in a generation and will face an uphill climb the rest of the season in the brutal SEC West.
It begins at quarterback, of course, where the reins have been handed from sophomore Anthony Jennings – he of five career starts – to true freshman Brandon Harris. LSU hasn't started a true freshman behind center this early in a season since 1992. Harris appears to have a world of talent — at least as far as one can read into talent level based on a game against New Mexico State — but it's obvious SEC defensive coordinators will be licking their chops over their opportunities to befuddle the youngster.
Harris won't be alone in his inexperience. While the top two backs in LSU's rotation are seniors, the next two are also freshmen. Of the top eight players the Tigers have listed at receiver, six are either true freshmen or redshirt freshmen. Oh, and one sophomore.
There's at least some experience on the other side of the ball, where LSU has a whopping three senior starters.
Les Miles is not asking for anyone's sympathy, nor will he get it. Talented prospects will continue flocking to him because they know it's a quick path to the NFL. But that benefit doesn't come without drawbacks, and the probable ups-and-downs of the next two months are likely to demonstrate both those items in full.
"There's a responsibility that the coaching staff has to see a void that will potentially occur and we have to recruit to that void," Miles said at SEC Media Days in July. "We have to make sure that our style of recruiting is the style of recruiting that we get an athlete that has a want to be something special, then that guy steps in and plays as a true freshman. Although not optimal, it's certainly something we've done."
LSU fans should be pleased if the team can go .500 in conference play this year, make a semi-decent bowl game and turn those extra weeks of practice into a tool for sharpening a team that should return to national title contention next season. That's a tough sell for a fanbase that always expects to be a contender, but it's the price the program pays for the level of talent it is getting.
"It is not necessarily optimal," Miles said of the turnover in Baton Rouge. "But we will absolutely deal with those young guys that are capable."
Buccaneers admit mistake, boot Aguayo
In the NFL, it's always better to admit a mistake than to compound it. For the Buccaneers, the decision to burn a 2016 second-round pick on kicker Robert Aguayo has proven to be a mistake. The Buccaneers made the definitive admission of their error on Saturday, cutting Aguayo. He exits with $428,000 in fully-guaranteed salary [
more
]
Source: Mike Florio of ProFootballTalk
Powered by WPeMatico
Did Bucs put too much pressure on Aguayo?
After the Buccaneers surprised everyone by taking a kicker with the 59th overall pick in the draft, G.M. Jason Licht explained the move by heaping superlatives on the player. "I was very excited along with my staff and coaches about Roberto for a very long time," Licht told PFT Live in May 2016. "It's not [
more
]
Source: Mike Florio of ProFootballTalk
Powered by WPeMatico
Broncos holding their breath on Derek Wolfe
Only two days after losing Billy Winn for the year with a torn ACL, the Broncos are now sweating out another potentially serious injury along the defensive line. Via multiple reports, Broncos defensive lineman Derek Wolfe was carted off the field during practice on Saturday. It's being described as a right ankle injury by coach [
more
]
Source: Mike Florio of ProFootballTalk
Powered by WPeMatico