Is Antonio Brown One of NFL's Elite WR's?
Antonio Brown is on the short list of greatest late-round picks ever.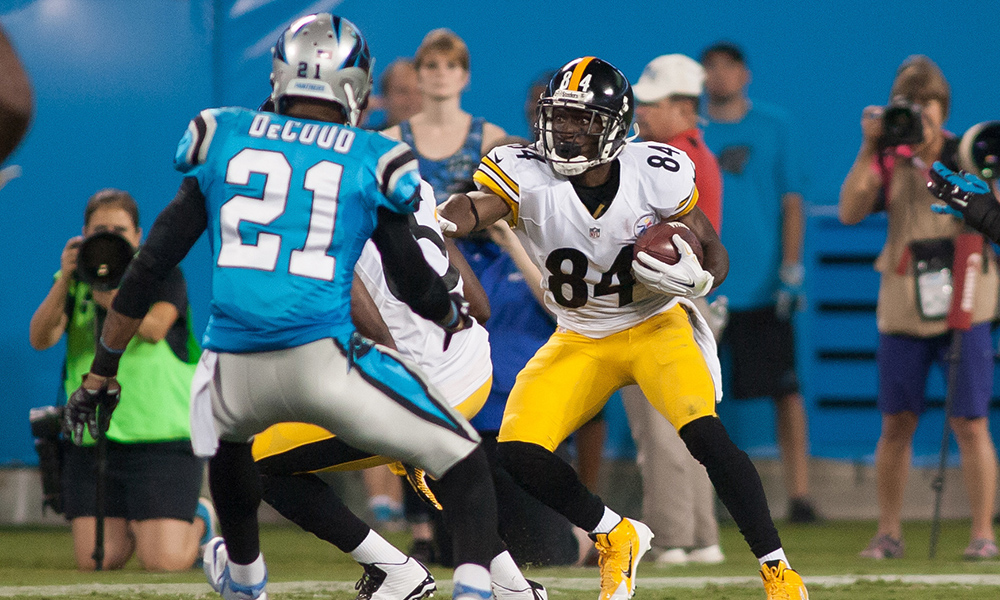 When speaking about the very best wide receivers in the NFL, the names Calvin Johnson, A.J. Green and Julio Jones often come up, and rightfully so, as they are physically dominant pass catchers who can change a game and make their respective quarterback's better.
Perhaps one more name should be added to that list, the Pittsburgh Steelers' Antonio Brown.
Although many of the headlines out of Pittsburgh this week revolve around quarterback Ben Roethlisberger, who had one of the greatest days in NFL history as he completed 40 of 49 throws, for 522 yards and six touchdowns in the Steelers' 51-34 victory over the Indianapolis Colts.
Although Big Ben was on fire, his numbers likely wouldn't have been quite as special without Antonio Brown, who caught 10 passes for 133 yards and two of Roethlisberger's six touchdowns.
"Absolutely," was the response by quarterback Ben Roethlisberger in regarding the question – Is Antonio Brown one of the best in the business? "I have never seen anybody utilize their hands, feet and eyes the way that he does."
The two-time team MVP continues to raise his level of play midway through his fifth year in the NFL. He extended his NFL record with at least five catches and 50 receiving yards in 24 consecutive games dating back to December 8th, 2013.
"You get the ball in his hands and a big play can happen at any time," Roethlisberger said of his favorite target. The offensive jitterbug is always looking to gain that extra inch.
"He's up there. He's in the top five," said Cleveland Browns Pro-Bowl cornerback Joe Haden earlier this year after the Steelers' first game with the Browns.
Haden, a 2013 second-team All-Pro selection, faces some of the best wide receivers in the league week in and week out.
"What he does after the catch," Haden describes. "You take a screen pass. It's a minus-one yard pass, but he turns it into a 20 or 30 yard gain."
Currently, Brown has caught at least one 20-yard pass in 12 straight games, the longest streak in his NFL career and first by a Steelers' receiver since Mike Wallace.
One of the most impressive things about Brown is this little nugget on the sixth-round pick from Central Michigan. In his fifth season in the National Football League, one could argue that Brown is the best receiver ever.
Better than the great Jerry Rice?
No, at least certainly not yet.  Brown could be the best receiver ever drafted in the sixth round.
Brown's production is very rare coming from a player drafted so late. Only three players drafted in the sixth round since the NFL/AFL merger reached 1,000 receiving yards in a single-season. The previous two were Terance Mathis in 1990 and Michael Jackson in 1991. Brown and Mathis are the only two to duplicate the total more than once. Mathis played 13 years in the NFL reaching the 1,000 yard mark four times. More than any other receiver drafted in the sixth round of the NFL Draft.
Brown is 148 yards from recording his third season with 1,000 receiving yards with eight games left in the season. He leads the Steelers' passing attack this season with 60 catches for 852 yards and seven touchdowns.
"He's fun to watch, I'm glad he's on my team," Roethlisberger said.
Buccaneers admit mistake, boot Aguayo
In the NFL, it's always better to admit a mistake than to compound it. For the Buccaneers, the decision to burn a 2016 second-round pick on kicker Robert Aguayo has proven to be a mistake. The Buccaneers made the definitive admission of their error on Saturday, cutting Aguayo. He exits with $428,000 in fully-guaranteed salary [
more
]
Source: Mike Florio of ProFootballTalk
Powered by WPeMatico
Did Bucs put too much pressure on Aguayo?
After the Buccaneers surprised everyone by taking a kicker with the 59th overall pick in the draft, G.M. Jason Licht explained the move by heaping superlatives on the player. "I was very excited along with my staff and coaches about Roberto for a very long time," Licht told PFT Live in May 2016. "It's not [
more
]
Source: Mike Florio of ProFootballTalk
Powered by WPeMatico
Broncos holding their breath on Derek Wolfe
Only two days after losing Billy Winn for the year with a torn ACL, the Broncos are now sweating out another potentially serious injury along the defensive line. Via multiple reports, Broncos defensive lineman Derek Wolfe was carted off the field during practice on Saturday. It's being described as a right ankle injury by coach [
more
]
Source: Mike Florio of ProFootballTalk
Powered by WPeMatico