Injury to AJ Green Puts Final Nail Into Bengals Coffin
The Bengals 2016 season is lost without A.J. Green. What will the fallout be?
Put a fork in them, the Cincinnati Bengals are done.
Some Bengals fans and media have come out and say they are excited to see what quarterback Andy Dalton can do without A.J. Green, who tore his hamstring and could be done for the year.
They shouldn't because you don't replace a player like that, not mid-season and not ever. According to Football Outsiders, Green was the second best receiver in the NFL behind Julio Jones. The next Bengals receiver on the list? Brandon LaFell at 28.
Rookie Tyler Boyd stepped up a little, roping in six catches for 54 yards and a touchdown after Green went down, but he's not going to be able to consistently beat the coverage a top receiver gets. Gio Bernard was next with five catches, but he tore his ACL and will not be available again this season. Out of nine targets, LaFell could only rope in four catches.
This isn't good, not remotely.
Bengals lost 105 catches for 1,300 yards in Green & Bernard.
Lafell, Boyd, Eifert, Hill, Kroft have combined for 101 catches for 1,166 yards

— Goodberry (@JoeGoodberry) November 21, 2016
"You never want to lose a guy like that, a guy that is the best receiver in the league," Dalton said (per Paul Dehner Jr of Cincinnati.com). "You lose a guy like that it hurts you, but the next guys have to step up and you have to find a way to get the job done."
There are two problems with that. One, as we just illustrated, there really isn't anyone to step up.  We've yet to see anyone beyond Green make an impact catching the ball, save tight end, Tyler Eifert, when he's been healthy.
Green has 964 yards on 66 receptions and 100 targets. Nobody is even in the same ballpark as that. LaFell and Boyd have half the number of targets, catches, and yards as Green. The only thing which might not change is touchdown totals since Green had only been in the end zone four times this season—the only weak part of his game this season.
Secondly, Dalton often struggles without Green in the lineup. Yes, we only have a little empirical evidence but the trends are there.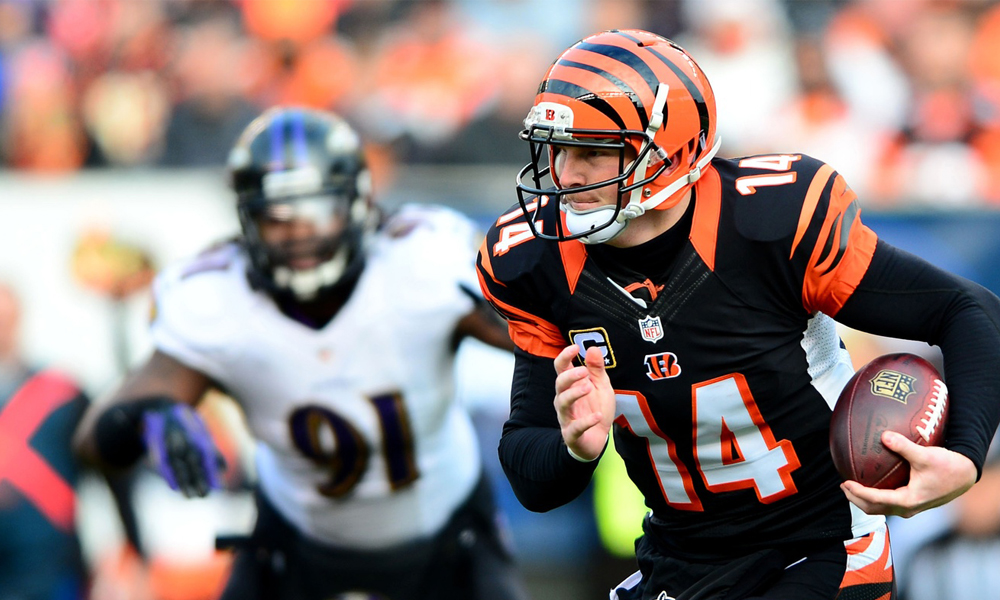 Including yesterday, there have been four regular season games with Dalton under center but no AJ Green—this past weekend and three games in the middle of 2014. In those games, Dalton has averaged just 230.5 yards a game, with only three touchdowns thrown compared to five interceptions.
That was with some receivers who seemed able to step up on occasion too, such as Mohamed Sanu and during a season where Dalton was looking much better than he has at times this year.
If the Bengals were able to limp into the playoffs—an obscene longshot to get to a Wild Card (four games down with six games to go) and a difficult but not impossible task for a Division title (just two games back with four divisional matches left)—it's not better.
Dalton already has a terrible history in the postseason, where he averages just 218.2 yards a game, has a 55.7 completion percentage and has thrown just two touchdowns compared to six interceptions.
In 2014 Dalton went to the playoffs while Green was hurt and the result was spectacularly awful. Dalton had a horrible 51.4 completion percentage, totaling 155 yards in a 26-10 lashing by the Indianapolis Colts. The only upside in a performance where Dalton looked terrible from whistle to whistle was that he didn't throw an interception.
Of course, he failed to throw a touchdown as well.
It's not impossible for somebody to step up and give Dalton a consistent target, but it won't be easy. As you can see, if someone doesn't, the Bengals are looking at a longer than usual offseason.
Buccaneers admit mistake, boot Aguayo
In the NFL, it's always better to admit a mistake than to compound it. For the Buccaneers, the decision to burn a 2016 second-round pick on kicker Robert Aguayo has proven to be a mistake. The Buccaneers made the definitive admission of their error on Saturday, cutting Aguayo. He exits with $428,000 in fully-guaranteed salary [
more
]
Source: Mike Florio of ProFootballTalk
Powered by WPeMatico
Did Bucs put too much pressure on Aguayo?
After the Buccaneers surprised everyone by taking a kicker with the 59th overall pick in the draft, G.M. Jason Licht explained the move by heaping superlatives on the player. "I was very excited along with my staff and coaches about Roberto for a very long time," Licht told PFT Live in May 2016. "It's not [
more
]
Source: Mike Florio of ProFootballTalk
Powered by WPeMatico
Broncos holding their breath on Derek Wolfe
Only two days after losing Billy Winn for the year with a torn ACL, the Broncos are now sweating out another potentially serious injury along the defensive line. Via multiple reports, Broncos defensive lineman Derek Wolfe was carted off the field during practice on Saturday. It's being described as a right ankle injury by coach [
more
]
Source: Mike Florio of ProFootballTalk
Powered by WPeMatico