How did NFC East Teams Fare in the Last Three NFL Drafts?
We examine the best, worst and most intriguing draft picks from each NFC East team.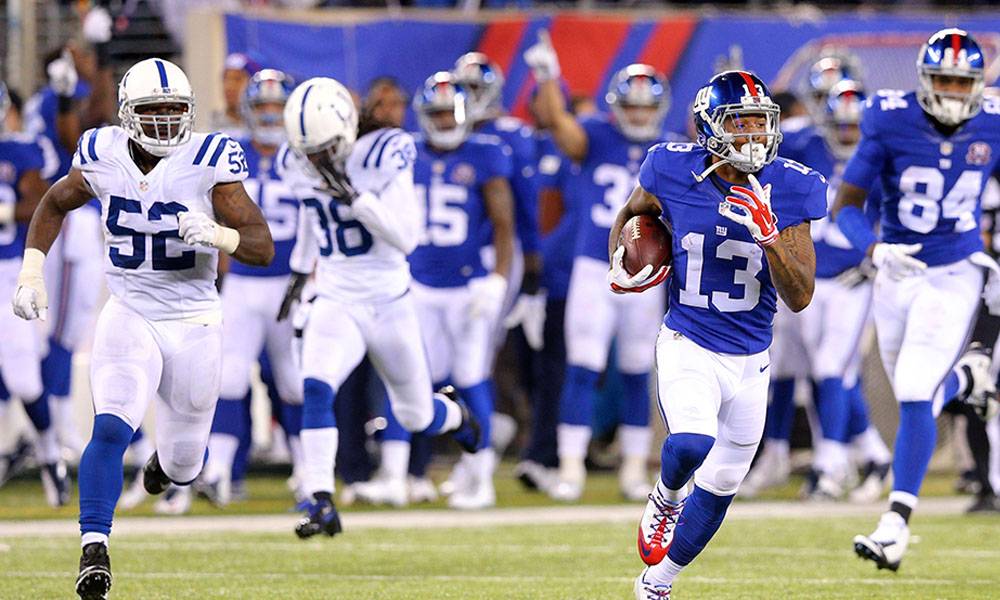 NFL executives used to insist it takes three years to properly evaluate a draft class. Unfortunately, that crap doesn't fly anymore. In today's NFL, teams realize the best way to build a contender while staying under the salary cap is to get immediate contributions from players on their rookie contracts. With that in mind, we are kicking off a new series examining how every team has done over the last three drafts.  
To prevent our evaluations from turning into a novel of biblical lengths, we will focus on three players from each team's recent draft classes: the best pick, the worst pick and the X Factor. This week: the NFC East. If you missed our previous pieces, check out the AFC North, AFC East, AFC South and AFC West draft reviews.
Dallas Cowboys 
Best Pick: G Zack Martin (First Round, 2014)
Martin enjoyed a sensational rookie season, despite moving to guard after spending his entire college career at tackle. He started all 16 games at right guard and became a key cog in the league's most dominant offensive line. He helped DeMarco Murray win the rushing title — by nearly 500 yards — and allowed just two sacks. He was named to the AP's All Pro team — the first Cowboys rookie to claim that distinction in 45 years — and was selected for the Pro Bowl. And to think, Jerry Jones wanted to take Johnny Manziel with this pick.
Worst Pick: CB Morris Claiborne (First Round, 2012)
Fans are often too quick to throw around the "bust" label, but Claiborne is a flat-out bust. After struggling through his first two seasons, he missed most of 2014 with a torn patellar tendon and then had his knee scoped in January. He is unlikely to be ready for the start of training camp, not that he would have played a significant role even if healthy. Jones has already gone public with his disappointment in the former No. 6 overall pick.
Less than a week before Claiborne's season-ending injury, Jones went on KRLD-FM and said: "Is he what we had hoped for at this point when we drafted him with the sixth overall pick, giving up the [second-round] pick to go up to the sixth pick to get him? No."
X Factor: TE Gavin Escobar (Second Round, 2013)
Escobar has not had a ton of opportunities, serving as the Robin to Jason Witten's Batman (that happens when you're stuck behind a future Hall of Famer on the depth chart). However, he has made the most of his opportunities, scoring touchdowns on a third of his 18 career receptions. With Witten getting older (he will be 33 at the start of next season), Escobar should start seeing more opportunities.
New York Giants
Best Pick: DT Johnathan Hankins (Second Round, 2013)
This could/should be Odell Beckham Jr., but we'll get to him in a minute. Instead this slot goes to Hankins, a fast-rising force in the middle of New York's defense. He appeared in 11 games as a rookie and contributed some solid run defense. He made huge strides in his second season, replacing Linval Joseph as the starting nose tackle and finishing with 51 tackles, seven sacks, three pass breakups and a forced fumble.
Worst Pick: RB David Wilson (First Round, 2012)
The talent was there … the body just wasn't willing. After showing some explosiveness as a kick returner as a rookie, he took over as the starting running back in 2013 only to have his season ended by a neck injury in Week 5. He re-injured his neck the following training camp and was forced into early retirement. Wilson is a gifted athlete and a classy individual, but any time a first-round pick is out of the league in less than three seasons, he cannot escape the "worst pick" category.
X Factor: WR Odell Beckham (First Round, 2014)
Beckham is New York's best draft pick over the last three years, but he is also an X Factor. He topped 1,300 yards and scored 12 touchdowns despite missing the first quarter of the season with a hamstring injury. He says he was never completely healthy; if that is true and he is at 100 percent in 2015, he has a chance to post Calvin Johnson-like numbers. If you project his 12-game numbers over a full season, that would be 1,740 yards and 16 touchdowns. Let's say he is 15 percent better this year due to improved health and added experience — now you're talking about a 2,000-yard receiver.
"I maintained it the best I could," Beckham said of his hamstring in late January. "Still working on it. Trying to get it 100 (percent) for next year."
Philadelphia Eagles
Best Pick: WR Jordan Matthews (Second Round, 2014)
Mathews made an immediate impact as a rookie, appearing in all 16 games (10 starts) and catching 67 passes for 872 yards and eight touchdowns. He should be in for an even bigger season in 2015 now that Jeremy Maclin has opted to reunite with Andy Reid in Kansas City. Meanwhile, Matthews remains in Philadelphia with Chip Kelly, which means he will post video-game numbers this season before promptly being traded away next offseason.
Worst Pick: QB Matt Barkley (Fourth Round, 2013)
Yes, Barlkley was only a fourth-round pick, but what a waste of a pick. First, he let Mark Sanchez beat him out for the No. 2 quarterback job. Now, the Eagles are trying to trade Barkley so they can clear room on their depth chart for Tim Tebow. If you cannot play quarterback better than Mark Sanchez and Tim Tebow, then it is time to take your game north of the border. Say hello to the Tiger-Cats, eh?
X Factor: OT Lane Johnson (First Round, 2013)
Johnson had a rough start to his rookie season — when he allowed 8.5 sacks — but came on strong over the final nine games. He suffered a setback in 2014, as he was suspended for the first four games due to testing positive for performance-enhancing drugs, but played well upon his return (2.5 sacks allowed). That being said, he won't get a chance to show his true value until he is moved over the left tackle, a position currently manned by the 33-year-old Jason Peters.
Washington Redskins
Best Pick: TE Jordan Reed (Third Round, 2013)
Reed has battled concussions and hamstring injuries over his first two seasons, forcing him to miss a total of 12 games. But he has been strong when healthy, catching 95 passes for 964 yards. His meager touchdown total (three) leave something to be desired, but he has the size (6'2, 237 lbs.) to be more of a factor in the red zone. If he can stay healthy — and the Redskins can find some stability on offense — Reed could be a breakout star.
Worst Pick: OT Morgan Moses (Third Round, 2014)
First, Moses failed to beat out Tyler Polumbus for the starting right tackle job. Then, he was pressed into duty as the starting left tackle in Week 12 (his first start of the season) and promptly gave up a pair of sacks. He capped off his disappointing season by going on injured-reserve with a Lisfranc injury, an extremely tough injury for an offensive lineman to bounce back from. It is too early to give up on Moses entirely, but anything he contributes from this point forward would be considered a bonus.
X Factor: QB Robert Griffin III (First Round, 2012)
From Rookie of the Year to bane of Jay Gruden's existence, it's been a wild start to Griffin's career. After leading the Redskins to the playoffs in 2012, he has since been undone by injuries and inconsistencies. His technique is as flawed as his personality, as his me-first persona has rubbed teammates the wrong way. Nonetheless, it is impossible not to feel bad for the guy, given how terribly he has been treated by Gruden. The Redskins have stated Griffin will head into next season as the starter … here's hoping he lights it up just so Gruden will finally shut his trap.
"We'll go into the season with Robert as the No. 1 guy obviously, and it's up to Robert to continue to grow and mature as a quarterback and a person and moving forward, we just want to see some improvement," Gruden said. "That's up to us as a staff to get more out of him."
Buccaneers admit mistake, boot Aguayo
In the NFL, it's always better to admit a mistake than to compound it. For the Buccaneers, the decision to burn a 2016 second-round pick on kicker Robert Aguayo has proven to be a mistake. The Buccaneers made the definitive admission of their error on Saturday, cutting Aguayo. He exits with $428,000 in fully-guaranteed salary [
more
]
Source: Mike Florio of ProFootballTalk
Powered by WPeMatico
Did Bucs put too much pressure on Aguayo?
After the Buccaneers surprised everyone by taking a kicker with the 59th overall pick in the draft, G.M. Jason Licht explained the move by heaping superlatives on the player. "I was very excited along with my staff and coaches about Roberto for a very long time," Licht told PFT Live in May 2016. "It's not [
more
]
Source: Mike Florio of ProFootballTalk
Powered by WPeMatico
Broncos holding their breath on Derek Wolfe
Only two days after losing Billy Winn for the year with a torn ACL, the Broncos are now sweating out another potentially serious injury along the defensive line. Via multiple reports, Broncos defensive lineman Derek Wolfe was carted off the field during practice on Saturday. It's being described as a right ankle injury by coach [
more
]
Source: Mike Florio of ProFootballTalk
Powered by WPeMatico