Harbaugh's Cool Hand Paying Dividends for Ravens
John Harbaugh's leadership has allowed Baltimore to set aside distractions and become contenders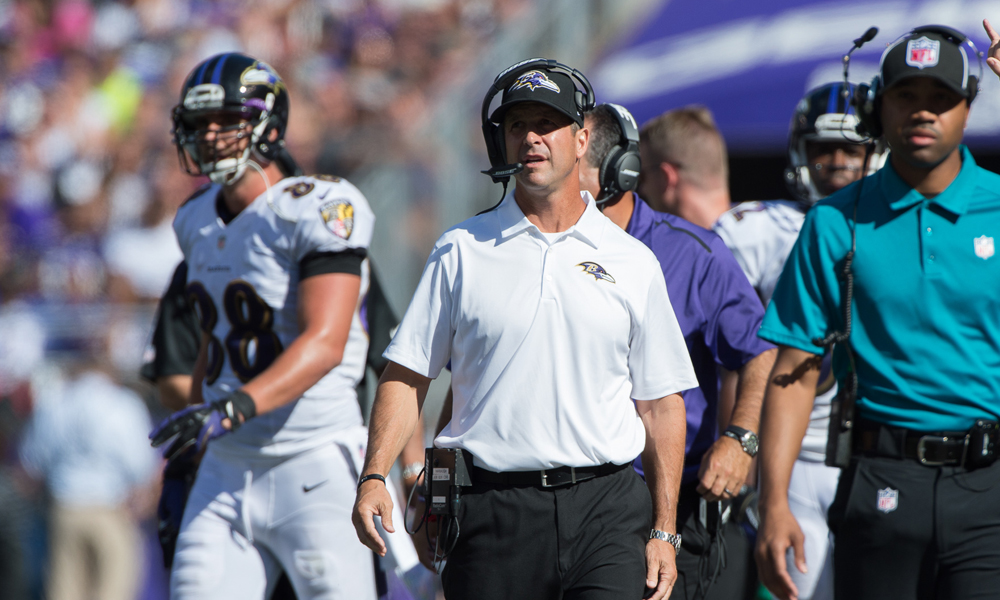 The Brothers Harbaugh are unquestionably great football coaches, but this year has made the difference in their personal styles more evident than ever before. Whereas Jim has thrived on controversy, chaos and noise since his days at Stanford, John's ability to quell those things is a big reason the Baltimore Ravens are the frontrunners in the AFC North.
It is trite and devoid of humanity to simplify the Ray Rice situation as a mere distraction for the Ravens once the tape of Rice slugging his fiancée was revealed after the season started. As the franchise found itself under deserved scrutiny for what it did or did not know, or possibly chose to ignore about the details of the security tape, the potential was there for the outside noise to become too much to handle.
Harbaugh managed to deflect that storm to the point that Rice's now-former teammates seem to have treated his absence no differently than it would for a guy who suffered a season-ending ACL tear. Good teams embrace a "next man up" mentality due to the inevitability that not everyone is going to make it through the season. It helps considerably for that next man to actually be capable of doing so, which is what the Ravens have had with the breakthrough of Justin Forsett.
The presumed No. 3 back when Rice returned from his originally planed two-game suspension, the seventh-year back out of Cal has emerged as the leading rusher for the NFL's seventh-best ground attack.
Baltimore has also been buoyed by one of the top offseason pickups in the NFL in wide receiver Steve Smith. One can't blame Smith's previous team, Carolina, for thinking he was over the hill – once you start putting a "Senior" at the end of your name, that distinction is pretty well clinched.
While three years may end up being an ambitious timeframe for the deal Baltimore offered Smith, the Ravens were smart to realize few players in recent NFL history have been more difficult to shut down than an angry Steve Smith. And when the only team he ever played for let him go, that vintage punch-your-teammate fury was back in Smith's blood. He's seventh in the league in receiving yardage, and the need to respect his presence should continue opening downfield opportunities for Torrey Smith. Torrey Smith has seen his targets increase the past three weeks and hauled in three touchdowns as a result.
That the Ravens have not come unglued is not a surprise thanks to Harbaugh's steady hand. There is, however, one large element of this team's success that most would not have anticipated.
Pro Football Focus rated Baltimore's offensive line 23rd in the league last season. This year they not only rank in the top 10 running the ball with replacement backs, but only four teams have allowed fewer sacks. Somehow the majority of that has been done without starting left tackle Eugene Monroe, who has missed the last four games due to injury.
But again, that speaks to Harbaugh's skill in keeping his team focused on football. Whether the noise is on or off the field, he has minimized it enough that winning is the only thing his team is concerned about.
Buccaneers admit mistake, boot Aguayo
In the NFL, it's always better to admit a mistake than to compound it. For the Buccaneers, the decision to burn a 2016 second-round pick on kicker Robert Aguayo has proven to be a mistake. The Buccaneers made the definitive admission of their error on Saturday, cutting Aguayo. He exits with $428,000 in fully-guaranteed salary [
more
]
Source: Mike Florio of ProFootballTalk
Powered by WPeMatico
Did Bucs put too much pressure on Aguayo?
After the Buccaneers surprised everyone by taking a kicker with the 59th overall pick in the draft, G.M. Jason Licht explained the move by heaping superlatives on the player. "I was very excited along with my staff and coaches about Roberto for a very long time," Licht told PFT Live in May 2016. "It's not [
more
]
Source: Mike Florio of ProFootballTalk
Powered by WPeMatico
Broncos holding their breath on Derek Wolfe
Only two days after losing Billy Winn for the year with a torn ACL, the Broncos are now sweating out another potentially serious injury along the defensive line. Via multiple reports, Broncos defensive lineman Derek Wolfe was carted off the field during practice on Saturday. It's being described as a right ankle injury by coach [
more
]
Source: Mike Florio of ProFootballTalk
Powered by WPeMatico