Great NFL Players Who Are Stuck On Bad Teams
Look inside to see which NFL players are having great years despite being on poor teams.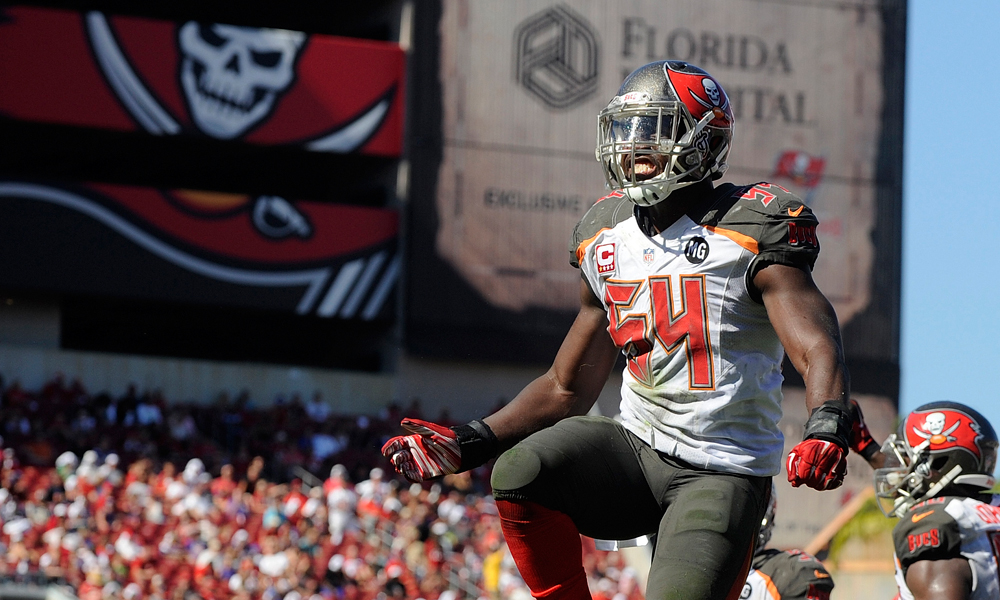 In any team sport, the performance of one player is not especially indicative of the team's success just as a team's success, or lack thereof, is not indicative of a particular player's play. This is unquestionably true in the NFL. Every year, there are players who play at an extremely high level, but the team as a whole performs poorly.
For example, J.J. Watt was the best defensive player in the NFL last year, but he also played on a team that had the worst quarterback situation in the league, which led to a 2-14 record. One player (unless its an elite quarterback), or even two players, is not enough for a team to be successful. This is usually due to a lack of talent around that player, which manifests itself throughout the season. If a cornerback is playing great, the opposing team can just target the other weaker options on that defense, instead of him. If a left tackle is playing extremely well, then the opposing team will just attack the weaker linemen with stunts and blitzes. Therefore, it doesn't matter how well that left tackle is playing if the defense is exploiting the right side of the line throughout the game.
This year is no different; there are several players who are playing at an extremely high level, while their respective team is not.
Gerald McCoy and Lavonte David
The 32nd ranked defense in yards allowed doesn't sound like a good place to find two of the best players at their particular positions in the league; however, the Tampa Bay Buccaneers have accomplished that feat with defensive tackle Gerald McCoy, who just signed a seven-year contract extension worth $98 million, and weak-side linebacker Lavonte David, who was a 2013 All-Pro selection. McCoy and David are playing terrifically, only to be let down by the less than adequate play of their teammates.
As a defensive tackle, much of what McCoy does well won't show up on a stat sheet. He lines up primarily as a 3-technique defensive tackle in the Buccaneers' scheme and his main task is to fire off the ball, get through his gap and cause disruption in the backfield. Thus far, McCoy has done an outstanding job of doing just that despite breaking his hand in Week 2. He mixes his incredible snap anticipation, terrific first step and hand-fighting techniques to constantly get into opposing backfields. This forces opposing teams to have to slant their blocking schemes toward McCoy, which in theory would give the other defensive linemen favorable matchups to capitalize on.
Despite these favorable matchups, the other Buccaneers defensive linemen have not been able to capitalize, which has led to some porous defensive play from Tampa Bay. The fact that McCoy may be the best 3-technique defensive tackle in the league and the Buccaneers still have one of the worst defensive lines in the NFL is just atrocious.
David is the other Tampa Bay defensive player whose incredible performances have been for nothing. David came into the NFL with many people questioning if he had enough size to last as a linebacker in the NFL. At 6-foot-1 and 233 pounds, David was on the small end of the linebacker size spectrum. However, David has taken that perceived weakness and turned it into a real strength. David wins with his speed, quickness, closing burst and instincts.
While many linebackers take on blockers and come downhill against opposing rushing attacks, David uses his fantastic lateral agility and instincts to get to the ball carrier incredibly fast. David has great geometric instincts in the sense that he always takes fantastic angles to the ball. You will rarely catch him out of position because of this trait. David has used these magnificent traits to accumulate the second-most tackles and defensive stops out of all the 4-3 linebackers in the NFL, per Pro Football Focus. While David is certainly no slouch against the run, he really thrives in pass coverage. David has the intelligence to play zone and understands how to pass off and take receivers coming into or leaving his zone as well as the athleticism to cover tight ends one-on-one down the seam of the defense, which is uncommonly rare for linebackers in the NFL.
A team that has a player with all these traits, coupled with McCoy's dominant play on the inside, should result in a top-10 type of defense. However, the rest of the Buccaneers, outside of Alterraun Verner, have been abysmal to put it kindly. They constantly make simple mistakes and fail to win their favorable matchups. This terrible display has led the Buccaneers to having the dreadful distinction of having two of the best players at their position, but also the worst defense in the NFL.
Sen'Derrick Marks
Another player who has played exceptionally well despite being on a sub-par team is Sen'Derrick Marks of the Jacksonville Jaguars. Originally drafted in the second round by the Tennessee Titans, Marks was an average (at best) defensive tackle until this season. It appears as though something has clicked for the defensive tackle because he has been one of the breakout stars of the 2014 season.
Marks has shown a surprisingly quick first step, incredibly strong hands and deceptively fast closing speed to become one of the top-five defensive tackles in 2014. This is illustrated by the fact that Marks is fourth among defensive tackles in defensive stops and fifth in pass-rush productivity, per Pro Football Focus.
Marks is one of the few defensive tackles who plays the run just as well as he rushes the passer. His hand strength and leg power allow him to be stout against the run, while his foot speed and hand usage allow him to create an enormous amount of pressure on opposing quarterbacks. The bad news for Marks is that he is surrounded by mostly sub-par talent throughout the rest of the Jaguars' defense, even though Telvin Smith has proven to be a fifth-round steal.
Trent Williams
The last player who has been excelling despite being on a poor team has been Washington Redskins offensive tackle Trent Williams. Thus far this year, Williams has yet to give up a sack and has the third-best pass-blocking productivity out of tackles as the blindside protector to Washington's carousel of quarterbacks, per Pro Football Focus. Williams displays nimble feet, great hands and marvelous hips, which have allowed him to excel against any type of defender thrown at him. Oftentimes, Williams makes the hardest blocking assignments look rather simple. This season, he has shut down incredible pass rushers such as Michael Bennett, Jurrell Casey and Jason Pierre-Paul.
While his strengths are best on display in pass protection, he also does a great job run blocking. He uses his athleticism to be able to turn opposing defenders as well as pulling and getting to the second level. If it weren't for Washington's instability at the quarterback position, then their offense would be a much better representation of how well Williams is playing.
Sometimes in life there are things you have no control over. No matter how well you try or do individually, it won't change the outcome of the team. All four of these players are playing at a Pro-Bowl level to say the least, however, their individual performances have not been reflected in their team's records. In a league where players' careers are uncommonly short, it is unfortunate that these players' splendid performances are being put to waste.
Buccaneers admit mistake, boot Aguayo
In the NFL, it's always better to admit a mistake than to compound it. For the Buccaneers, the decision to burn a 2016 second-round pick on kicker Robert Aguayo has proven to be a mistake. The Buccaneers made the definitive admission of their error on Saturday, cutting Aguayo. He exits with $428,000 in fully-guaranteed salary [
more
]
Source: Mike Florio of ProFootballTalk
Powered by WPeMatico
Did Bucs put too much pressure on Aguayo?
After the Buccaneers surprised everyone by taking a kicker with the 59th overall pick in the draft, G.M. Jason Licht explained the move by heaping superlatives on the player. "I was very excited along with my staff and coaches about Roberto for a very long time," Licht told PFT Live in May 2016. "It's not [
more
]
Source: Mike Florio of ProFootballTalk
Powered by WPeMatico
Broncos holding their breath on Derek Wolfe
Only two days after losing Billy Winn for the year with a torn ACL, the Broncos are now sweating out another potentially serious injury along the defensive line. Via multiple reports, Broncos defensive lineman Derek Wolfe was carted off the field during practice on Saturday. It's being described as a right ankle injury by coach [
more
]
Source: Mike Florio of ProFootballTalk
Powered by WPeMatico