Football Insiders Week In Review
Here are some of the great stories published this week by Football Insiders.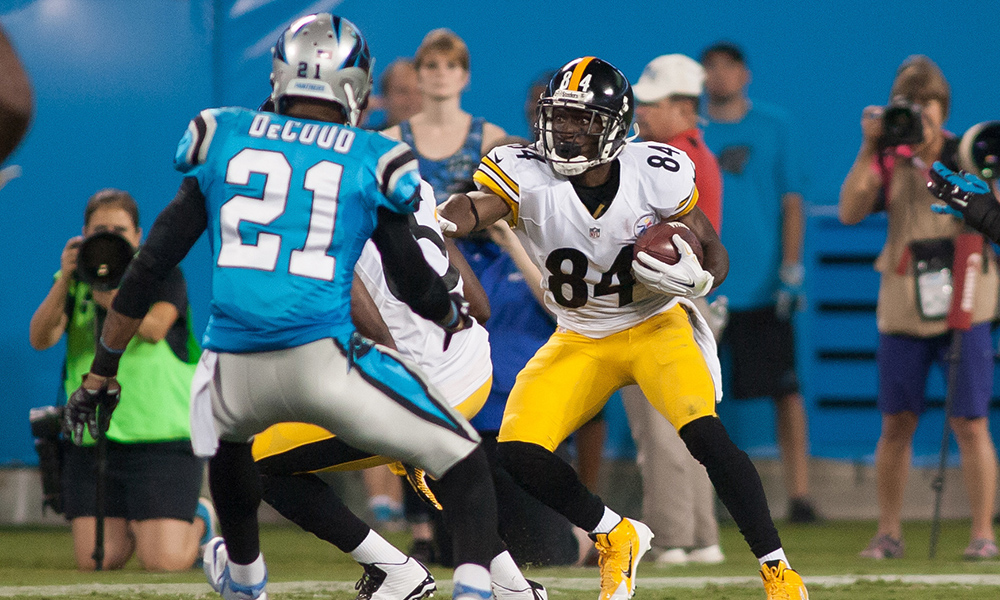 It was a great week in the NFL and NCAA, and an even better one at Football Insiders. Here's just some of the great, original content put out by your insiders.
Tony Lopez tells you which non-quarterbacks are most important to their team's success.
Necessary Fantasy Roster Moves
Sammy Freiburg gives you advice on how to play the fantasy waiver wire.
Mike Lombardo looks at some make or break Week 4 NFL games.
Charlie Bernstein evaluates the repercussions of an early season loss for either the Dolphins or Raiders.
John Owning breaks down Clemson's star pass rusher Vic Beasley and what NFL teams he would be a good fit for.
Pat Donovan spoke about Eli Manning's newfound comfort in the West Coast Offense.
Jeremy Harris Believes Jaguars Can Contend
Michael Lombardo sits down with Jaguars cornerback Jeremy Harris who explains how excited the team is for a change at quarterback.
Charlie Strong's Discipline Good For Texas
Charlie Bernstein evaluates Charlie Strong's new discipline and if it's the best thing for the Texas program.
Ameer Abdullah Runs Toward Heisman
Luke Byrnes talks about Nebraska all-everything running back Ameer Abdullah and how he could be invited to New York for the Heisman ceremony.
Play-Calling Hurting Dolphins and Packers
Charlie Bernstein takes a statistical look at how the Dolphins and Packers are ignoring what the stats say are their best plays.
Former NFL quarterback Jeff Carlson takes a look at how every team is trying to find the next Russell Wilson.
Is Devin Hester A Hall of Famer?
Alex Hickey and Mark Gunnels debate whether the greatest return man in NFL history deserves a bust in Canton.
Bucs Need To Make A Permanent QB Switch
Special contributor Alex Kennedy weighs in on why the Tampa Bay Buccaneers should end the Josh McCown experiment.
Kyle Williams Deserves More Credit
John Owning takes a look at one of the most underrated players in the NFL, Bills defensive tackle Kyle Williams.
AFC North Emerging As NFL's Best
Michael Lombardo takes a look at the NFL's most competitive division, the AFC North.
Charlie Bernstein ranks each of the starting quarterbacks in the National Football League.
Brian Hoyer Worthy Of Starting Role
Alex Hickey takes a took at how Brian Hoyer's play is keeping first-round pick Johnny Manziel on the bench.
Did Bucs put too much pressure on Aguayo?
After the Buccaneers surprised everyone by taking a kicker with the 59th overall pick in the draft, G.M. Jason Licht explained the move by heaping superlatives on the player. "I was very excited along with my staff and coaches about Roberto for a very long time," Licht told PFT Live in May 2016. "It's not [
more
]
Source: Mike Florio of ProFootballTalk
Powered by WPeMatico
Broncos holding their breath on Derek Wolfe
Only two days after losing Billy Winn for the year with a torn ACL, the Broncos are now sweating out another potentially serious injury along the defensive line. Via multiple reports, Broncos defensive lineman Derek Wolfe was carted off the field during practice on Saturday. It's being described as a right ankle injury by coach [
more
]
Source: Mike Florio of ProFootballTalk
Powered by WPeMatico
Buccaneers admit mistake, boot Aguayo
In the NFL, it's always better to admit a mistake than to compound it. For the Buccaneers, the decision to burn a 2016 second-round pick on kicker Robert Aguayo has proven to be a mistake. The Buccaneers made the definitive admission of their error on Saturday, cutting Aguayo. He exits with $428,000 in fully-guaranteed salary [
more
]
Source: Mike Florio of ProFootballTalk
Powered by WPeMatico