Fantasy Football Watch Week 4: Sankey Taking Over
Simple roster improvements for week five that will make your fantasy team climb the standings.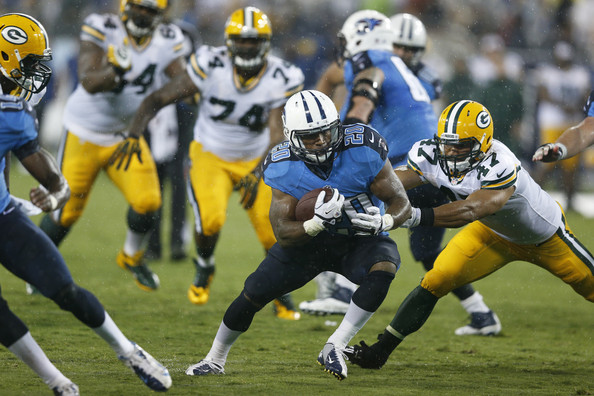 After a week where Eli Manning was the high scorer and Giants tight end Larry Donnell had more points than Calvin Johnson, DeSean Jackson, LeSean McCoy, Jeremy Maclin, Julian Edelman, Tom Brady, Nick Foles, and Pierre Garcon COMBINED, you know you're in for another crazy week of fantasy football. Here's a quick roundup of players you should be targeting not only for Week 5, but for the rest of the season.
Tennessee Titans head coach Ken Whisenhunt, when asked about rookie running back Bishop Sankey, said: "You will see (more reps for Sankey). That's coming." Finally, the Titans coaching staff is coming to their senses. Sankey, averaging a dominant 5.1 yards per carry, was already given more carries than Shonn Greene last Sunday against the Colts in a blowout loss. Expect Sankey to take over the starting job and have somewhat of a rookie season as Giovani Bernard did after taking over for BenJarvus Green-Ellis last season for the Bengals.
Travis Kelce of the Kansas City Chiefs is the seventh ranked tight end, however, is only owned in 42.1 percent of fantasy football leagues. Kelce, having the fifth most yards among tight ends, has 103 more yards than the next receiver on the Chiefs, solidifying his position as Alex Smith's main target. Being the clear-cut No. 1 tight end for the Chiefs, you should be quick to scoop him up before someone else does.
Seventh-year veteran receiver Eddie Royal for the San Diego Chargers has been on a roll. In his last two games, he has racked up 147 yards and four touchdowns. On the season, he has the eighth most fantasy points among wide receivers and yet, is only owned in 40.5 percent of leagues. With Ryan Matthews and Danny Woodhead out due to injuries and Phillip Rivers being the lead-candidate for this year's MVP award, look for the Chargers passing attack to keep coming at full throttle.
Must-Start Players
(besides the obvious stars)
Giants running back Rashad Jennings is on pace for more than 1,700 total yards. Jennings is primed for a HUGE game against the league-worst running defense, the Atlanta Falcons. The Falcons have allowed an average of 29.5 fantasy points to opposing running backs this year. Yup, 29.5. Make sure to get Jennings in your lineup.
Matt Asiata, the Vikings' running back, is looking to top his 100-yard, three touchdown game this upcoming week against the third-worst rushing defense, the Green Bay Packers. Last week, I wrote that Asiata was a must-add player. Well, I hope you listened, because he had 28 fantasy points, but if you didn't, no worries, he's in line for another big game on Thursday Night Football.
San Diego Chargers wide receiver Keenan Allen is looking to improve from his 1,046 yard, eight touchdown rookie season, Allen had 135 yards on 12 targets last week. After a slow-start to the season, Allen has a chance to build on last week's game this week against the 30th worst pass defense, the New York Jets. Look for MVP candidate Phillip Rivers to lead an unstoppable airborne attack on Sunday.
Side Notes
Look for Trent Richardson to build-off one of his best game as an Indianapolis Colt.
Watch DeMarco Murray's string of four games with 100+ rushing yards to continue against the 24th ranked run defense of the Houston Texans.
Steve Smith will come back down to earth against Colts' cornerback Vontae Davis.
Big Ben will tear-apart the Jaguars secondary.
Although Ben Tate is starting, don't trust him to get many carries. Terrance West and Isaiah Crowell are playing too-well for Tate to get a good workload in.
Calvin Johnson will bounce-back.
The Cincinnati Bengals will prove their defense is the best in the league by shutting-down Tom Brady and the Patriots on Sunday Night Football.
Buccaneers admit mistake, boot Aguayo
In the NFL, it's always better to admit a mistake than to compound it. For the Buccaneers, the decision to burn a 2016 second-round pick on kicker Robert Aguayo has proven to be a mistake. The Buccaneers made the definitive admission of their error on Saturday, cutting Aguayo. He exits with $428,000 in fully-guaranteed salary [
more
]
Source: Mike Florio of ProFootballTalk
Powered by WPeMatico
Did Bucs put too much pressure on Aguayo?
After the Buccaneers surprised everyone by taking a kicker with the 59th overall pick in the draft, G.M. Jason Licht explained the move by heaping superlatives on the player. "I was very excited along with my staff and coaches about Roberto for a very long time," Licht told PFT Live in May 2016. "It's not [
more
]
Source: Mike Florio of ProFootballTalk
Powered by WPeMatico
Broncos holding their breath on Derek Wolfe
Only two days after losing Billy Winn for the year with a torn ACL, the Broncos are now sweating out another potentially serious injury along the defensive line. Via multiple reports, Broncos defensive lineman Derek Wolfe was carted off the field during practice on Saturday. It's being described as a right ankle injury by coach [
more
]
Source: Mike Florio of ProFootballTalk
Powered by WPeMatico