Eli Manning's struggles might be a feature, not a bug
We try to get to the bottom of Giants quarterback Eli Manning's struggles.
---
You'd think that the question would go away after two Super Bowl wins and a dozen years in the league, but New York Giants quarterback Eli Manning is facing the same questions again this season.
It's a constant thing. Don't believe me? Just Google "What's wrong with Eli?"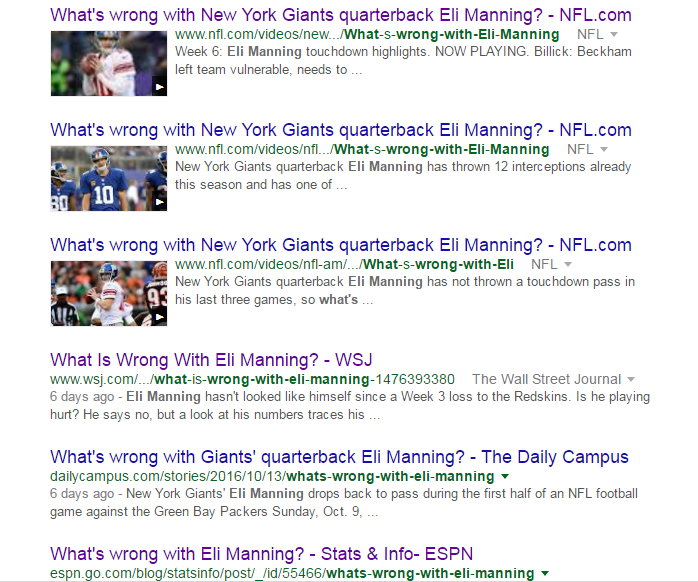 Every year it seems we are left wondering why Manning isn't playing to the level we expect and every year there seems to be different reasons he isn't.
Manning's weekly press conference last week had a familiar tone.
"I need to play better," Manning said on Tuesday afternoon during his weekly media inquisition. "I have to make some more throws [and make] better decisions, [and I] can't turn the ball over. But we will improve."
This season sees Manning with the best receiving corps he's ever had—Odell Beckham Jr, a healthy Victor Cruz and dynamic rookie Sterling Shepard—and yet he looks even worse than he did last season with just Beckham.
Even at his best he has had moments where he's missed wide open receivers, thrown behind guys he should have led and generally looked bad.
Take, for example, this past weekend against the Baltimore Ravens. By all measure, Manning had one of his better games this season.  He completed 32 of 46 passes for 403 yards and a pair of touchdowns.
Yet he also missed multiple receivers and had two avoidable interceptions. The first interception came when he was trying to move down the sideline near the end of the half and threw high into double coverage, missing the defender underneath. The second came when his target, Shepard, fell on a route, but the ball was well underthrown and unlikely to be caught by the rookie anyway.
One play which stuck in my mind as I rewatched every snap of Manning's this season was a target he threw towards Victor Cruz in the middle of the first quarter against Baltimore.  On the play, Cruz ran a deep post route, and while he was well covered, he also adjusted his route slightly and was open if Manning had thrown the ball over the top.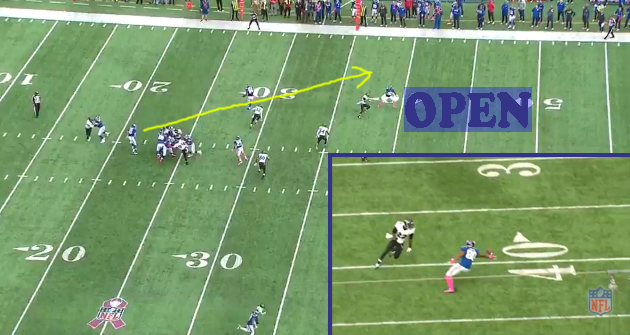 Instead, Manning threw behind Cruz. Even if he believed his receiver was cutting outside, this was a bad pass as in that case it was too close to the coverage and was thrown in such a way to where Cruz had to be psychic to know he had to turn.
On top of that, it's not as if Manning was under pressure. He had plenty of time, but seemed to rush his decision and pass for no reason.
Manning did this repeatedly, and was just off on passes all day.
Of course, then you get passes like he threw to Beckham in the third quarter for a 75 yard touchdown. On that play, Beckham shook his defender with a spin move and was open down the sideline. Manning showed plenty of patience and did a great job of looking off coverage to his left and then throwing right. The pass was perfect as well, hitting Beckham in stride without forcing him to slow down at all.
His second touchdown to Beckham was also a great moment, as he recognized the single coverage and realized that the routes his receivers were running would free his receiver up. Manning delivered the ball quickly to Beckham, who took it the distance to win the game.
These plays highlight the inconsistency Manning shows, as well as puts the lie to the theory that the offensive line is his problem. Sure, the sub-par play has had its impact, but Manning had clean pockets most of Sunday and still threw some awful balls. You can see it as well in the loss to the Green Bay Packers, a bad pass defense which was missing two cornerbacks.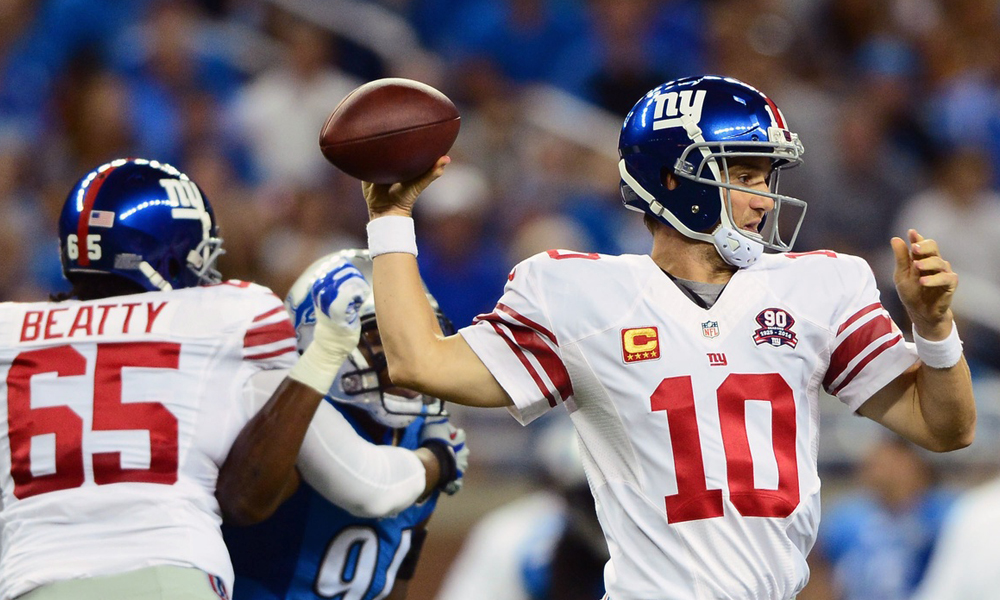 One thing which does help explain Manning's issues is the lack of run game. The Giants are ranked 30th on the ground (only Jacksonville and Minnesota are worse), averaging an anemic 76 yards a game with just three touchdowns, one run over twenty yards and none over forty.  With just 127 carries, the team isn't really trying all that hard (even in the win over the Ravens, there were just 17 called run plays), allowing defenses to concentrate on the pass and getting to Manning.
Still, that doesn't explain the poor throws from clean pockets.
Maybe Politi is right and Manning is a great average quarterback some people expect to play like an elite quarterback because he stepped up and performed tremendously in two Super Bowl wins. There's certainly enough evidence to support that, and doesn't remove any of the luster from his career.
Maybe he's just been pounded too much behind a sub-average offensive line and his nerves are a bit frayed.
Whatever the cause—and from what we can see watching the film, it's many things not one—Manning is not playing well this year. Even for a really great average quarterback.
Buccaneers admit mistake, boot Aguayo
In the NFL, it's always better to admit a mistake than to compound it. For the Buccaneers, the decision to burn a 2016 second-round pick on kicker Robert Aguayo has proven to be a mistake. The Buccaneers made the definitive admission of their error on Saturday, cutting Aguayo. He exits with $428,000 in fully-guaranteed salary [
more
]
Source: Mike Florio of ProFootballTalk
Powered by WPeMatico
Did Bucs put too much pressure on Aguayo?
After the Buccaneers surprised everyone by taking a kicker with the 59th overall pick in the draft, G.M. Jason Licht explained the move by heaping superlatives on the player. "I was very excited along with my staff and coaches about Roberto for a very long time," Licht told PFT Live in May 2016. "It's not [
more
]
Source: Mike Florio of ProFootballTalk
Powered by WPeMatico
Broncos holding their breath on Derek Wolfe
Only two days after losing Billy Winn for the year with a torn ACL, the Broncos are now sweating out another potentially serious injury along the defensive line. Via multiple reports, Broncos defensive lineman Derek Wolfe was carted off the field during practice on Saturday. It's being described as a right ankle injury by coach [
more
]
Source: Mike Florio of ProFootballTalk
Powered by WPeMatico