Eagles scheme needs a top-notch quarterback to fly high
Mark Sanchez might be good enough to start at QB, but not in Chip Kelly's offense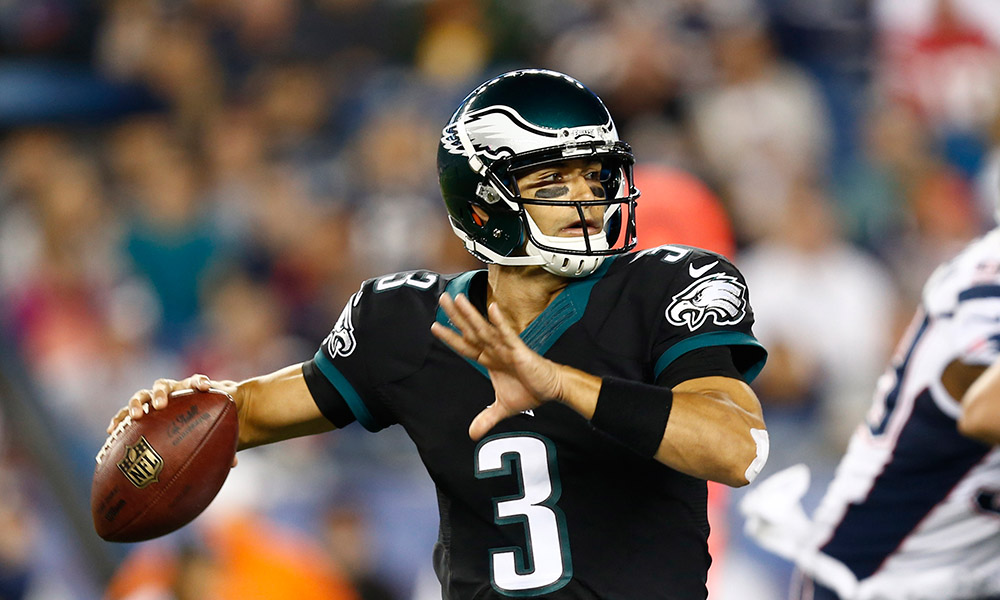 When Chip Kelly brought his hurry-up attack to the NFL, critics scoffed that he would quickly be exposed as some mad scientist whose college crap wouldn't cut it in professional football, where things are supposed to be done a certain way without much room for variety.
Kelly has mostly proven those critics to be wrong, but there is a caveat.
Like a Swiss watch, Kelly's offense can only work in the hands of a superior craftsman at quarterback. When you put the Eagles offense in the hands of a butcher, you get a watch that's only going to be right twice a day. That's what happened down to Philadelphia down the stretch as backup quarterback Mark Sanchez's limitations have thrown a wrench into an operation that requires absolute precision.
When things are clicking, Philly's offense is a nightmare for opposing defenses. The quick pace makes substitution difficult, and that fatigue works in the favor of wide receivers breaking open a huge gain downfield, or wearing down defensive linemen to create huge holes for Shady McCoy or Darren Sproles.
And when the Eagles offense doesn't click, the nightmare is felt by its own defense. A turnover or quick three-and-out forces Philly to trot its defense back on the field after a breather of less than two minutes. Opposing offenses are now the ones able to take advantage of fatigue.
Sanchez was abysmal in Philadelphia's Week 14 and 15 losses to Seattle and Dallas. The Seahawks provided his first test against an elite defense this year, and he completed 10 of 20 passes for 96 yards. His completion percentage went up against the Cowboys, but he killed his team's chances with two crucial interceptions. And just when it looked like he had things figured out in an otherwise impressive effort at Washington, Sanchez threw a backbreaking, season-killing pick with 1:31 left that ultimately put the Redskins in position for the game-winning field goal.
Sanchez isn't just too imprecise to run Kelly's offense – he's turned the ball over 17 times – he's too slow. He has been sacked 19 times, which is 10 more than starter Nick Foles suffered despite having 18 fewer dropbacks than Foles. While Sanchez comported himself well enough to earn another shot as a starting quarterback somewhere, it won't be for the Eagles.
The big question for Philadelphia next season is whether Foles will bounce back to his 2013 form.
Foles was every bit the Pro Bowler in the first year running Kelly's attack with 27 touchdowns and two interceptions. He fell far from that stratosphere before his season-ending collarbone injury, tossing 10 picks to go alongside 13 touchdowns in eight games. If Foles ends up being a one-year aberration as a star, the Eagles are in trouble. Once again they'll be good enough to beat bad teams, but not the NFL's most elite defenses.
Chip Kelly has proven his offensive schemes are professional grade. But it takes a special quarterback to make the intricate operation hum smoothly.
Buccaneers admit mistake, boot Aguayo
In the NFL, it's always better to admit a mistake than to compound it. For the Buccaneers, the decision to burn a 2016 second-round pick on kicker Robert Aguayo has proven to be a mistake. The Buccaneers made the definitive admission of their error on Saturday, cutting Aguayo. He exits with $428,000 in fully-guaranteed salary [
more
]
Source: Mike Florio of ProFootballTalk
Powered by WPeMatico
Did Bucs put too much pressure on Aguayo?
After the Buccaneers surprised everyone by taking a kicker with the 59th overall pick in the draft, G.M. Jason Licht explained the move by heaping superlatives on the player. "I was very excited along with my staff and coaches about Roberto for a very long time," Licht told PFT Live in May 2016. "It's not [
more
]
Source: Mike Florio of ProFootballTalk
Powered by WPeMatico
Broncos holding their breath on Derek Wolfe
Only two days after losing Billy Winn for the year with a torn ACL, the Broncos are now sweating out another potentially serious injury along the defensive line. Via multiple reports, Broncos defensive lineman Derek Wolfe was carted off the field during practice on Saturday. It's being described as a right ankle injury by coach [
more
]
Source: Mike Florio of ProFootballTalk
Powered by WPeMatico