Draft Blog: Senior Bowl Edition
Find out what to look for at the Senior Bowl.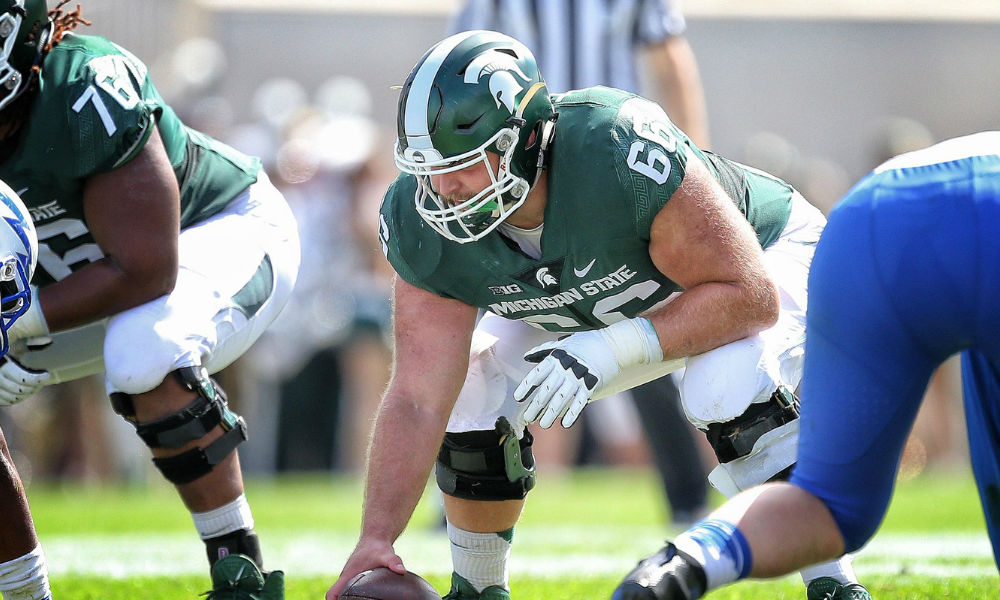 What To Watch For During the One-on-Ones At The Senior Bowl
The Senior Bowl practices get underway on Tuesday morning and if you are watching them on ESPNU, there are a few things to look for during the activities in Mobile.
The most anticipated part of each practice is when the players are divided into their position groups and pitted against each other in one-on-one drills. These are some of the most competitive aspects of the week in Mobile and there are a ton to glean from each drill.
In the wide receiver and defensive back one-on-ones, you can get a feel for which cornerbacks excel in man coverage and which ones are better left to zone. Also, you can see which cornerbacks have stiff hips and what routes they have the most trouble with. For the wide receivers, you get a feel for their ability to run routes and how well they track the ball in the air, two vitally important traits for a wide receiver.
The other big one-on-one drill tasks the defensive linemen against the offensive linemen in a pass-rush drill. This drill inherently favors the defensive linemen because they don't have a clock and they can take whatever pass-rush lane they want, no matter how wide it is. However, there is still a ton to learn from both sides. For the offensive line, it is easy to see which players have good footwork, but almost as important is to see which offensive linemen have good punch placement and timing. For the defensive line, you get to see their quickness and how well they use their hands to defeat blocks.
An Under The Radar Player To Watch From Each Squad.
Jack Allen, OL, Michigan State, North Squad
Jack Allen is listed as a center, but you will likely see him line up all over the offensive line throughout week for the north squad. The former Michigan State offensive lineman has played at nearly every position on the line during his career and he has done an admirable job at each. Ultimately, Allen's best position is inside where his lack of athleticism is not as big of a hindrance.
As a player, Allen is a technician with his hands as he usually times his punches well and gets his hands inside. Also, the center helps mitigate is average athleticism by taking great angles on his blocks, which put him in superior position to make the block.
Allen will have his hands full at the Senior Bowl with the north squad defensive tackles, but expect to do more than holds his own.
Deon Jones, LB, LSU, South Squad
Another one of the undersized linebacker trend, Deon Jones is a player who will likely make a lot of noise down in Mobile. Jones is an athletic specimen at linebacker who can make plays all over the field. Jones uses his speed and quickness to flow to the ball and make plays inside or outside the box.
Jones uses his speed and quickness to flow to the ball and make plays inside or outside the box. The LSU linebacker's size can hinder him with getting off blocks, but he does a great job of beating offensive linemen to the spot. Where Jones will likely separate himself during the practices is in coverage. He flips his hips extremely well and he has the ability to run with running backs or tight ends.
Jones isn't talked about much at this point in the draft process, but don't be surprised if you start to hear his name pick up steam after this week in practice.
Just One Piece To A Huge Puzzle
One problem many evaluators run into at the Senior Bowl is placing too much weight to what they see down in Mobile, Alabama. Because this is their first real life exposure to a lot of these players, they allow that to influence their grades to a high degree, which can lead to a bad evaluation.
The Senior Bowl is just one small piece to a huge puzzle that is player evaluation. An evaluator should not let one week of practices totally change their view of a player if they had done adequate research on him prior. Some players excel in a practice environment and sometimes the environment causes a player to play well below his talent level. You see this a lot with quarterbacks because they are throwing to unfamiliar receivers in a new environment which leads to a steep learning curve early.
Also, the actual game at the culmination of Senior Bowl should hold little to no weight on an actual evaluation. There are just too many factors that won't come into play once they reach the pros. The things you do want to get a feel for are overall athleticism, temperament and competitiveness. For many teams, the most important part of the Senior Bowl week is their ability to interview and get to know the players throughout the week. It allows them to get a feel for who a player is and how he would fit with their team.
Buccaneers admit mistake, boot Aguayo
In the NFL, it's always better to admit a mistake than to compound it. For the Buccaneers, the decision to burn a 2016 second-round pick on kicker Robert Aguayo has proven to be a mistake. The Buccaneers made the definitive admission of their error on Saturday, cutting Aguayo. He exits with $428,000 in fully-guaranteed salary [
more
]
Source: Mike Florio of ProFootballTalk
Powered by WPeMatico
Did Bucs put too much pressure on Aguayo?
After the Buccaneers surprised everyone by taking a kicker with the 59th overall pick in the draft, G.M. Jason Licht explained the move by heaping superlatives on the player. "I was very excited along with my staff and coaches about Roberto for a very long time," Licht told PFT Live in May 2016. "It's not [
more
]
Source: Mike Florio of ProFootballTalk
Powered by WPeMatico
Broncos holding their breath on Derek Wolfe
Only two days after losing Billy Winn for the year with a torn ACL, the Broncos are now sweating out another potentially serious injury along the defensive line. Via multiple reports, Broncos defensive lineman Derek Wolfe was carted off the field during practice on Saturday. It's being described as a right ankle injury by coach [
more
]
Source: Mike Florio of ProFootballTalk
Powered by WPeMatico