Do NFL QB's Need Mobility To Succeed?
Aaron Rogers seems to be the ultimate model for quarterback perfection.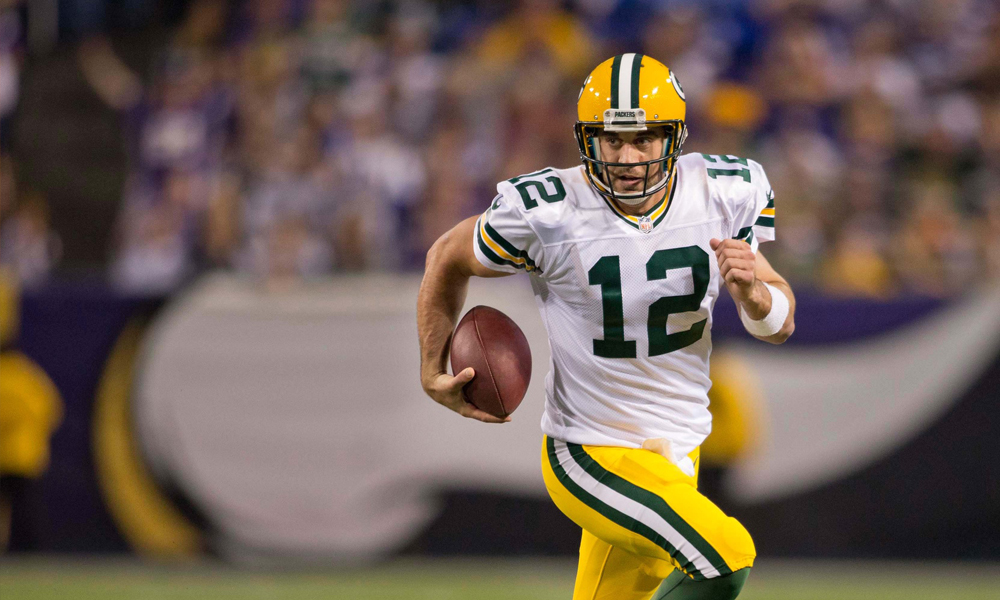 A couple of weeks ago, I wrote about the changes that have happened in the game over the last couple decades for the quarterback.  One thing that has changed very little over that same time frame is the need for extreme mobility for successful play at quarterback.
A monumental shift to running QB's at the collegiate level and below has taken place over the same time, but in the NFL, functional movement still reigns supreme, as evidenced by Peyton Manning and Tom Brady's success in the latter stages of their phenomenal careers.
Tim Tebow's fantastic success in high school and college and the overall advent of the "read-option" ushered in this movement that had long been popular in little league football when the QB just run "keeper left" or "keeper right," because he was the best athlete on the field and the team wanted the ball in the best athlete's hands on as many plays as possible.  Michael Vick came the closest to changing the NFL from a dropback quarterback league to more of an athlete at quarterback league, but after great success with the Atlanta Falcons early in his career, personal issues took some of his prime years away from him.  Also, there are very few people in this world with Vick's speed and talent, so it would be tough to find a backup QB that wouldn't require a very different offense in case of emergency, a very similar problem teams had for Tebow's unique talents.
Quarterbacks with tremendous running skills have found sustained success to be fleeting, I believe because as their speed wanes with age, their quarterbacking skills of understanding defenses and coverages does not improve enough to keep them performing at the same level as when their legs could often get them out of trouble.  Fran Tarkenton was arguably the most successful mobile QB for the longest period of time and couldn't win an NFL champtionship.  Randall Cunningham was one of the most exciting quarterbacks to ever play the game, but couldn't get the Eagles or Vikings a Lombardi Trophy.  Donovan McNabb kept knocking on the door, but his play seemed to fall off proportionately with his reduction in mobility over time.  Steve Young did win the Super Bowl as a mobile player, but his career ultimately was cut short due to the high number of significant concussions he sustained as a runner and I really don't think his induction into the Hall Of Fame was due to his mobility, but to the quarterback that he became as he aged.  And the most recent mobile QB with potential to change the game is Robert Griffin III, whose significant and frequent injuries have already derailed his promising career.
In 2014 and for the last few years, Aaron Rogers seems to be the ultimate model for quarterback perfection.  He doesn't need to scramble around like a chased chicken, but he does a pretty good job when pressed into it.  What he does do incredibly well is buy enough time when the play design isn't executed perfectly to let his receivers work their way open and then his "best in class" arm strength gets the ball to them as quickly and accurately as anyone in the league and he also does it even when his body isn't in perfect position or on the run.
So, what quarterbacks have to deal with in leading their teams today is much more to handle than it was a few years ago, but what hasn't changed is the amount of mobility needed for ultimate success in the NFL.  I would "never say never," but the ability to move within the pocket, avoid the rush, reset quickly and deliver accurately will probably always be the model for playing the position.
Buccaneers admit mistake, boot Aguayo
In the NFL, it's always better to admit a mistake than to compound it. For the Buccaneers, the decision to burn a 2016 second-round pick on kicker Robert Aguayo has proven to be a mistake. The Buccaneers made the definitive admission of their error on Saturday, cutting Aguayo. He exits with $428,000 in fully-guaranteed salary [
more
]
Source: Mike Florio of ProFootballTalk
Powered by WPeMatico
Did Bucs put too much pressure on Aguayo?
After the Buccaneers surprised everyone by taking a kicker with the 59th overall pick in the draft, G.M. Jason Licht explained the move by heaping superlatives on the player. "I was very excited along with my staff and coaches about Roberto for a very long time," Licht told PFT Live in May 2016. "It's not [
more
]
Source: Mike Florio of ProFootballTalk
Powered by WPeMatico
Broncos holding their breath on Derek Wolfe
Only two days after losing Billy Winn for the year with a torn ACL, the Broncos are now sweating out another potentially serious injury along the defensive line. Via multiple reports, Broncos defensive lineman Derek Wolfe was carted off the field during practice on Saturday. It's being described as a right ankle injury by coach [
more
]
Source: Mike Florio of ProFootballTalk
Powered by WPeMatico