Darrelle Revis Returns To Elite Status
Darrelle Revis has returned to an elite level of play in New England.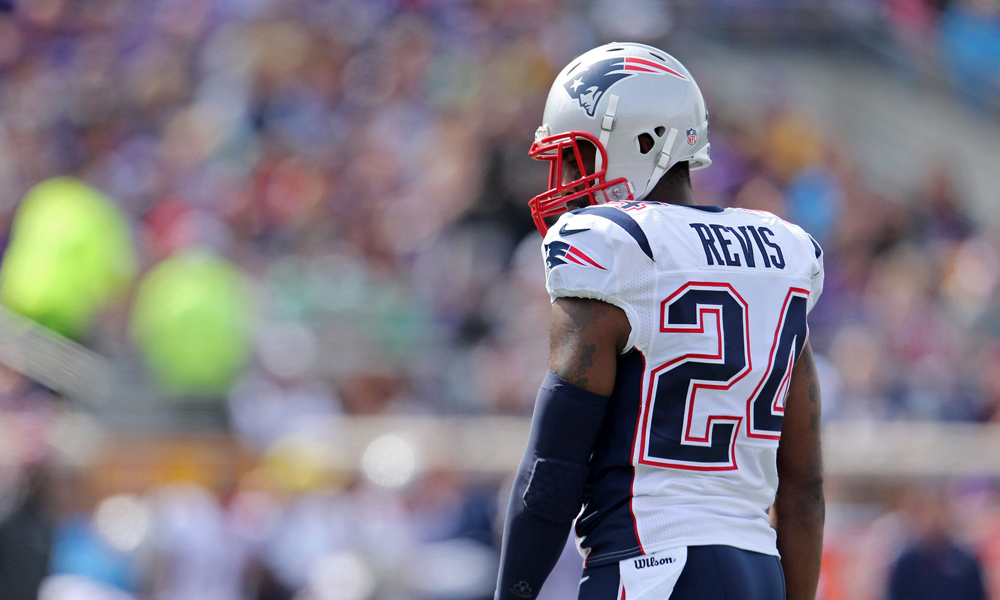 Once upon a time, Darrelle Revis was public enemy number one in Foxboro as a key member of the New York Jets. Now, he's an essential piece to a New England Patriots team looking to win their first Super Bowl since 2004.
Many thought Revis was done after he tore his ACL during his final season in New York, but he came back the following year and played in all 16 games for the Tampa Bay Buccaneers. He wasn't 'Revis Island' anymore, but at the same time, one could argue former Bucs head coach Greg Schiano didn't use him properly.
Revis' strength is man-to-man coverage, but Schiano played a lot of zone. However, some of the zone schemes were to protect Revis' knee.
"I didn't have the explosion to play press; the receiver would just run the (vertical) 9-route on me and I didn't have the stamina to do that play in and play out, especially playing press," Revis explained.
The five-time pro bowler is in a better place now.
Bill Belichick is known for taking other people's trash and turning it into gold. In this case, however, he brought in gold. But before the honeymoon period could begin, Belichick and Revis had some differences to handle.
When Revis was in New York, he called Belichick a "jerk," but now he's singing a different tune.
"Well, one, he's a great coach," Revis said of the his hoodie-clad boss. "I really respect him for winning three championships. He is. Another thing, I feel like he's a player coach. A lot of people might not say that outside looking in, but we're with Bill every day. We hang out with him every day. We're in the meetings with him every day. So we're around him all the time. I really feel like he's a player coach. And I feel like he runs it how he wants to run it, but at the same time, we gotta go out here and work."
Going out and working is exactly what Revis has been doing. Through 12 games, he has two interceptions and 14 passes defended, which leads the team by far.
With all the good, some bad is sure to follow, but Revis does a good job of not letting mistakes affect the next play.
"If you give up a catch, I don't know, it's tough. But at the same time, I'm definitely not going to feed into what people say," the former first-round pick of the Jets said. "That's never been me. I know what I bring to the table. I think everybody on this team knows what they bring to the table. It's tough. It's tough to play man-to-man coverage. It just is, but at the same time, I'm one of the guys that is willing to raise my hand and step up and take on that challenge on a week-to-week basis, and I feel like our whole secondary (does that, too)."
Revis sees the negativity on social media.
"We play some great offenses," he said. "Down the road, it's going to get harder. We definitely understand that. People's opinions on Twitter, I mean, trust me, I posted a picture on Instagram and people are commenting about stuff. At the same time, I know what I bring to the table, and I've been playing for a long time. Just erase or it don't pay attention to it."
There's not too many cornerback duos better than Darrelle Revis and Brandon Browner.
"We're a confident team," Revis said of his team, which currently boasts the best record in the AFC. "We definitely are. Our record speaks to it, and we're going to continue to play confident, because that's the type of mentality we have as a team."
With the postseason approaching, New England will need Revis to continue to shut opposing receivers down.
Buccaneers admit mistake, boot Aguayo
In the NFL, it's always better to admit a mistake than to compound it. For the Buccaneers, the decision to burn a 2016 second-round pick on kicker Robert Aguayo has proven to be a mistake. The Buccaneers made the definitive admission of their error on Saturday, cutting Aguayo. He exits with $428,000 in fully-guaranteed salary [
more
]
Source: Mike Florio of ProFootballTalk
Powered by WPeMatico
Did Bucs put too much pressure on Aguayo?
After the Buccaneers surprised everyone by taking a kicker with the 59th overall pick in the draft, G.M. Jason Licht explained the move by heaping superlatives on the player. "I was very excited along with my staff and coaches about Roberto for a very long time," Licht told PFT Live in May 2016. "It's not [
more
]
Source: Mike Florio of ProFootballTalk
Powered by WPeMatico
Broncos holding their breath on Derek Wolfe
Only two days after losing Billy Winn for the year with a torn ACL, the Broncos are now sweating out another potentially serious injury along the defensive line. Via multiple reports, Broncos defensive lineman Derek Wolfe was carted off the field during practice on Saturday. It's being described as a right ankle injury by coach [
more
]
Source: Mike Florio of ProFootballTalk
Powered by WPeMatico