Cross-Sport Doppelgängers: NFC North
We reveal our cross-sport doppelgängers for the Bears, Lions, Packers and Vikings.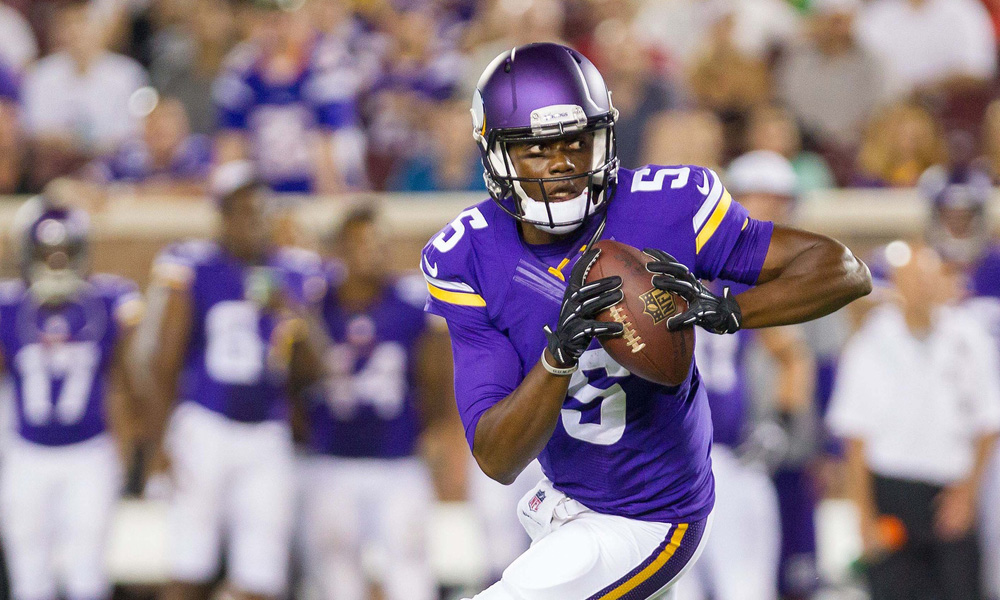 Our cross-sport doppelgängers series heads to the NFC North, where we pair every team in the Black & Blue division with its look-a-like from either the MLB or NBA. Find out who we paired up this week and learn why these franchises have more in common than you ever would have thought.
Also, check out the rest of our cross-sport doppelgängers series: AFC East | AFC North | AFC South | AFC West | NFC East
Chicago Bears = St. Louis Cardinals
This is not the most natural connection in the doppelgängers series. After all, the Bears have won just one Super Bowl, while the Cardinals have won 11 World Series, more than any franchise except the Yankees. But these two franchises are so steeped in tradition, their individual team histories are intertwined into the very fabrics of their respective sports.
The Bears have won more football games than any other NFL franchise. And despite having won just one Super Bowl (1985), they won eight other NFL Championships prior to the merger. Chicago also holds the league record for most enshrinees in the Hall of Fame (27), further evidence of the organization's incredible impact on the football landscape.
The Cardinals have been equally influential in their sport. St. Louis is a consistent winner, with a history that includes eight seasons of 100-plus wins. The Cardinals have produced 20 league MVPs, four Triple Crown winners and three Cy Young Award winners. St. Louis has won titles in seven different decades, including recent World Series triumphs in 2006 and 2011.
Both of these Midwest franchises are involved in fabled rivalries, as well, with Bears-Packers games and Cardinals-Cubs games among the most intense in all of professional sports.
Detroit Lions = Seattle Mariners
For these franchises, playoff wins are like green olives at a pizza parlor — they are frustratingly difficult to come by.
Neither team has won the biggest prize in its sport, although the Lions have captured four NFL Championships, the last of which came 10 years before the first Super Bowl. Since that last title, the Lions have won one — yes, just one! — playoff game (after the 1991 season). That lone playoff win sent Detroit to the Divisional Round, where it was dismantled by Washington, 41-10.
The Lions' only extended era of contention came during the 1990s, when the team made the playoffs five times (the legendary Barry Sanders was the driving force behind force behind four of those teams). Unfortunately, and improbably, each of those postseason ventures were of the one-and-done variety.
Seattle's playoff history is equally pathetic. The Mariners have been to the playoffs just four times in their 38-year history. After first-round exits in 1995 and 1997, Seattle finally pried open a brief window of contention with consecutive trips to the AL Championship Series in 2000 and 2001. Mike Cameron and Jamie Moyer were common threads on both of those teams, with Alex Rodriguez on the roster in 2000 (he left for Texas as a free agent after the season) and Ichiro Suzuki joining the club in 2001.
The Mariners have not been back to the playoffs since 2001. Seattle came close last season, missing a wild-card berth by a single game. The Lions are close in their own right, sitting at 9-4 and looking fully capable of picking up the franchise's second playoff win of the Super Bowl era, if not more. It's about time things started to turn for these two franchises … their fans have suffered enough already.
Green Bay Packers = San Antonio Spurs
Let's keep this theme as simple as possible: small market teams that are freaking awesome.
The Packers and Spurs are the only professional sports teams in their respective cities, which makes sense, because one plays in a dairy farm and the other plays alongside a dirty creek. But that hasn't prevented either team from achieving incredible success.
The Packers have won 13 championships (four Super Bowls, nine NFL Championships), more than any other team in NFL history. From winning the first-ever Super Bowl in 1967 to winning another ring as recently as 2010, this team has proven it can sustain success as well as anybody. This year, sitting at 10-3 and tied atop the NFC, the Packers have a great shot at adding another trophy to an already full display case.
The Spurs have won five NBA titles, more than all but three NBA franchises (the Lakers, Celtics and Bulls), two of whom (LA and Boston) got about a 30-year head-start on San Antonio. The Spurs have made the playoffs 17 years in a row, including 15 consecutive 50-win seasons. They are the reigning NBA Champions and have an excellent shot this season to finally cross one final item off their to-do list by winning back-to-back titles.
Also, when you look up "ageless wonder" in the sports dictionary, you will see a picture of Spurs' center Tim Duncan positioned right next to an image of Packers icon Brett Favre (a picture of Favre's face, we can only hope).
Minnesota Vikings = Sacramento Kings
This pairing is an easy one and not just because both teams rock purple with pride.
The Vikings and Kings both had one era where they huffed and puffed against the championship door but could not find a way to blow it down. Minnesota went to the Super Bowl four times between 1969 and 1976 but could never get over the top in the "Big One." The team came close again on a few other occasions, especially in 1998 and 2009, but has not been back to the Super Bowl since that 0-4 start.
The Kings have one championship on their resumé, but that comes with an asterisk because it was won way back in 1951, when the team was still the Rochester Royals. More recently, the Kings had several chances to bring a title to Sacramento, advancing at least to the Western Conference Semifinals four years in a row from 2000-2001 to 2003-2004. But the Kings, like the Vikings, were always left waiting on the doorstep, with their most agonizing loss coming in 2002 when the NBA maybe/definitely rigged the Western Conference Finals to make sure the audience-drawing Lakers made it to the championship round.
The Vikings and Kings are both currently in rebuilding phases, but as they've shown this season, they are making progress faster than most people expected. Minnesota is just one game below .500 under first-year head coach Mike Zimmer and rookie quarterback Teddy Bridgewater. Sacramento is currently sitting ninth in Western Conference, jockeying with the Suns and Pelicans for the right to be next in line to crack the West's Elite Eight.
Check back next week as we reveal our cross-sport doppelgängers for the NFC South. 
Did Bucs put too much pressure on Aguayo?
After the Buccaneers surprised everyone by taking a kicker with the 59th overall pick in the draft, G.M. Jason Licht explained the move by heaping superlatives on the player. "I was very excited along with my staff and coaches about Roberto for a very long time," Licht told PFT Live in May 2016. "It's not [
more
]
Source: Mike Florio of ProFootballTalk
Powered by WPeMatico
Broncos holding their breath on Derek Wolfe
Only two days after losing Billy Winn for the year with a torn ACL, the Broncos are now sweating out another potentially serious injury along the defensive line. Via multiple reports, Broncos defensive lineman Derek Wolfe was carted off the field during practice on Saturday. It's being described as a right ankle injury by coach [
more
]
Source: Mike Florio of ProFootballTalk
Powered by WPeMatico
Buccaneers admit mistake, boot Aguayo
In the NFL, it's always better to admit a mistake than to compound it. For the Buccaneers, the decision to burn a 2016 second-round pick on kicker Robert Aguayo has proven to be a mistake. The Buccaneers made the definitive admission of their error on Saturday, cutting Aguayo. He exits with $428,000 in fully-guaranteed salary [
more
]
Source: Mike Florio of ProFootballTalk
Powered by WPeMatico