College Football Playoff May Create More Headaches than Solutions
The College Football Playoff was hailed as a cure-all for crowning a champion. But what if it isn't?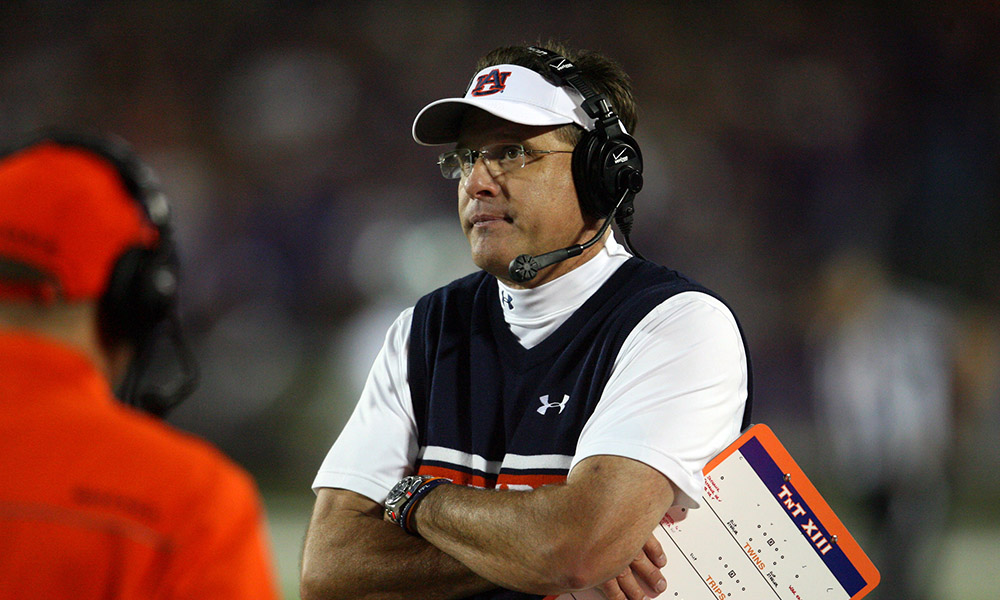 When the Football Bowl Subdivision decided to join the rest of the sports world and start a playoff system – you know you're hopelessly archaic when golf figures out how to do playoffs before you do – most of the logical world rejoiced.
But the past weekend showed that it's possible the devil we did know is better than the devil we don't. If the chaos of Week 6 becomes a season-long trend rather than a one-week wonder, the members of the Football Playoff Selection Committee are in for a headache-inducing process when it comes to picking which teams belong in the Final Four.
With all sorts of traps looming for teams in the SEC West and Pac-12, it looks like now might be a good time to start downing the aspirin.
One week before the season's halfway point, the two teams that met for last year's title are safely in the field. Auburn and Florida State remain undefeated, and while the Seminoles have dodged bullets against Clemson and NC State, a quality win over Notre Dame in two weeks would seemingly assure them of a playoff spot. But that's no sure thing – Florida State could put the committee in an interesting position if it follows a win over the Irish with a Thursday night loss at Louisville.
If Auburn makes it through the treacherous SEC West without a blemish, the Tigers will be the top seed in the Final Four. But good luck with all that. Auburn has to visit suddenly formidable Mississippi State and Ole Miss in two of its next three games, and still has Texas A&M, Georgia and Alabama on the schedule after that. It's possible, if not probable, that two or more losses lie in waiting on that slate.
Some things will take care of themselves – at the bare minimum, Ole Miss or Mississippi State is guaranteed a loss when the two meet Thanksgiving weekend. The same holds true for either Baylor or TCU this weekend.
But what happens at season's end if the committee has to pick among four or five one-loss teams for the last two spots in the field? If the SEC champion has two losses – another distinct possibility – does the league's strength give that team enough juice to jump a one-loss team from a league perceived as lesser?
In several previous seasons, it's been unfair to say two teams are head-and-shoulders above the team ranked No. 3 in the country. Oklahoma State had a potentially valid beef when LSU and Alabama had a regular-season rematch for the national title, and Auburn was hosed when Oklahoma and USC met in 2004. But it may turn out to be even harder to say that No. 4 is definitively better than No. 7.
Again, there's a chance all of this will sort itself out by season's end. But it would be more artistically fitting if the solution to college football's problems ends up creating even more controversy than its predecessor in Year 1 of its existence. My guess is it will, and we'll eventually see the playoff field expand to eight teams – the five Power 5 champs plus three wild cards.
Just don't expect it to happen any time soon. After all, it took us more than a century just to get this far.
Buccaneers admit mistake, boot Aguayo
In the NFL, it's always better to admit a mistake than to compound it. For the Buccaneers, the decision to burn a 2016 second-round pick on kicker Robert Aguayo has proven to be a mistake. The Buccaneers made the definitive admission of their error on Saturday, cutting Aguayo. He exits with $428,000 in fully-guaranteed salary [
more
]
Source: Mike Florio of ProFootballTalk
Powered by WPeMatico
Did Bucs put too much pressure on Aguayo?
After the Buccaneers surprised everyone by taking a kicker with the 59th overall pick in the draft, G.M. Jason Licht explained the move by heaping superlatives on the player. "I was very excited along with my staff and coaches about Roberto for a very long time," Licht told PFT Live in May 2016. "It's not [
more
]
Source: Mike Florio of ProFootballTalk
Powered by WPeMatico
Broncos holding their breath on Derek Wolfe
Only two days after losing Billy Winn for the year with a torn ACL, the Broncos are now sweating out another potentially serious injury along the defensive line. Via multiple reports, Broncos defensive lineman Derek Wolfe was carted off the field during practice on Saturday. It's being described as a right ankle injury by coach [
more
]
Source: Mike Florio of ProFootballTalk
Powered by WPeMatico