Can Michael Vick Resurrect His Career With The Steelers?
All the pieces are in place for Michael Vick to revive his NFL career for a second time.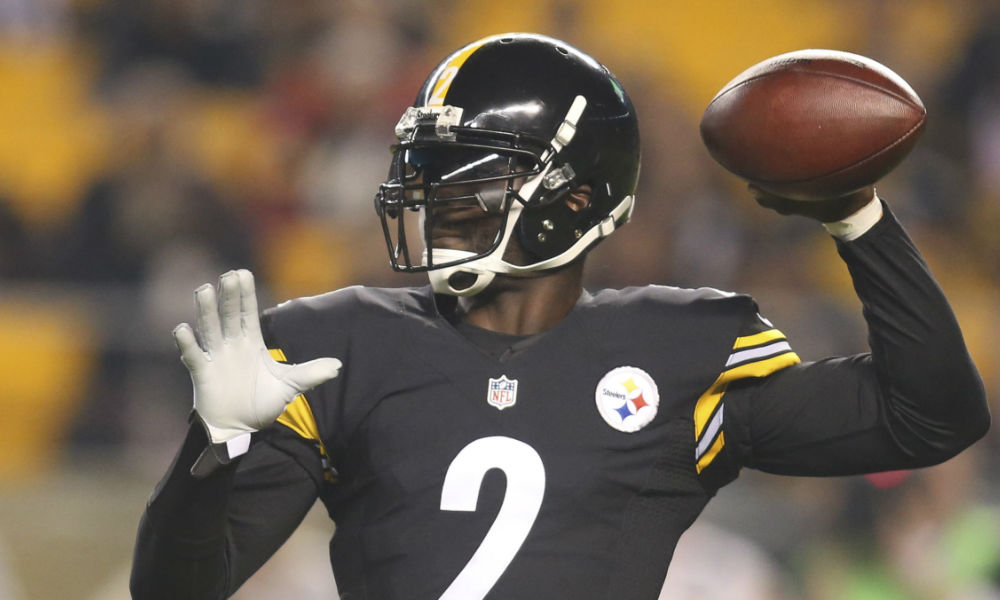 The professional career of 35-year old Michael Vick has had more extreme highs and lows than the world's most thrilling rollercoaster ride.
He has felt the emotional high of being the No. 1 overall pick in the 2001 NFL Draft. Vick also experienced isolation and exile from society after the cold steel of handcuffs were placed around his wrists after being incarcerated to pleading guilty to 'Conspiracy to Travel in Interstate Commerce in Aid of Unlawful Activities and to Sponsor a Dog in a Animal Fighting Venture' during his prime in the NFL.
Vick signed with the Pittsburgh Steelers in August after incumbent back-up quarterback Bruce Gradkowski suffered a dislocated finger. If everything went as planned, Vick would relieve franchise quarterback and two-time Super Bowl winner Ben Roethlisberger in mop up duty.
Relegated to the bench was the going to be the season to remember for Vick.
That theory was tossed out the window at the RCA Dome in St. Louis after Rams safety Mark Barron hit Roethlisberger's knee. Results indicated he'll miss at least four to six weeks of action due to a strained MCL and bone bruise. It left the door open for Vick's return as one of the starting 32 quarterbacks in the NFL.
Could this be the second resurrection of Michael Vick's career?
Think back to after his release from prison and when he signed with the Philadelphia Eagles. One year later in 2010, he won the NFL Comeback Player of the Year award.
"You got to go out there and prove you belong everyday," said Vick after the 12-6 win over the Rams. "In this league it's a constant battle just to be consistent and stack up performances. This is the fourth offense I've learned or had to learn. I'm just taking it one day at a time."
There are a few other top notch quarterbacks in the NFL that are around Vick's age that include Tony Romo (35), Drew Brees (36) and Peyton Manning (39). His own skill set and knowing that others are as old or older and are still successful probably gives Vick some reassurance on getting the job done in Pittsburgh.
Another huge factor in Vick's chances of succeeding is the incredible supporting cast.
He is surrounded by arguably the most offensive talent he's ever played with in his 13-year career in the NFL.
Inheriting this type of weaponry enhances the chances that the battle tested veteran could surprise everyone and once again revive his career and help the Steelers stay in contention for the AFC North crown.
Vick knows that he's going to have to work as hard as ever to conquer a tough stretch of schedule.
"Getting with the quarterback coaches going to my offensive coordinator and even talk with Ben (Roethlisberger) and the other guy's to see how we can this thing done," the former Heisman Trophy winner said.
"It's not just about me, there's a lot of great players in this locker-room," said Vick and added, "that can change the out come of a football game."
The first is Pro Bowl running back Le'Veon Bell, who is as dangerous running the football out of the backfield as he is catching it. Last season Bell set career highs in rushing yards (1,361), receptions (83), receiving yards (854), receiving touchdowns (3) and tied a career-high with eight rushing touchdowns. He joined Marshall Faulk (1999) as the only players in the NFL history to rush for 1,350 yards and record 850 receiving yards in a single-season.  In addition to that, Bell also became the third player in NFL history (Barry Sanders, 1994 and Faulk, 2000) to eclipse 2,000 scrimmage yards in a season without fumbling.
Bell is the ultimate security blanket for Vick to operate successfully in the Steelers high-octane offense filled with playmakers.
If defensive coordinators want to challenge Bell by adding the eighth man in the box, it exposes and secondary to the threats of one of the deepest and most talented receiving units in the NFL.
Antonio Brown alone is enough to make any secondary lose sleep. He caught 129 passes last season, the second-most in a single season in NFL history. His 1,698 receiving yards are the fifth-most in a single season in NFL history. Brown is the guy Vick will look to early and often to move the chains.
Brown is accompanied by second-year receiver Martavis Bryant, who is currently finishing a four game suspension. He'll be back on the field giving Vick a gigantic target (6-foot-4, 211 pounds) down the field.
If that wasn't enough to get Vick back in the highlight reels, add in veteran Pro Bowl tight end Heath Miller.  He isn't a super-athletic Jimmy Graham or Rob Gronkowski type, but he has sure hands and is a nice red zone threat.
Finally, if all else fails Vick can use his legs. After all he did run a 4.33 forty-yard dash at the NFL Combine and remains one of the most elusive quarterbacks in the league.
So what are some of Vick's red-flags?
He is very fragile and being 35 years old doesn't help the aches and pains of NFL football.  Especially with 300-plus pound defensive linemen crashing into his 6-foot-1, 215 pound aging frame. During his NFL career, Vick he has only able to lace up his spikes for all 16 games once. So that definitely is an area of concern.
Besides staying healthy, the other critical negative about Vick is his inability to not turn over the football to opposing defenses. Via the interception or fumble, he can become careless with the football and under a Mike Tomlin coached team that will not sit very well or last very long (Even in his limited action as starting quarterback in Pittsburgh).
"He's the centerpiece (Roethlisberger) and I was brought here for a reason," Vick said. "I got plenty of confidence in myself. This is what I feel I like I've been born to do. I'm not a young guy anymore but I'm a seasoned veteran."
All the pieces are in place for him to showcase once again why he is one of the more electrifying and notorious athletes over the last decade.
Love him or hate him he draws you in because of his exceptional athletic ability, even at the age of 35.
Buccaneers admit mistake, boot Aguayo
In the NFL, it's always better to admit a mistake than to compound it. For the Buccaneers, the decision to burn a 2016 second-round pick on kicker Robert Aguayo has proven to be a mistake. The Buccaneers made the definitive admission of their error on Saturday, cutting Aguayo. He exits with $428,000 in fully-guaranteed salary [
more
]
Source: Mike Florio of ProFootballTalk
Powered by WPeMatico
Did Bucs put too much pressure on Aguayo?
After the Buccaneers surprised everyone by taking a kicker with the 59th overall pick in the draft, G.M. Jason Licht explained the move by heaping superlatives on the player. "I was very excited along with my staff and coaches about Roberto for a very long time," Licht told PFT Live in May 2016. "It's not [
more
]
Source: Mike Florio of ProFootballTalk
Powered by WPeMatico
Broncos holding their breath on Derek Wolfe
Only two days after losing Billy Winn for the year with a torn ACL, the Broncos are now sweating out another potentially serious injury along the defensive line. Via multiple reports, Broncos defensive lineman Derek Wolfe was carted off the field during practice on Saturday. It's being described as a right ankle injury by coach [
more
]
Source: Mike Florio of ProFootballTalk
Powered by WPeMatico