Is Mark Sanchez A System QB?
Former NFL QB Jeff Carlson looks at Monday night's QB matchup, and compares what went right and wrong.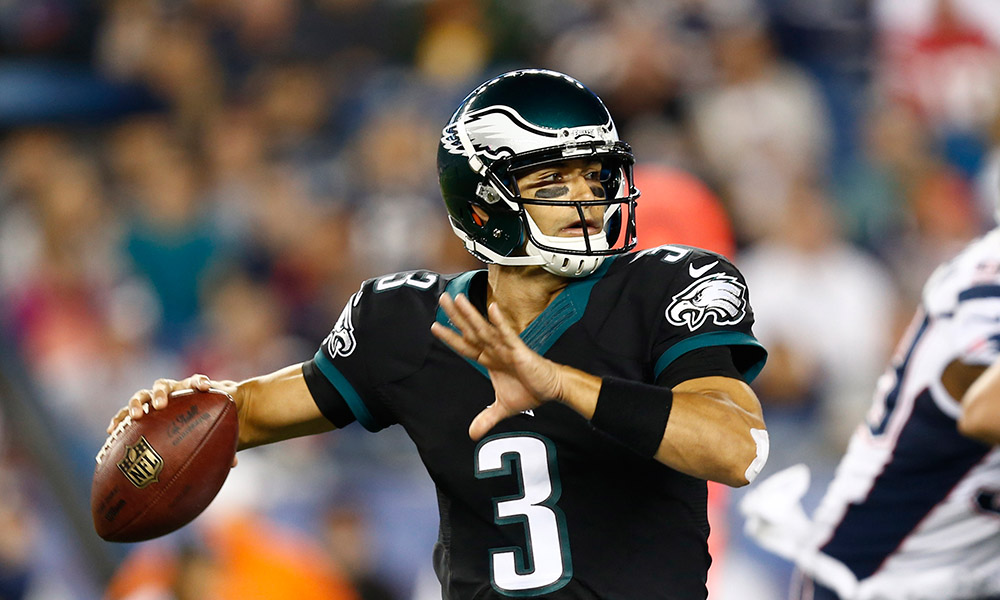 Mark Sanchez got a new lease on life with the Philadelphia Eagles following the "butt fumble" and numerous other fumbles with the New York Jets.  He isn't the first to move on from his first team and find success in a new city, but he is the latest.  Steve Young moved on from an undistinguished beginning with the Tampa Bay Buccaneers in the 1980's and finished with a Hall of Fame career with the San Francisco 49ers.  Although he is garnering lots of praise in his first major action, I didn't see a great quarterback on Monday night, but rather a decent QB playing in a system that could help a lot of average QB's look pretty good; while playing against a Carolina Panthers team that is currently in disarray.
I liked Sanchez coming out of USC because he did a good job of anticipating his throws at the college level, something many players take a long time to develop, like Matthew Stafford in Detroit.  Stafford had more raw physical talent than Sanchez when they were both available in the draft, but Sanchez played the quarterback position a little bit better.  Stafford has continued to improve over time and his great natural ability is finally showing up in the win column.
Like his opponent Monday night, Cam Newton, I believe Sanchez has maxed out.  Within the Eagles offensive system, he will do fine.
Will his performance make him a hot commodity for another team next year? 
I don't think so.  I don't believe that Sanchez has the ability to raise a team up and lead them without a great system around him.  Assuming it's an option at the end of the season, it will be better for him to stay and succeed than expose himself again to ridicule by playing for a team that cannot create the environment he needs to succeed.
Cam Newton is who I thought he was.  I made a number of friendly "bets" prior to the season that Newton would not progress this year.  He has arguably the most God-given talent for his position as anyone in the entire league.  But, he hasn't really developed his quarterback intelligence over his early career and now his team around him isn't helping much, and his QB mechanics are failing miserably.
Newton was sacked nine times on Monday night, which is an obvious sign of poor offensive line play.  Still, he has to make some decisions and get rid of the ball more often than not.  He was harassed, but he caused a number of those sacks as well.  He now throws more often than not with his feet parallel to the line of scrimmage.  This is exactly ninety degrees from their proper placement.  Perhaps his teammates are giving up on things and maybe his offensive coordinator (Mike Shula, my QB coach with the Tampa Bay Buccaneers) is not designing things well enough to help use him "Superman" talents, but he has to go back to the basics and get his footwork under control and expect to deliver the ball immediately after he drops back, not look around and have his feet in bad position to throw accurately.
So, Mark Sanchez has received a second bite at the apple and if he stays right where he is, under Chip Kelly's tutelage, he may be able to change the narrative on his career.  Sanchez's Monday evening counterpart, Cam Newton is in a bad place right now in Carolina and may soon need a similar change of scenery.
Buccaneers admit mistake, boot Aguayo
In the NFL, it's always better to admit a mistake than to compound it. For the Buccaneers, the decision to burn a 2016 second-round pick on kicker Robert Aguayo has proven to be a mistake. The Buccaneers made the definitive admission of their error on Saturday, cutting Aguayo. He exits with $428,000 in fully-guaranteed salary [
more
]
Source: Mike Florio of ProFootballTalk
Powered by WPeMatico
Did Bucs put too much pressure on Aguayo?
After the Buccaneers surprised everyone by taking a kicker with the 59th overall pick in the draft, G.M. Jason Licht explained the move by heaping superlatives on the player. "I was very excited along with my staff and coaches about Roberto for a very long time," Licht told PFT Live in May 2016. "It's not [
more
]
Source: Mike Florio of ProFootballTalk
Powered by WPeMatico
Broncos holding their breath on Derek Wolfe
Only two days after losing Billy Winn for the year with a torn ACL, the Broncos are now sweating out another potentially serious injury along the defensive line. Via multiple reports, Broncos defensive lineman Derek Wolfe was carted off the field during practice on Saturday. It's being described as a right ankle injury by coach [
more
]
Source: Mike Florio of ProFootballTalk
Powered by WPeMatico