Can Jim Harbaugh Keep the 49ers Together?
With major injuries, legal issues and rumors of a disconnect between the head coach and locker room, will the 49ers be able to navigate a playoff run in the stacked NFC West?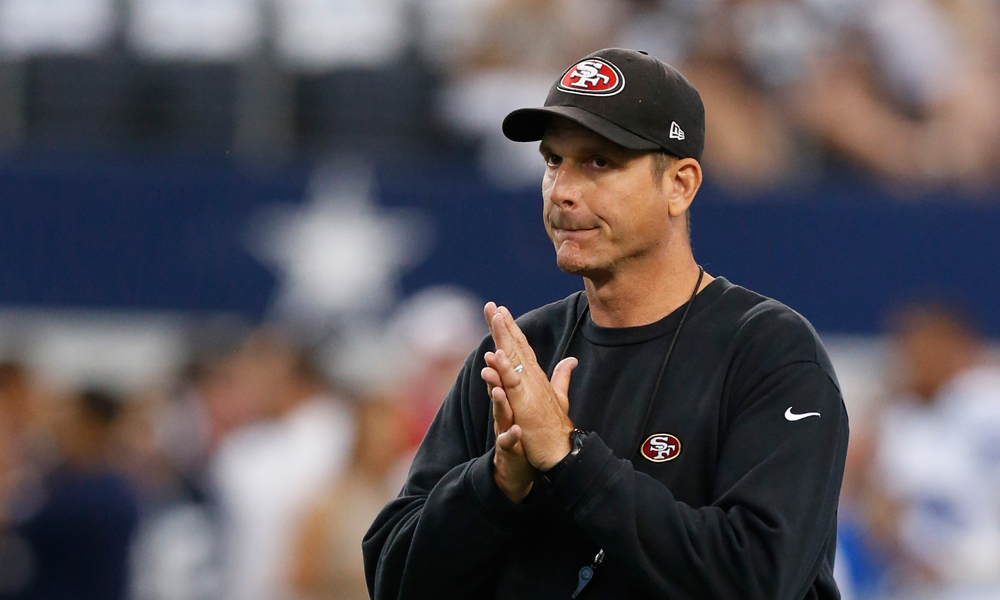 The San Francisco 49ers were well on their way to a 2-0 start and then something happened on Sunday night. One of the brightest young stars in the game, 49ers quarterback Colin Kaepernick proceeded to lose his composure as he tossed three interceptions and lost a fumble, giving the Bears an opening to come back from a 17-point deficit en route to a 28-20 victory in the regular season debut of Levi's Stadium.
"They made some really good plays – made some great plays," said a deflated Jim Harbaugh after the loss. "A couple interceptions that were just really good plays.
"It stings to lose," Harbaugh said. "And we all have fingerprints on it."
Is there a cause for panic?
Not yet. In 2013, the 49ers began the season 1-2 before ripping off five consecutive wins en route to a 12-4 regular season and a run to the NFC title game for the third consecutive season.
However, there may be cause for concern.
Linebacker Aldon Smith is suspended for the first nine games of the season after violating the league's personal conduct and substance abuse policies. In 2013, Smith received a DUI and added in a bizarre "bomb threat" at LAX. Whether the 49ers can count on Smith to stay out of trouble remains unknown.
Another key contributor to the 49ers defense, all-pro linebacker NaVorro Bowman is recovering from a torn ACL. Placed on the Physically Unable to Perform list, the Niners won't see him on the field until week seven at the earliest.
It's difficult to imagine any defense, even one as deep as San Francisco's being able to be a dominant unit after missing two players the caliber of Smith and Bowman.
The elephant in the room revolves around the swirling off-the-field issues of defensive lineman Ray McDonald, who is still under investigation after his Aug. 31 arrest for domestic violence. Until the case is resolved or McDonald is inactive, Harbaugh will continue to face the distraction.
Harbaugh said earlier that he has "zero tolerance" for domestic violence.
Even California Lieutenant Governor Gavin Newsom and his wife issued a statement, calling on Harbaugh and the 49ers to bench McDonald. If public pressure continues to mount, Harbaugh may have little choice but to sit McDonald. The idea of winning without three defensive starters is daunting, even for the 49ers, in an ultra-competitive NFC West division.
"We're not going to flinch based on public speculation," Harbaugh said, indicating that the 49ers are going to stand behind McDonald at the moment.
In addition to McDonald, there is a complicated and at times strange relationship between Harbaugh and the team. While Harbaugh and 49ers deny any friction, the constant scrutiny unfolding in San Francisco should only ramp-up Harbaugh's arrogant self-righteousness. Will Harbaugh's act start to wear thin?
While it's not yet time to panic, there are red flags in San Francisco.
We know that winning is the ultimate deodorant in sports. With that said, a few losses could expose the fragile balance and competitive nature of one of the NFL's best teams.
Buccaneers admit mistake, boot Aguayo
In the NFL, it's always better to admit a mistake than to compound it. For the Buccaneers, the decision to burn a 2016 second-round pick on kicker Robert Aguayo has proven to be a mistake. The Buccaneers made the definitive admission of their error on Saturday, cutting Aguayo. He exits with $428,000 in fully-guaranteed salary [
more
]
Source: Mike Florio of ProFootballTalk
Powered by WPeMatico
Did Bucs put too much pressure on Aguayo?
After the Buccaneers surprised everyone by taking a kicker with the 59th overall pick in the draft, G.M. Jason Licht explained the move by heaping superlatives on the player. "I was very excited along with my staff and coaches about Roberto for a very long time," Licht told PFT Live in May 2016. "It's not [
more
]
Source: Mike Florio of ProFootballTalk
Powered by WPeMatico
Broncos holding their breath on Derek Wolfe
Only two days after losing Billy Winn for the year with a torn ACL, the Broncos are now sweating out another potentially serious injury along the defensive line. Via multiple reports, Broncos defensive lineman Derek Wolfe was carted off the field during practice on Saturday. It's being described as a right ankle injury by coach [
more
]
Source: Mike Florio of ProFootballTalk
Powered by WPeMatico