Cam Thomas: Steelers 'Preparing for Everything'
Cam Thomas, with the help of Pittsburgh's veteran leaders, is ready to do battle with the Browns.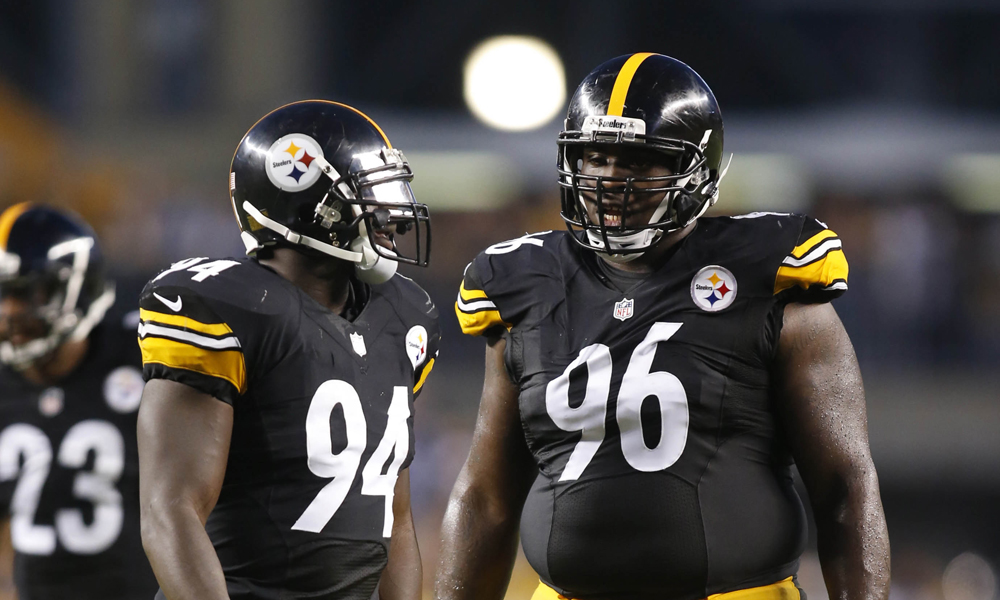 The Pittsburgh Steelers and Cleveland Browns played one of the season's most entertaining games in Week 1. Pittsburgh led 27-3 at halftime, but Cleveland rallied to tie the score late in the fourth quarter. Pittsburgh refused to roll over in front of its home crowd, however, and won the game on a 41-yard Shaun Suisham field goal with no time left on the clock.
The teams will meet again this week, this time in Cleveland, and the Steelers know they will have to be at their best to sweep their AFC North rivals.
"We expect nothing but their best," Steelers defensive end Cam Thomas said of the Browns. "Through five weeks, they've only allowed five sacks and had just one fumble and one interception. They're playing pretty good ball and they are not a bad team at all. We know we're going to get their best because in their minds they had that [first] game won."
Unlike the Week 1 contest, Browns fans will not be clamoring for Johnny Manziel whenever their offense stalls. Brian Hoyer has a firm grip on the starting position after leading Cleveland to a 25-point comeback in last week's win over the Titans, the largest road comeback in NFL history.
Nonetheless, the Steelers will be ready for Johnny Football, as the Browns have shown a willingness to bring him in on gadget plays.
"We're just preparing for everything, making sure our T's are crossed and our I's are dotted," Thomas said. "We're preparing for every aspect of football."
Thomas, nicknamed Baby Zilla, is the new kid on the block in Pittsburgh, having joined the team in the offseason as a free agent from San Diego. He has started every game this season at right end and has helped a Steelers defense that ranks 11th against the run, allowing 101.8 yards per game. By comparison, Pittsburgh allowed 115.6 rushing yards per game a season ago.
One of the reasons Thomas has been able to make an immediate impact is the assistance of Pittsburgh fan favorite Brett Keisel, who is in his 13th season with the Steelers. Keisel backs up Thomas at right end and has been quick to pass along his knowledge of Dick LeBeau's defensive system.
"The Beard, Mr. AKA!" said Thomas, laughing. "He's great! It's fun having The Beard there as a player who's been there for a long time. He knows the ins and outs of the defense, so I pick his brain a whole lot. It gets to the point where I'm like a gnat, asking him all types of questions to get an understanding of the defense. It's a good thing to have those vets there and get their knowledge of the game."
The Steelers have veteran leaders not only on the field, but on the sidelines as well. Joey Porter, who spent the first eight years of his 13-year career with the Steelers before retiring after the 2011 season, is in his first season as a defensive assistant coach.
The fiery Porter can be seen on the sidelines during game days, hyping up his players with the same emotion he was famous for as a player.
"Peezy, you can tell he's still got that player in him a little bit," Thomas said. "Sometimes he wants to run onto the field himself. You can see during the games his excitement and his enthusiasm. He gives everything from his perspective because he's been in the league, he's played there, so most of his stuff is from his experience there. It's fun playing for Peezy and having him as a coach."
The Steelers will rely on Thomas and their veteran leaders this week in Cleveland. This was supposed to be a friendly stretch of the schedule for the Steelers, but Pittsburgh lost at home two weeks ago to the previously winless Buccaneers, then struggled to eke out an eight-point win last week over the still winless Jaguars. It will take a better effort to put away the "never say die" Browns in Week 6, especially at the Dawg Pound.
Thomas and his defensive mates will be ready with their muzzles.
Buccaneers admit mistake, boot Aguayo
In the NFL, it's always better to admit a mistake than to compound it. For the Buccaneers, the decision to burn a 2016 second-round pick on kicker Robert Aguayo has proven to be a mistake. The Buccaneers made the definitive admission of their error on Saturday, cutting Aguayo. He exits with $428,000 in fully-guaranteed salary [
more
]
Source: Mike Florio of ProFootballTalk
Powered by WPeMatico
Did Bucs put too much pressure on Aguayo?
After the Buccaneers surprised everyone by taking a kicker with the 59th overall pick in the draft, G.M. Jason Licht explained the move by heaping superlatives on the player. "I was very excited along with my staff and coaches about Roberto for a very long time," Licht told PFT Live in May 2016. "It's not [
more
]
Source: Mike Florio of ProFootballTalk
Powered by WPeMatico
Broncos holding their breath on Derek Wolfe
Only two days after losing Billy Winn for the year with a torn ACL, the Broncos are now sweating out another potentially serious injury along the defensive line. Via multiple reports, Broncos defensive lineman Derek Wolfe was carted off the field during practice on Saturday. It's being described as a right ankle injury by coach [
more
]
Source: Mike Florio of ProFootballTalk
Powered by WPeMatico