Buffalo Bills, Rex Ryan looking up a steep hill post-Jets loss
It seems all but a foregone conclusion that Rex and the Bills are headed toward a breakup.
It seems too early in the season to say "you're done," but the Buffalo Bills and head coach Rex Ryan have put themselves in a very tough spot with their 37-31 loss to the New York Jets Thursday night.
How tough? According to Adam Schefter of ESPN, extremely so.
As 0-1 Jets and 0-1 Bills prepare for tonight's game: Under current playoff format, only 12% of teams starting 0-2 went on to make playoffs.

— Adam Schefter (@AdamSchefter) September 15, 2016
It's not impossible to make the playoffs for the Bills, but it is now highly unlikely.
Especially with a defense that just allowed the Jets to put up nearly 500 total yards and 37 points in it and an offense which is increasingly one-dimensional, with an injury hampering Sammy Watkins and an "all bombs or nothing" approach to play calling.
A look at the schedule should only serve to make all this even clearer.
Next week, the Bills get the Arizona Cardinals at home, a team which has an excellent defense and a potent offense. The likelihood of the Bills getting the long bombs they torched the Jets secondary with—the only offensive plays which seemed to work for them—is low.
Meanwhile you think Carson Palmer, Larry Fitzgerald, Michael Floyd and David Johnson won't light this defense on fire?
After that, it's the New England Patriots at Foxboro, and then what could be a break against a woeful Los Angeles Rams team, and a game against a surprising San Francisco 49ers team.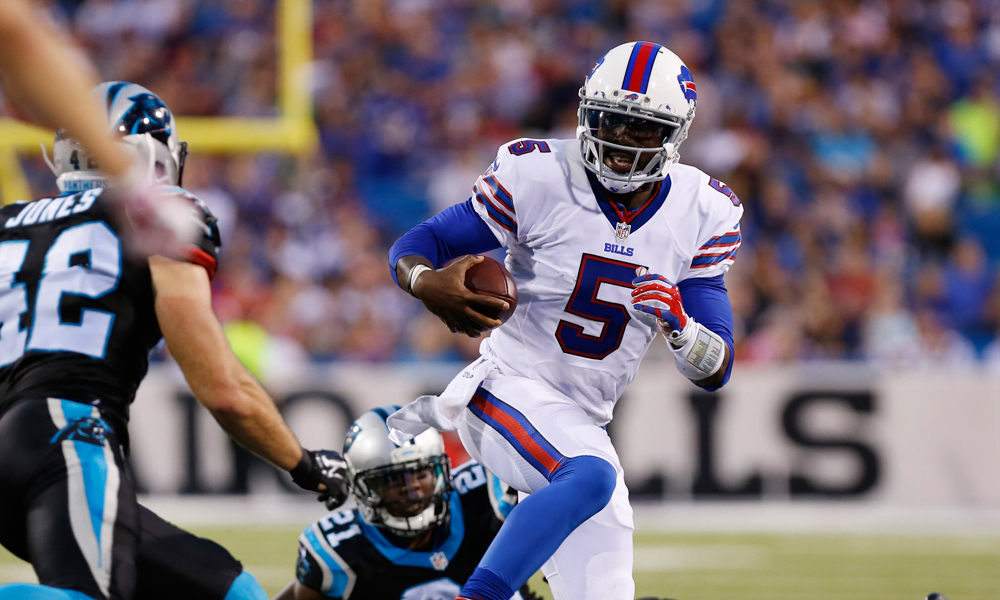 At that point, it is conceivable the Bills are 1-5 heading into a divisional game against the Miami Dolphins, followed by a second Patriots game and then a trip to Seattle for a likely loss against the Seahawks.
Right now, this is a team looking like it will be 1-8 or at best 2-7.
Right after their week off, they face the Cincinnati Bengals, Jacksonville Jaguars, Oakland Raiders and Pittsburgh Steelers. The next easy game is the Cleveland Browns in Week 15, before they finish things off with divisional games against the Miami Dolphins and the Jets.
This has to spell doom for Rex Ryan as there is a strong chance that the Bills are looking at a four or five win season. With all the blustering talk about "winning the offseason" and aiming for the playoffs, even another 8-8 season—and unlikely event looking at the schedule—is unlikely to be enough to save this guy's job.
"It ain't about being No. 1 in defense, No. 1 in offense, whatever," Rex screams in a documentary the Bills made about Ryan and his brother. "No, it's about us in this room, holding this damn trophy saying we won the whole m———-. That's where I'm at. Don't be afraid of it. I don't give a s— who knows it. Here we are. Here the f— we are. That's who the f— I am."
Rex Ryan is fantastic at fiery speeches. He's great at little digs to the opposing teams like having IK Enemkpali as captain after the guy broke Geno Smith's jaw.
He just can't seem to coach. Even with the injuries and suspensions of key players on the defense, the unit shouldn't have been this bad on Thursday.
Now his speeches are inspiring the other team more than his own.
Steve Politi of NJ.com relayed that Jets receiver Brandon Marshall had told Ryan that he was "going to kick (Rex's) butt" and he did, to the tune of 101 yards on six catches. In fact, the Jets were inspired enough to roll out two 100 yard receivers (Marshall and Eric Decker), a 100 yard running back (Matt Forte) and another receiver with 92 yards in Quincy Enunwa.
"When definitely had a conversation," Marshall told Politi and the media after the win. "I love messing with Rex. He's a great coach. He brings a lot of energy. It's always fun when you can get a body blow in on the big guy."
Note to Ryan: you're not supposed to rile up the other team more than your own.
Now Ryan has to find a way to get his team on track against an insanely hard schedule. It's early to be saying "must win" for a game—we're only heading into Week 3. It only gets tougher from here, though.
The winning has to start somewhere for the Bills and it's hard to see where that will be.
Buccaneers admit mistake, boot Aguayo
In the NFL, it's always better to admit a mistake than to compound it. For the Buccaneers, the decision to burn a 2016 second-round pick on kicker Robert Aguayo has proven to be a mistake. The Buccaneers made the definitive admission of their error on Saturday, cutting Aguayo. He exits with $428,000 in fully-guaranteed salary [
more
]
Source: Mike Florio of ProFootballTalk
Powered by WPeMatico
Did Bucs put too much pressure on Aguayo?
After the Buccaneers surprised everyone by taking a kicker with the 59th overall pick in the draft, G.M. Jason Licht explained the move by heaping superlatives on the player. "I was very excited along with my staff and coaches about Roberto for a very long time," Licht told PFT Live in May 2016. "It's not [
more
]
Source: Mike Florio of ProFootballTalk
Powered by WPeMatico
Broncos holding their breath on Derek Wolfe
Only two days after losing Billy Winn for the year with a torn ACL, the Broncos are now sweating out another potentially serious injury along the defensive line. Via multiple reports, Broncos defensive lineman Derek Wolfe was carted off the field during practice on Saturday. It's being described as a right ankle injury by coach [
more
]
Source: Mike Florio of ProFootballTalk
Powered by WPeMatico