Buccaneers Struggle To Change Losing Culture
The expectation was that Lovie Smith would turn the Buccaneers around in short order, but Lovie and the Bucs are finding that a losing culture is difficult to break.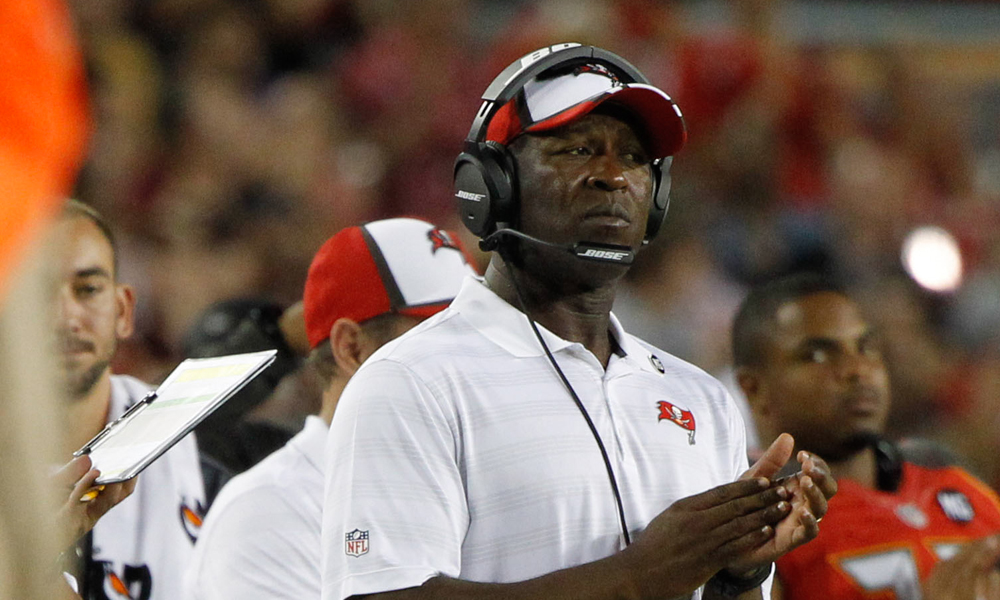 For the Tampa Bay Buccaneers, the hiring of Lovie Smith was supposed to be many things, but first and foremost it was supposed to signal a change in culture. Smith, who's now the third head coach since the team parted ways with Jon Gruden, is off to a rough start trying to change what has become a culture of losing in Tampa.
When Jon Gruden and general manager Bruce Allen proved to be less successful at building a winner than they were at getting the Buccaneers over the hump, the Buccaneers decided it was time to head in a new direction. Questionable personnel moves including some awful drafts left the Buccaneers roster with a serious lack of talent.
The Buccaneers responded by replacing both Gruden and Allen before 2009. Allen was replaced by Mark Dominik who had been with the franchise over a decade before finally ascending to the general manager position. The answer at the head coach position, was much more puzzling. After Gruden's act had worn thin with the players, the team decided to go to a young energetic players coach, 32-year old Raheem Morris, who the team had only recently promoted to defensive coordinator after being the team's defensive backs coach.
The Buccaneers went 3-13 in 2009, but it seemed the players were behind Raheem Morris, and there was excitement about the potential of rookie quarterback Josh Freeman that foreshadowed positive things to come for the young team and it's young coach. In 2010, things seemed to turn around. While they never seemed to win convincingly, the Buccaneers scrapped their way to a 10-6 record, just missing the playoffs. Freeman threw for 25 touchdowns and just six interceptions, and the future couldn't seem brighter for the Bucs and their young signal caller.
With expectations high in 2011, the team raced off to a 4-2 record before dropping their final 10 games, most of which in blowout fashion. It caused Mark Domenik to make a change at head coach.
Dominik hired Rutgers head coach Greg Schiano after striking out on then Oregon Ducks coach Chip Kelly. Schiano reigned over an era of Buccaneers football that will forever be remembered for being as ugly and embarrassing off the field as it was on the field.
Schiano treated his players like children and deactivated starting quarterback Josh Freeman. Schiano didn't win the admiration of other NFL coaches either as he would ask his players to dive at the knees of opponents on late game kneel down plays. His actions were seen by many to be amateur and bush league.
The team didn't just look like it didn't want to play for Schiano, it didn't. After finishing 7-9 in 2012, the team fell flat on it's face in 2013, ultimately costing Schiano his job.
Enter presumed hero Lovie Smith. Smith had been in Tampa once before as a linebackers coach under the respected Tony Dungy. Smith had been endorsed by many including Dungy as the right guy to turn the Buccaneers rudderless ship around. Smith's return to the Buccaneers felt like a family reunion to many.
That warm embrace with promises of success is quickly turning into the cold shoulder of failure. No amount of past successes or personal admiration will keep a fan base from revolting against bad football. Unfortunately for Smith and the Buccaneers, bad is the only fair adjective for this football team (although fans do come up with some more colorful ones) and Smith didn't mince words when admitting as much.
"1-5 says we're not a good football team, and we're not a good football team, Smith said after the Buccaneers 48-17 loss to the Baltimore Ravens on Sunday. "It's kind of as simple as that."
Buccaneers might remember Tony Dungy starting 1-7 his first year coaching the team, but they aren't exactly being patient with Smith's slow start. When it comes to the impatience of fans, Smith, partly has himself to blame with the immediate expectations of his club. From the moment that each arrived, both Lovie Smith and new general manager Jason Licht have refused to use the word rebuilding. To the contrary, each has expressed that in their view, the team was not rebuilding, and the pair expected to start winning right away.
"We feel like we have the right guys competing for certain positions," Lovie Smith said before the season. "They're definitely ready to change the culture and become a relevant team again."
While nobody expects a brand new head coach or general managers to admit they're rebuilding or that it might take a couple years to get where they want to go, frankly, some fans might just appreciate it if they did. While many predicted that the Buccaneers would make a Kansas City like leap in 2014, a look at the roster revealed a lack of depth that suggested the Buccaneers were doing exactly what they're doing, and that's rebuilding.
While Lovie Smith is known as a defensive coach, the Buccaneers "D" is on pace to give up 544 points this season, which would be more points than any team has given up in NFL history. The only thing that seemed more certain than Smith returning the Buccaneers to credibility, was that they would play defense. Much like how refusing to admit the team was rebuilding probably wasn't helpful, commenting about how Gerald McCoy and Lavonte David would be this team's Warren Sapp and Derrick Brooks set the bar, and expectations ridiculously high on the defense as well.
"First off, it starts with us. What you see is what you coach," Smith said after the defense gave up four first quarter touchdowns to Joe Flacco. "So for us, we have to do a better job of coaching up what we have. And then, talent-wise, again, it's becoming a habit a little bit now. It's happened too many times, so we do have to make improvements and look at our roster, and any other. We have a week. The good part about it is we have a bye week coming up. We have a little bit of time to see what direction we need to go. But, of course, we need to change course."
Part of the issue for the Buccaneers defense may also be that some of the players aren't fits for the defense. The Buccaneers don't run the Tampa-2 exclusively, but they employ it a lot which requires a middle linebacker to be very good in coverage, the way Brian Urlacher was for Smith during his time in Chicago. Mason Foster struggles in coverage and doesn't seem to be a great fit for Smith's defense despite being a solid player. The Buccaneers also have a pair of hard nosed, heavy hitting safeties that are both good football players, but neither is very good in coverage. The results haven't been pretty.
Up front the Buccaneers aren't doing their job when it comes to rushing the passer. Free agent defensive end Michael Johnson has had a disappointing first season as he's been slowed by an ankle injury and has only provided the necessary push once this season when he recorded a pair of sacks during the Buccaneers only victory, a 27-24 comeback win in Pittsburgh.
One of the issues hanging over the Buccaneers 2014 performance is few of their offseason moves have worked out as they, or others have expected. The Buccaneers thought they had added starters at what are perhaps the four most important positions in football- quarterback, left tackle, cornerback, and defensive end.
Josh McCown started three games for the Buccaneers, and it would be surprising if he starts another. Anthony Collins, who hadn't given up a sack, literally in years, has been disappointing and has struggled protecting the quarterbacks this season. Both Michael Johnson and Alterraun Verner have struggled defensively and haven't been worthy of their contracts. The only free agent signing that's been impressive to date has been Clinton McDonald, who is playing well at defensive tackle.
Lovie Smith has a strong connection to Tampa. He's said he wants the Buccaneers to be his last coaching job and that he wants to make Tampa his home forever, the way his friend and former Buccaneers coach Tony Dungy has. Things are going to have to turn around if he's going to be afforded that opportunity. Smith probably has enough capital that he'll have a longer leash than Morris or Schiano, and rightfully so, but the Bucs won't wait forever if things continue to look as they have through six games. It's possible that Smith is still the right guy for the job. It's possible that Lovie will be the guy to return the Buccaneers to prominence and perhaps another Super Bowl, but first he's got an enormous amount of work ahead of him if he wants to change the Buccaneers culture of losing.
Buccaneers admit mistake, boot Aguayo
In the NFL, it's always better to admit a mistake than to compound it. For the Buccaneers, the decision to burn a 2016 second-round pick on kicker Robert Aguayo has proven to be a mistake. The Buccaneers made the definitive admission of their error on Saturday, cutting Aguayo. He exits with $428,000 in fully-guaranteed salary [
more
]
Source: Mike Florio of ProFootballTalk
Powered by WPeMatico
Did Bucs put too much pressure on Aguayo?
After the Buccaneers surprised everyone by taking a kicker with the 59th overall pick in the draft, G.M. Jason Licht explained the move by heaping superlatives on the player. "I was very excited along with my staff and coaches about Roberto for a very long time," Licht told PFT Live in May 2016. "It's not [
more
]
Source: Mike Florio of ProFootballTalk
Powered by WPeMatico
Broncos holding their breath on Derek Wolfe
Only two days after losing Billy Winn for the year with a torn ACL, the Broncos are now sweating out another potentially serious injury along the defensive line. Via multiple reports, Broncos defensive lineman Derek Wolfe was carted off the field during practice on Saturday. It's being described as a right ankle injury by coach [
more
]
Source: Mike Florio of ProFootballTalk
Powered by WPeMatico