Buccaneers Should Stick With Glennon After 0-3 Start
The Buccaneers should bench Josh McCown and start Mike Glennon for the rest of the season.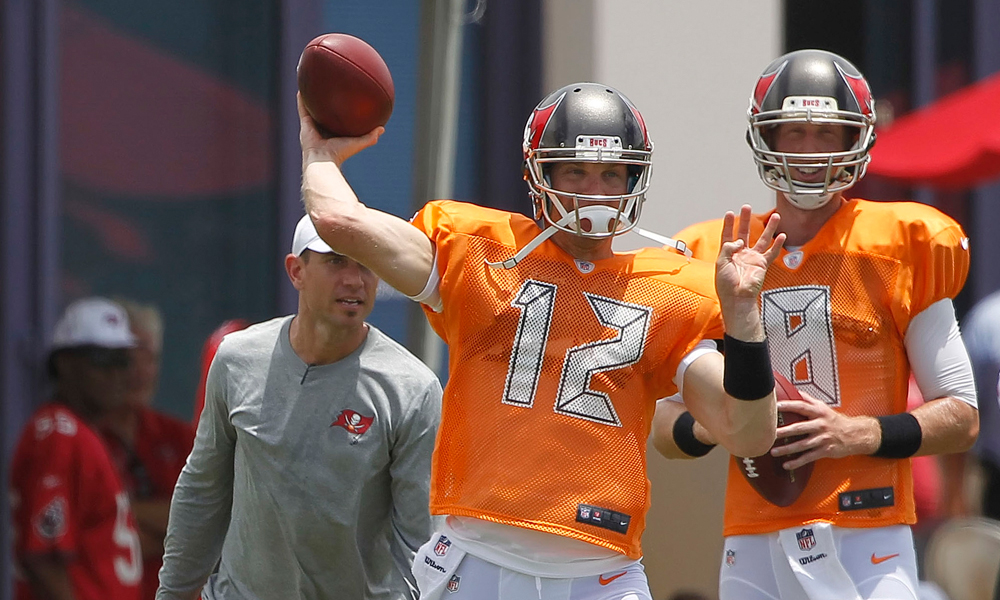 When the Tampa Bay Buccaneers signed Josh McCown to a two-year deal and immediately named him the team's starting quarterback over the offseason, many people questioned head coach Lovie Smith's decision.
McCown was coming off of an impressive stretch with the Chicago Bears in which he passed for 1,829 yards, 13 touchdowns and just one interception, with a 109.0 quarterback rating. But he was surrounded with excellent offensive weapons like Brandon Marshall, Alshon Jeffery and Matt Forte among others, and every other year of McCown's journeyman career suggested his successful campaign was a fluke. Prior to last season with the Bears, McCown had 37 touchdowns versus 44 interceptions in his career and he was 12-20 as a starter.
It wasn't long ago that McCown was playing for the Hartford Colonials of the UFL and then out of the league completely, serving as a high school assistant coach in North Carolina before the Bears called him.
Now, at 35 years old, McCown has been terrible as the Buccaneers' starting quarterback. Through three games, he has passed for just 420 yards and two touchdowns, while throwing four interceptions and fumbling twice. His QB rating is 65.8, and while Tampa Bay obviously has many issues outside of the quarterback position (you don't go down 56-0 on national television because of one player), McCown's struggles and carelessness with the football have hurt the team.
The biggest problem is that McCown has been absolutely dreadful when facing a heavy pass rush. Rather than taking a sack or throwing the ball away, McCown has panicked and often heaves the ball up for grabs, which has led to all four of his picks (and nearly several more, if it weren't for drops or lucky bounces). The offensive line needs to do a better job blocking pass rushers, but an experienced quarterback should be more composed in these situations.
"It's critical, you have to protect the football," Smith said when asked about McCown's turnovers. "We talk so much about ball security. You just look in the league, and not just Josh, but if you look in the league, I think except for two quarterbacks out of 13 games [in Week 2], if your quarterback threw an interception – one – you lost a football game. It's about protecting the football, it's about the turnover ratio, but if you talk about the quarterback, sometimes it's good to just bring the ball down and live to see another day or live to see another down."
When Mike Glennon checked in to the Thursday night game against the Atlanta Falcons after McCown injured his thumb, it was nice to see the sophomore quarterback take a sack rather than getting flustered when pressured and subsequently throwing into coverage. Yes, this is how terrible it is to be a Bucs fan – sacks against are now a positive play. It's a problem when the 24-year-old, second-year player is more poised than the 35-year-old veteran.
McCown's turnovers and struggles against the pass rush have clearly affected the play calling in Tampa. After McCown threw a pick in the red zone in Week 2 against the St. Louis Rams, the Bucs were conservative for the rest of the afternoon. During their next trip to the red zone, they ran on three straight plays (including a 3rd and 7) to ensure that they'd put points on the board. They didn't trust McCown to protect the ball, so their only option was handing it off and kicking the field goal.
The Bucs also haven't been able to throw the ball deep, as these plays take longer to develop. They have avoided these calls because McCown would likely face pressure and he doesn't have elite arm strength. Tampa Bay has two talented wide receivers in Vincent Jackson and Mike Evans, but they have barely been a factor this year due to the team's inability to air it out.
In the short-term, the Bucs may have no choice but to start Glennon over McCown, as the veteran injured his thumb during the Falcons game and will reportedly miss at least one game.
However, the Bucs should continue to start Glennon even after McCown returns from injury. This injury could be a blessing in disguise for Tampa Bay, as it really doesn't make much sense to keep starting a 35-year-old McCown. With an 0-3 record and the team circling the drain, the Bucs should give Glennon a shot and see what he can do in his second season. Starting McCown only made sense when the Buccaneers were in win-now mode, but this team clearly isn't competing for a playoff berth this season.
Smith admitted that after the horrible loss to Atlanta, all changes will be considered.
"When you get beat that bad, you need to make changes," Smith said. "Maybe that's personnel, maybe it's not. You're looking at all areas and you feel like you need to go a different direction."
As a rookie, Glennon was solid but unspectacular, passing for 2,608 yards, 19 touchdowns and nine interceptions in 13 games with an 83.9 quarterback rating. Glennon played well in his mop-up duty against Atlanta, completing 17 of 24 passes for 121 yards, one touchdown and zero interceptions with an impressive 96.0 quarterback rating.
"I think it was good to get out there and get some live reps against a first-team defense," Glennon said after the loss to the Falcons. "It was good to get out there and feel comfortable with our offense. We'll continue to grow as a unit.
"I'm going to prepare to play and see how [McCown] is doing with his hand."
By playing Glennon for the rest of the season, Lovie Smith and general manager Jason Licht can acquire more evidence to see if Glennon is their long-term solution at quarterback. If he isn't, the Bucs will know without question, and they'll have a high pick to select a signal caller in a draft that should include star prospects like Marcus Mariota and Jameis Winston.
By the time the Bucs are ready to contend, McCown will likely be out of the NFL. It makes more sense to go with the young guy and look to the future, because things are looking awfully ugly in the present.
Buccaneers admit mistake, boot Aguayo
In the NFL, it's always better to admit a mistake than to compound it. For the Buccaneers, the decision to burn a 2016 second-round pick on kicker Robert Aguayo has proven to be a mistake. The Buccaneers made the definitive admission of their error on Saturday, cutting Aguayo. He exits with $428,000 in fully-guaranteed salary [
more
]
Source: Mike Florio of ProFootballTalk
Powered by WPeMatico
Did Bucs put too much pressure on Aguayo?
After the Buccaneers surprised everyone by taking a kicker with the 59th overall pick in the draft, G.M. Jason Licht explained the move by heaping superlatives on the player. "I was very excited along with my staff and coaches about Roberto for a very long time," Licht told PFT Live in May 2016. "It's not [
more
]
Source: Mike Florio of ProFootballTalk
Powered by WPeMatico
Broncos holding their breath on Derek Wolfe
Only two days after losing Billy Winn for the year with a torn ACL, the Broncos are now sweating out another potentially serious injury along the defensive line. Via multiple reports, Broncos defensive lineman Derek Wolfe was carted off the field during practice on Saturday. It's being described as a right ankle injury by coach [
more
]
Source: Mike Florio of ProFootballTalk
Powered by WPeMatico