Bruce Arians, Not Bill Belichick, Is NFL's Best Head Coach
The little known Arizona Cardinals head coach is proving that he's the very best at his profession.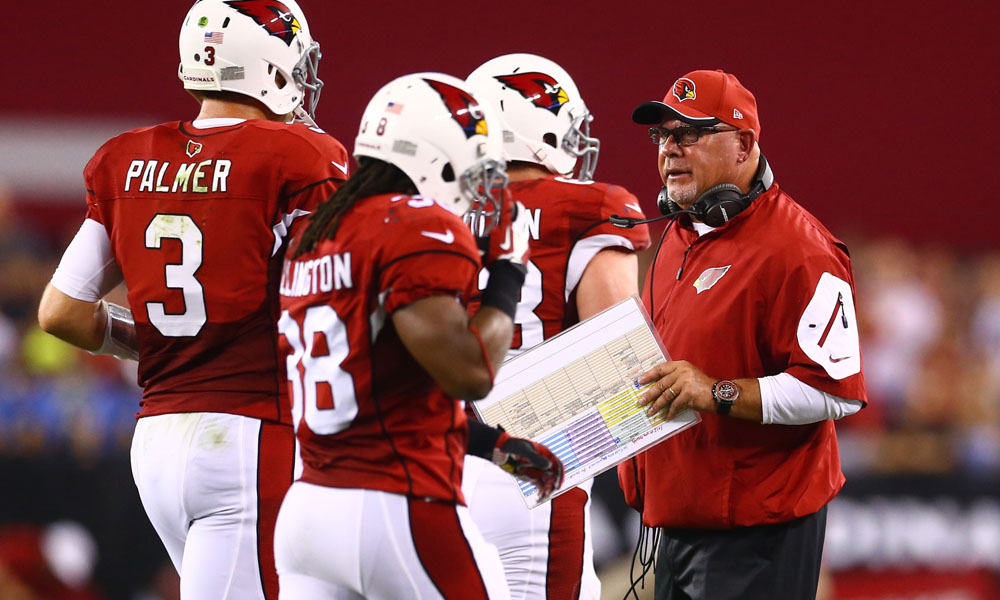 When the question of who is the best head coach in the NFL is broached, the short and easy answer normally begins with Bill and ends with Belichick.  Although Belichick is accomplished and has the hardware, there is at least one more acceptable answer for the query.
Arizona Cardinals head coach Bruce Arians is one of the very best at his profession, even though he receives next to no credit.  In his first season in the desert, Arians turned around a perennial loser and won 10 games… with Carson Palmer as his quarterback.
Make no mistake, what Belichick has done in New England is very impressive.  The question begs to be asked, how much winning would Belichick do with a guy like Palmer at the helm instead of first-ballot, possibly best ever quarterback Tom Brady?
I know what you're going to say, "How can a second-year head coach with no playoff victories be the best in the game?"
Isn't coaching about getting the absolute most out of your team?  I challenge anyone to find a head man who does it better than Arians.
Before you think the 61-year-old Arians is just a "thin file" or "late bloomer," let's take you through his resume.  Arians' first job as a quarterbacks coach came in 1998 with the Indianapolis Colts.  He helped groom a first-round pick named Peyton Manning, who went on to have a pretty solid career.  Arians then moved on to be the offensive coordinator in Cleveland, where he helped lead the Browns to the playoffs.
Let me repeat, he helped lead the Browns to the postseason.
After head coach Butch Davis alienated nearly everyone in football and helped the Browns become the non-juggernaut they currently are, Arians made his way to Pittsburgh where he won a pair of Super Bowls with the Steelers as a wide receivers coach and then the offensive coordinator.  Arians then took a job as offensive coordinator in Indianapolis in 2012, where he groomed Andrew Luck and became the interim head coach while Chuck Pagano was battling cancer.  Arians took a team that finished 2-14 the year before and led them into the postseason, which earned him his current position in Arizona.
You would think that a man with as much success as he's had wouldn't have had to wait until his 60th birthday to land his first head coaching gig.  Guys like Mike Mularkey and Eric Mangini received multiple shots before Arians was hired once.
"Honestly, he was overlooked for years," Arians' wife Christine said. "He didn't even get an interview. I always said it's because the man has no idea how to play politics. He doesn't sugarcoat. And when it comes to football, he truly believes he's right."
Arians believing he was right went all the way back to the early 80s when he worked under the legendary Bear Bryant as he was a running backs coach at Alabama.
"He could read people," Arians told the Arizona Republic. "When he walked in the office, he could look at the secretary and tell, 'Oh, she's down today.' And he'd go pat her on the back and her feet wouldn't touch the ground.
"He'd look at me and think, 'He's cocky.' And he'd rip my tail. He loved ripping my tail, because I thought I knew everything."
Arians, just a few years away from the ability to collect Social Security, takes exception when his players view him as a father-figure.
"I don't like that," Arians said. "I'm the cool uncle you like to have a drink with. Everybody had that uncle that you just love. He might talk a little (expletive) or something. That's me."
The best coach isn't always the guy who wins the Lombardi Trophy.  There are plenty of factors that play a part in getting to a Super Bowl.  The best coach gets the most out of his men and puts them in the best position to succeed.
"You have to build it every year," Arians said. "The locker room will not be the same. If you can keep selfishness out and selflessness in, you're OK."
The Arizona Cardinals aren't going to win the Super Bowl this year.  They are missing two of their best defensive players in Darnell Dockett and Daryl Washington and have other key guys such as Andre Ellington and Tyrann Mathieu banged up.  They have a quarterback who, prior to meeting up with Arians, was a turnover machine that had already retired once and was headed toward a more permanent retirement.
Despite enduring all of those injuries and the lack of elite talent at quarterback, Arians has the best prepared team in football every week and there's no question that his team buys in and will run through any and all walls for their coach.
That's why Bruce Arians is the very best head coach in the NFL, even if most NFL fans couldn't pick him out of a police lineup.
Buccaneers admit mistake, boot Aguayo
In the NFL, it's always better to admit a mistake than to compound it. For the Buccaneers, the decision to burn a 2016 second-round pick on kicker Robert Aguayo has proven to be a mistake. The Buccaneers made the definitive admission of their error on Saturday, cutting Aguayo. He exits with $428,000 in fully-guaranteed salary [
more
]
Source: Mike Florio of ProFootballTalk
Powered by WPeMatico
Did Bucs put too much pressure on Aguayo?
After the Buccaneers surprised everyone by taking a kicker with the 59th overall pick in the draft, G.M. Jason Licht explained the move by heaping superlatives on the player. "I was very excited along with my staff and coaches about Roberto for a very long time," Licht told PFT Live in May 2016. "It's not [
more
]
Source: Mike Florio of ProFootballTalk
Powered by WPeMatico
Broncos holding their breath on Derek Wolfe
Only two days after losing Billy Winn for the year with a torn ACL, the Broncos are now sweating out another potentially serious injury along the defensive line. Via multiple reports, Broncos defensive lineman Derek Wolfe was carted off the field during practice on Saturday. It's being described as a right ankle injury by coach [
more
]
Source: Mike Florio of ProFootballTalk
Powered by WPeMatico