Brady, Other Greats Enduring Odd Start
Several elite quarterbacks have struggled early in the season. How can they return to form?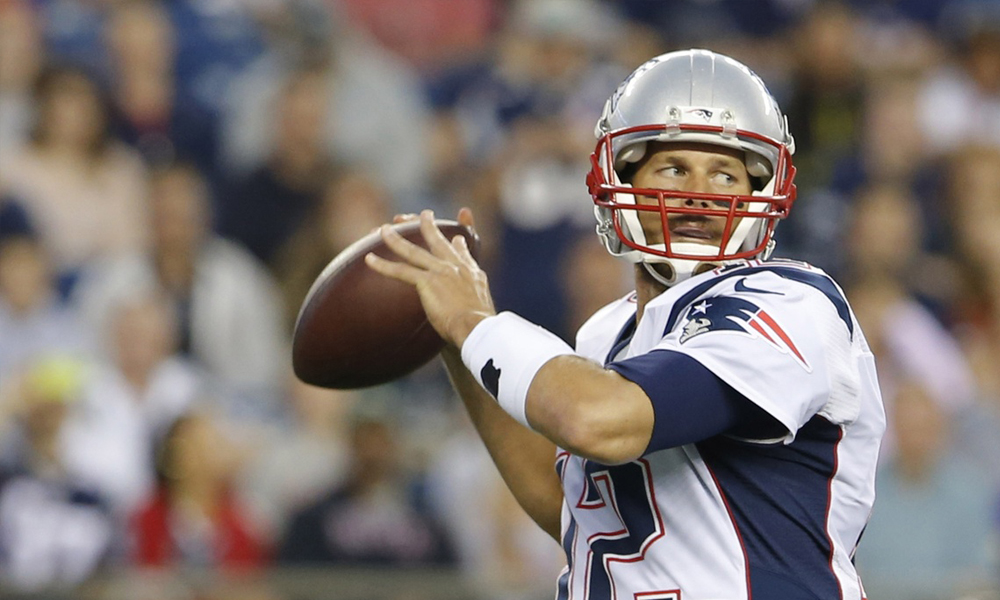 The 2014 NFL football season has been kind of zany so far and even as the "first quarter" of the season wraps up, it is still very hard to put a solid definition on almost any team, except the Oakland Raiders.  In these opening weeks, perennial good teams have looked solid one week and terrible the next.  Some of the best quarterbacks of past years have also had their challenges thus far.
Tom Brady, arguably the most dominating QB of all time, is extremely mortal and has many talking about getting Jimmy Garappolo ready to take over quickly.  Aaron Rogers gave the Packers' faithful five letters – " R-E-L-A-X" – to help them cope with their slow start and followed it up with a four TD thrashing of the Chicago Bears, who just had their fans jumping on the Jay Cutler bandwagon – for a second.
Kurt Warner was doing some analysis on the NFL Network recently and was pointing out that the Packers had not been making adjustments offensively to help free up their talented receivers, but instead had just been running routes and basically simply running into getting covered, so Rogers was needing to do a lot of improvising and it just wasn't working.  I feel that Warner was spot-on in his analysis and it happens to be a similar criticism I have for the Denver Broncos and the New England Patriots as well.
These three teams specifically, are not doing a great job of self-scouting and are instead putting far too much pressure on their elite QBs to create offense, instead of designing plays to create opportunities and match-ups that give both QB and WR a chance for success.  These three teams have almost given up on running the football well and even when they try to run it, simply handing the ball to a back standing next to the QB in the shotgun formation, is almost giving away a play to the defense.
At one time I thought Josh McDaniels was one of the better offensive coordinators in the league, but right now he has slumped.  As Brady and the Patriots were embarrassed on Monday Night Football against the Chiefs, some of the play-calling felt like they weren't even trying, but it just seems to be a group of offensive coordinators relying on what they used to do, instead of innovating what they can do with their current talent.
I don't think for a minute that Brady has fallen off a cliff and just doesn't have it anymore.  He has done more with less than any QB ever and may have his biggest mountain to climb with this package of receivers, but it isn't because he can't throw the ball downfield all of a sudden.  And if Brady has lost it, you might as well throw Drew Brees' name in the mix as well.
The Patriots, Broncos and Packers all need to spend a little bit more time figuring out ways to make better match-ups through using motion—just like Warner pointed out—and improving their running games by going back under center and actually giving their offensive lines and backs better opportunities, which in turn will help their play-action passing games.
Watching so many teams bounce up and down week to week has been interesting and fun for me, since there is no telling who will show up, but I expect Tom Brady and Josh McDaniels to use their vast experience to overcome their early season doldrums and keep the Patriots at the top of the relatively weak AFC East.
Buccaneers admit mistake, boot Aguayo
In the NFL, it's always better to admit a mistake than to compound it. For the Buccaneers, the decision to burn a 2016 second-round pick on kicker Robert Aguayo has proven to be a mistake. The Buccaneers made the definitive admission of their error on Saturday, cutting Aguayo. He exits with $428,000 in fully-guaranteed salary [
more
]
Source: Mike Florio of ProFootballTalk
Powered by WPeMatico
Did Bucs put too much pressure on Aguayo?
After the Buccaneers surprised everyone by taking a kicker with the 59th overall pick in the draft, G.M. Jason Licht explained the move by heaping superlatives on the player. "I was very excited along with my staff and coaches about Roberto for a very long time," Licht told PFT Live in May 2016. "It's not [
more
]
Source: Mike Florio of ProFootballTalk
Powered by WPeMatico
Broncos holding their breath on Derek Wolfe
Only two days after losing Billy Winn for the year with a torn ACL, the Broncos are now sweating out another potentially serious injury along the defensive line. Via multiple reports, Broncos defensive lineman Derek Wolfe was carted off the field during practice on Saturday. It's being described as a right ankle injury by coach [
more
]
Source: Mike Florio of ProFootballTalk
Powered by WPeMatico