Black Monday Blog- Coach/GM Firings, Starting QB Retires
Stay updated on all the Black Monday action with our Black Monday Blog.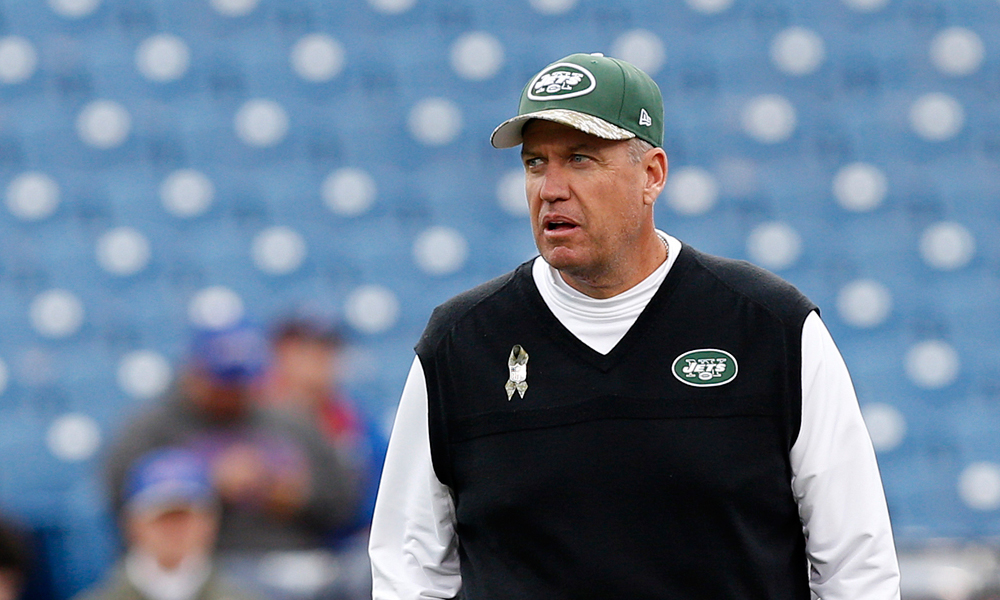 Ryan, Idzik Done in NY
In a move that was speculated for virtually the entire season, the New York Jets have fired head coach Rex Ryan and general manager John Idzik.
This is the statement from Jets Chairman and CEO Woody Johnson-
"After extensive thought and reflection about the current state of our football team, this morning I informed Rex Ryan and John Idzik that they will not be returning for the 2015 season. Both Rex and John made significant contributions to the team, and they have my appreciation and gratitude for their efforts and commitment. Over the years, Rex brought the Jets a bold confidence and a couple of great post-season runs, which all of us will remember.
I am beginning our search for new football leadership, effective immediately, with guidance and support from respected football experts, including Charley Casserly and Ron Wolf, two Super Bowl winners with decades of valuable experience.
We will consider all options to improve the Jets.
Getting the Jets back on track is my top priority, and today's decisions are important steps towards achieving our goals."
Our take on Rex Ryan: Rex should get another job if he wants one. He turned around the image of the team and when he had talent he directed the Jets to the playoffs and won playoff games. Rex is an elite defensive mind and if you put him in a place like Atlanta or Chicago it would probably be a great fit.

Our take on John Idzik: John Idzik took over a roster that was depleted, he played a second-round rookie quarterback and didn't get to pick his head coach. Not saying that Idzik did a great job, but he didn't have a great situation or the time to make his own outcome. Idzik selected the best player in the 2013 NFL Draft in Sheldon Richardson. Because of his reputation, he won't get another GM shot anytime soon, but he's far better than a Matt Millen or Gene Smith who are completely unhireable.
Bears Clean House
Although there was a little more uncertainty regarding the Chicago Bears final decisions, they decided to part ways with head coach Marc Trestman and general manager Phil Emery.
There wasn't a lot to like about the direction that the team was headed as Trestman, formerly known as a "quarterback guru," couldn't get much out of talented starting quarterback Jay Cutler, and then drew a line in the sand when Cutler was benched before their Week 16 game against Detroit.
When news leaked about the coaching staff's lack of confidence in Jay Cutler followed by the admission of offensive coordinator Aaron Kromer that he was the leak.
The place was a circus and Trestman was no longer tenable.
As for Emery, the Jay Cutler contract was his undoing.
Our take on Trestman: A lot of guys are great coordinators and Trestman can be just that. Perhaps Jay Cutler is the real problem but the way everything was handled in Chicago proves that Trestman wasn't ready for a head coaching job.
Our take on Emery: It's difficult to argue Phil Emery's talent evaluation. He acquired one of the game's best wide receivers in Brandon Marshall for a pair of middle-round picks and grabbed Alshon Jeffrey in the second round. With that said it's more difficult to ignore the Jay Cutler contract. Other general manager's would have made the same mistake and there have been bigger mistakes made with quarterback's but the Cutler failure was his undoing.
Mike Smith Let Go In Atlanta
After being destroyed in a virtual playoff game at home to the Carolina Panthers, Atlanta Falcons head coach Mike Smith was let go Monday morning.
"Smitty's contributions to our club, team and city over the last seven years are numerous," Falcons owner Arthur Blank said in a statement released by the team. "His accomplishments on the field made him the most successful coach in the 49-year history of the Falcons, and we are grateful for the foundation he has laid for us for the future."
Mike Smith has been the most successful coach in Falcons history but his 1-4 playoff record combined with the downward momentum of a pair of sub-.500 seasons did him in.
Our take on Smith: Mike Smith is one of the best people in sports but he's a poor game manager. He has struggled with clock management and although known as a defensive coach, his defenses have been poor. Smith may have to take a step back as a defensive coordinator before he gets another shot as a head coach. It's difficult to imagine putting all the blame on Smith as his team suffered a rash of injuries over the past two seasons.
Harbaugh Blown Out of SF
In perhaps the worst kept secret in the National Football League, the San Francisco 49ers and head coach Jim Harbaugh have parted ways.
"Jim and I have come to the conclusion that it is in our mutual best interest to move in different directions," said 49ers owner Ned York. "We thank Jim for bringing a tremendous competitive nature and a great passion for the game to the 49ers. He and his staff restored a winning culture that has been the standard for our franchise throughout its history. Their commitment and hard work resulted in a period of success that should be looked back on proudly by our organization and our fans. We wish Jim and his family all the best."
In four seasons as 49ers head coach, Harbaugh finished with 44 wins including three consecutive NFC Title Game appearances and one Super Bowl appearance. In the eight years preceding Harbaugh's arrival the team won just 46 games.
"For the last four seasons I have had the great privilege to coach one of the storied franchises in the history of football,"Harbaugh added. "We accomplished many great things together as a team during this period, which is a tribute to the incredible efforts of some of the most dedicated players and coaches in the NFL. I will miss competing alongside this group of players and coaches, I have the utmost respect and admiration for their hard work and support. It has been my honor to share the sideline with these mighty men. I will always appreciate and remember fondly, the passion and support of our Faithful fans, and want to express my particular thanks to them."
Harbaugh and 49ers general manager Trent Baalke didn't see eye to eye as both are described by a league source as "egomaniacs."
Our take on Harbaugh: The guy is a winner, but he's also a grinder. He grinds on everyone in the organization including the players. He's a great coach but it's doubtful that he can survive in the NFL for more than five years at a single stop due to his personality. College football may be a better place for him.
Kyle Orton Retires
The Buffalo Bills are back at ground zero regarding their quarterback situation. Kyle Orton outplayed first-round pick E.J. Manuel and helped lead the Bills to a winning season.
Following Sunday's victory over the New England Patriots, Orton decided to retire.
"I just have been going at it for 10 years and it's just a family decision and I've decided to get home and be a dad and call it a day," Orton said in a statement.
Our take on the Bills: Kyle Orton was the team's best option at quarterback but this is probably the best thing for the Bills long term. Orton wasn't leading them anywhere in the playoffs and they need to figure out what they have with E.J. Manual or get someone better.
Broncos holding their breath on Derek Wolfe
Only two days after losing Billy Winn for the year with a torn ACL, the Broncos are now sweating out another potentially serious injury along the defensive line. Via multiple reports, Broncos defensive lineman Derek Wolfe was carted off the field during practice on Saturday. It's being described as a right ankle injury by coach [
more
]
Source: Mike Florio of ProFootballTalk
Powered by WPeMatico
Buccaneers admit mistake, boot Aguayo
In the NFL, it's always better to admit a mistake than to compound it. For the Buccaneers, the decision to burn a 2016 second-round pick on kicker Robert Aguayo has proven to be a mistake. The Buccaneers made the definitive admission of their error on Saturday, cutting Aguayo. He exits with $428,000 in fully-guaranteed salary [
more
]
Source: Mike Florio of ProFootballTalk
Powered by WPeMatico
Did Bucs put too much pressure on Aguayo?
After the Buccaneers surprised everyone by taking a kicker with the 59th overall pick in the draft, G.M. Jason Licht explained the move by heaping superlatives on the player. "I was very excited along with my staff and coaches about Roberto for a very long time," Licht told PFT Live in May 2016. "It's not [
more
]
Source: Mike Florio of ProFootballTalk
Powered by WPeMatico