Bills And Jets Handling Quarterback Situations Differently
When is the right time to bench your young quarterback?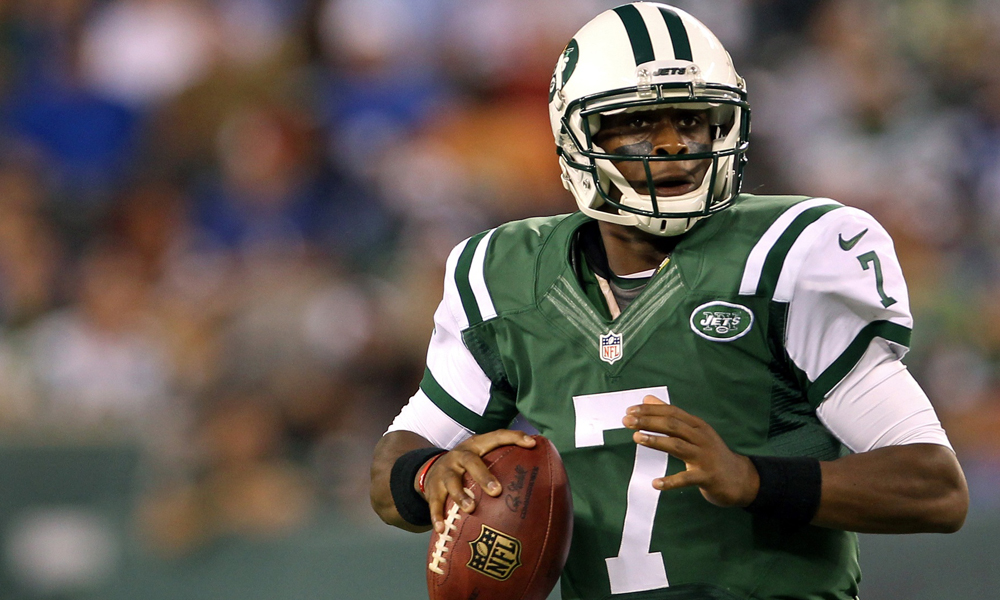 There are two interesting scenarios that have unfolded in the AFC East in recent days. Similar quarterback situations, but different with the contrasting manners in which they were dealt.
The quarter mark of this young season has left both the New York Jets and Buffalo Bills faced with serious decisions to make with the futures of their franchises. Both teams invested in the quarterback position during the 2013 NFL Draft with the thoughts that Geno Smith and E.J. Manuel had the potential to be "The Man" on their respective teams. Unfortunately, things have not developed as amazingly as they have in Seattle or Indianapolis.
Despite being tied for first place within their division, the Buffalo Bills have decided to abandon their once prized quarterback of the future, EJ Manuel, in favor of veteran journeyman Kyle Orton. Meanwhile, the Jets had fans chanting "We want Vick!" during their game this past weekend and are choosing to ignore them by standing behind their quarterback.
"I'm confident in Geno. If Geno's healthy, then Geno Smith will start," head coach Rex Ryan said after Sunday's game. "I'm not gonna replace him. I feel good about Geno, and again, I think he's gonna get it turned. He's a tough, resilient young man, and I think we're gonna win."
Quite the contrast in franchises, where the head coach in Bills' land is singing a different tune.
"We're all-in to win and I think that's what it comes down to at the end of the day," Doug Marrone said Monday "We've got to do the best thing for us to win."
Circumstances in both cities dictate the reasonings behind the differentiating stances from the head men. In Smith's case, it seems John Idzik, the general manager of the Jets, is setting Rex Ryan up. Signing Michael Vick in the off-season under false pretenses, almost creating a major distraction, which is now blossoming into a full blown controversy with every game Smith struggles.
Idzik, also stands in a win-win situation, where either choice Ryan makes, Idzik wins. If Ryan stays with Smith or picks Vick and wins, Idzik looks like a genius because he drafted Smith or lured Vick in free agency. If Ryan loses by staying with Smith or turning to Vick, Idzik wins again because now he can fire the coach he's been anchored to and likely never wanted.
Ryan is a loyal guy, just look no further than how he hung in there with Mark Sanchez for as long as he did… Ryan is also of the old school mentality, where a coach needs to put confidence in their young starter, letting him get the reps, and hoping the game slows down for him enough to become consistently good instead of consistently bad.
And really though.., how much of a choice does Ryan have?
He could gamble and start a quarterback in Vick who's 5-12 over his last 17 starts, but if the gamble doesn't pay off, he's conceding his job, while admitting the state of the most important position on the field is very bad. The Jets turning to their veteran back-up instead of nurturing their young prospect's confidence, would prove they don't have anything at the position anyway, and serve as evidence Woody Johnson should reboot his franchise in the offseason.
By sticking with Smith, there's still hope the situation can potentially get better. In today's league, patience isn't a quality many coaching staffs and front offices have the luxury of having when developing a franchise quarterback but it's the virtue all good coaches and front office personnel need if they want to develop that guy.
"We now have 300 television stations and much more analysis, much more commentary. In the old days, you used to say 'It takes three to five years to know if the quarterback's going to be successful.' Today? Mark my words: In three weeks they'll start looking at the rookie quarterbacks and declaring them busts. That heavy criticism can completely destroy the confidence of a young quarterback." Long time sports agent Leigh Steinberg said when asked about his thoughts on developing a franchise quarterback.
Impatience is rampant in today's game. In the Jets' situation, the local media and fan base are clamoring for a change with no concept of patience and trust, not being fully aware what a move like that would do to their team. Young quarterbacks just aren't afforded the time to adjust to the speed of the game and develop a leadership role on their teams. Such is the case in Buffalo, where the sale of the franchise seems to have made the men in charge of player personnel lose all sense, while the Jets seem to have the right idea by sticking with their guy. The Bills are benching their former first round draft pick before he's even started 16 games. What happened to giving a player at least two years and at 30 starts?
Surely, Manuel hasn't been Ben Roethlisberger out of the gates, but he hasn't been Akili Smith either.
Buffalo's ruining Manuel before he's received a real chance, benching him for a veteran who doesn't have anything close to the resume Michael Vick continues to sit on his bench with. That's a pretty big risk to take, considering the Bills are planning on Kyle Orton to get them into the playoffs.
And this– expected of a guy who's never made the playoffs… Does that make sense?
Terry Pegula can't possibly have a great deal of confidence in a general manager who squandered a first round pick on a potential franchise quarterback without the conviction in his analysis to stake his job on that decision. Doug Whaley was better off letting Marrone stick with EJ Manuel, using his young quarterback's development as part of his resume to present to new ownership. Instead the green light for this "all-in to win" move starting Orton, reeks of desperation that only a playoff berth can salvage and may only save the Marrone's job, at best.
General managers and coaches that fail in developing a franchise quarterback with an early draft pick usually find themselves looking for a job in the offseason. The cases in Buffalo and New York may not be too different, but the possibility of success in developing a franchise quarterback still lies with the Jets as the Bills killed that when they effectively shut down the first-round pick they invested.
Buccaneers admit mistake, boot Aguayo
In the NFL, it's always better to admit a mistake than to compound it. For the Buccaneers, the decision to burn a 2016 second-round pick on kicker Robert Aguayo has proven to be a mistake. The Buccaneers made the definitive admission of their error on Saturday, cutting Aguayo. He exits with $428,000 in fully-guaranteed salary [
more
]
Source: Mike Florio of ProFootballTalk
Powered by WPeMatico
Did Bucs put too much pressure on Aguayo?
After the Buccaneers surprised everyone by taking a kicker with the 59th overall pick in the draft, G.M. Jason Licht explained the move by heaping superlatives on the player. "I was very excited along with my staff and coaches about Roberto for a very long time," Licht told PFT Live in May 2016. "It's not [
more
]
Source: Mike Florio of ProFootballTalk
Powered by WPeMatico
Broncos holding their breath on Derek Wolfe
Only two days after losing Billy Winn for the year with a torn ACL, the Broncos are now sweating out another potentially serious injury along the defensive line. Via multiple reports, Broncos defensive lineman Derek Wolfe was carted off the field during practice on Saturday. It's being described as a right ankle injury by coach [
more
]
Source: Mike Florio of ProFootballTalk
Powered by WPeMatico