Bad Teams Are Finding Ways To Lose NFL Games
Has a losing culture seeped in to several NFL franchises or are they just unlucky?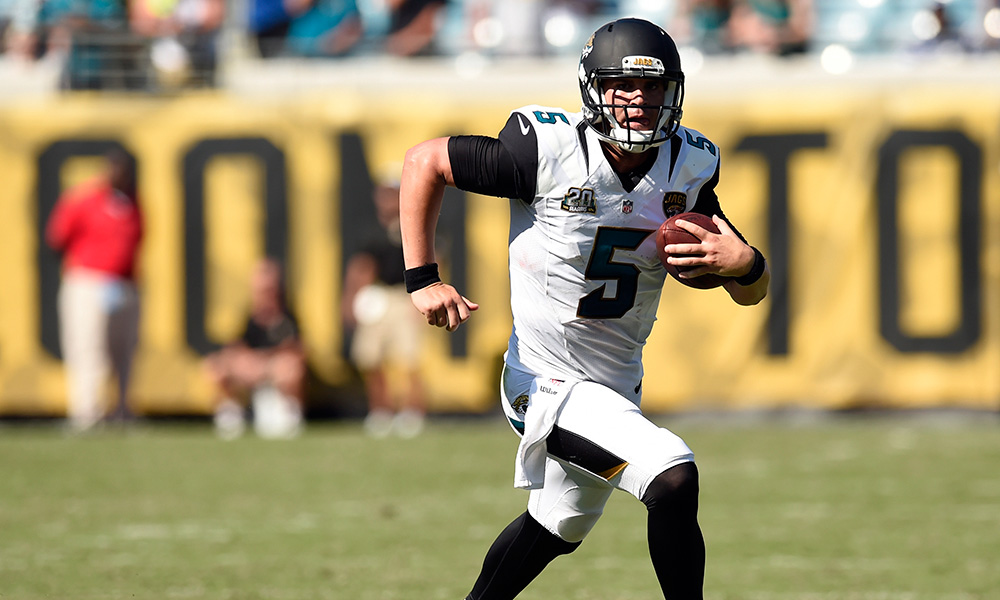 Although the NFL is certainly a week-to-week league, after Week 8 of the season we have a pretty good idea of the "have's" and "have-not's." The vast majority of the league is up and down each week and the talent disparity isn't great.
What we have been seeing is the perennial NFL losers finding ways to lose and there was no better example of that than Week 8.
Sunday's slate of games began with the earliest American kickoff in NFL history as the Atlanta Falcons and Detroit Lions began playing when most people were climbing out of bed. The then 2-5 Falcons raced out to a 21-0 halftime lead and were dominating the football game.
"It felt good in the first half, we were hitting and stopping them," said Falcons cornerback Desmond Trufant. "Then the second half, I don't know what happened. We didn't put our foot on the gas."
The Detroit Lions finished the game with 22 unanswered points, thanks largely in part to blown coverages, no signs of a pass rush and simple mistakes by the Falcons.
Some of Atlanta's mistakes include blowing a coverage on a third-and-25 allowing Lions' wide receiver Golden Tate to get behind the defense on a 59-yard score. Quarterback Matt Ryan had the worst interception that anyone will ever see directly leading to more Detroit points. Falcons Pro Bowl receiver Julio Jones dropped an easy pass that could have iced the game and the Atlanta defense had no sacks and a grand total of one hit on Lions' quarterback Matt Stafford.
"This is as tough a loss to take as any that I've ever been a part of," Matt Ryan said. "We had a lot of chances to win that ballgame. It's just that we didn't make plays when we needed to."
Matt Ryan and the Falcons are getting used to losing. Since being one drive away from the Super Bowl in January of 2013, Atlanta is just 6-18.
The New York Jets spectacularly found a way to lose an otherwise winnable game as they were blown out by the Buffalo Bills, 43-23.
How is a 20-point loss a winnable game?
When you nearly double the amount of first downs of your opponent (22-12), have 28 more offensive plays (81-53), run for 175 yards and win the time of possession battle, those are games you should win, not get blown out on your home field.
The culprit for the Jets was once again turnovers, as they committed a total of six, three by each of their two quarterbacks.
"I'm getting sick and tired of losing, that's for sure," Jets' head coach Rex Ryan said. "We turned it over six times and kept shooting ourselves in the foot with penalties. I certainly didn't think we'd play this way. I thought we had a great week of practice and preparation. The execution fell flat. As bad as it went with all of the turnovers and everything else, we were within one score. I really thought that we could make more of a game out of it. I was wrong. I'm really disappointed in the fact that we have to get a heck of a lot better. Some of the things we're asking guys to do, we've got to get it done. I have no idea why we're not playing better."
The Jets' are 1-7, tied with Jacksonville for the second-worst record in the AFC.
Speaking of Jacksonville, their loss may have been the most disappointing in the United States on Sunday as they wasted a completely dominant performance by their suddenly underrated defense.
The final score said that the Jacksonville Jaguars lost to the Miami Dolphins, 27-13. During the game, the Jacksonville defense dominated a Top 10 Miami offense and didn't allow a first down until just over three minutes remaining in the first half. At one point in the first half the Jaguars led in total yardage, 202-4.
"I thought the defense came out really well," Jaguars' head coach Gus Bradley said. "I think they were one of the best teams as far as three and outs, offensively not having too many. The defense came out and we wanted to get more opportunities for the offense. I can't fault how the defense played but I'm sure we will find some things we need to get better at."
How did the Jaguars lose?
You hate to blame one person, but rookie quarterback Blake Bortles was the Dolphins Most Valuable Player. Bortles completed just over 50 percent of his throws (18 of 34) and turned the ball over three times. The third-overall pick in the 2014 Draft threw not one, but two interceptions that were run back for touchdowns (81 yards by Louis Delmas and 22 yards by Brent Grimes). Bortles also fumbled near the red zone but that thankfully wasn't returned.
"(The) defense played really well, offensive line played really well. I'm killing us, so I've got to try to eliminate different things and get better," Bortles said following the game.
Jacksonville wasted that dominant defensive performance as well as another 100-yard rushing effort by running back Denard Robinson. The Jaguars outgained the Dolphins, had more first downs, fewer penalties and won time of possession.
The Jaguars neighbors to the southwest, the Tampa Bay Buccaneers found yet another way to lose a close game late. The Buccaneers matchup with the Minnesota Vikings was one that was anything but aesthetically pleasing.
Turnovers and overall "non-clutch" plays were the Buccaneers undoing as they committed eight penalties, turned the ball over twice, dropped interceptions and potential big plays on offense that would have sealed a victory against a Minnesota Vikings team that won exactly one road game since 2012.
"I think we went about five series of three-and-outs, that's hard to get any type of rhythm," Buccaneers head coach Lovie Smith said after the 19-13 overtime loss. "Part of it was them, but most of it was us. Defensively we played better at times, but at the end, when you have a lead, you have got to be able to close it out, especially at home."
The Buccaneers couldn't hold a three-point lead with two minutes remaining as cornerback Jonathan Banks dropped an interception that would have clinched Tampa's second win of the season.
"It was just a huge play," Smith recounted. "A play like that when it's that tight, every play, every conversion on third down and when you get a chance to take that ball away like that- end the game really- you have to make that play."
Minnesota drove down the field and kicked the game-tying field goal and then were opportunistic in overtime as Buccaneers' rookie tight end Austin Seferian-Jenkins fumbled the football on the Bucs' opening possession. Vikings' rookie linebacker Anthony Barr scooped and scored and Tampa Bay fell to 1-6.
"I fumbled the ball (and) they scored a touchdown so it's not good, we lost the game," Seferian-Jenkins said when asked about his feelings. "(I was) the last one to touch the ball on the team so it's obviously upsetting that (I) had control over it."
Although the NFL is an up-and-down, week-to-week league, winning is a process. These teams are either too young in key spots to know how to win or a losing culture has somehow seeped in. Either way, they are finding ways to lose games that shouldn't be lost.
You can chat with Charlie every Monday night at 7:00 p.m. EST
Buccaneers admit mistake, boot Aguayo
In the NFL, it's always better to admit a mistake than to compound it. For the Buccaneers, the decision to burn a 2016 second-round pick on kicker Robert Aguayo has proven to be a mistake. The Buccaneers made the definitive admission of their error on Saturday, cutting Aguayo. He exits with $428,000 in fully-guaranteed salary [
more
]
Source: Mike Florio of ProFootballTalk
Powered by WPeMatico
Did Bucs put too much pressure on Aguayo?
After the Buccaneers surprised everyone by taking a kicker with the 59th overall pick in the draft, G.M. Jason Licht explained the move by heaping superlatives on the player. "I was very excited along with my staff and coaches about Roberto for a very long time," Licht told PFT Live in May 2016. "It's not [
more
]
Source: Mike Florio of ProFootballTalk
Powered by WPeMatico
Broncos holding their breath on Derek Wolfe
Only two days after losing Billy Winn for the year with a torn ACL, the Broncos are now sweating out another potentially serious injury along the defensive line. Via multiple reports, Broncos defensive lineman Derek Wolfe was carted off the field during practice on Saturday. It's being described as a right ankle injury by coach [
more
]
Source: Mike Florio of ProFootballTalk
Powered by WPeMatico