Assessing 2014's NFL Midseason QB Changes
Several teams have changed quarterbacks midseason, but most are grasping for straws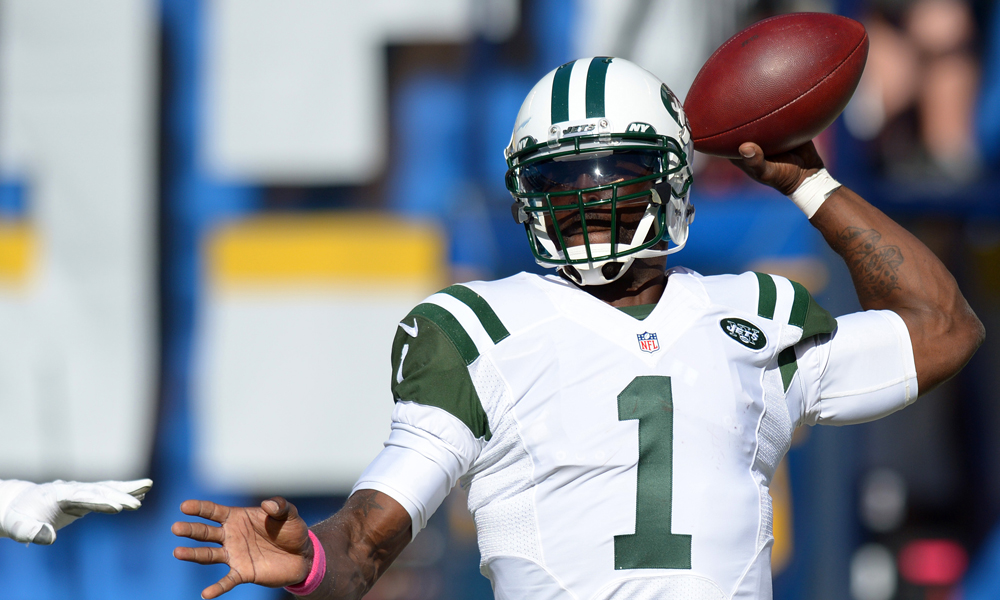 It's a refrain we always seem to hear come early November.
"Throw the bums out!" yells half the population.
And sure enough, after enough successful griping, the incumbent is gone. There's a new man in place. Only it turns out that most of the time the old bum is just getting replaced by a new one.
No, we aren't talking elected officials. We're talking quarterbacks. It's the time of year that several teams have decided a lackluster quarterback is the cause of their problems, and it's time for someone new. But in how many cases is that actually going to work?
Here's a look at the recent quarterback changes in the NFL and their chances of leading to success.
BUFFALO BILLS
The Old Boss: EJ Manuel
The New Boss: Kyle Orton
Diagnosis: The Bills haven't made the playoffs since a Bill named Clinton was in the White House. And even though Doug Marrone is only in his second year at the helm, Buffalo's unsettled ownership situation coming into the season gave EJ Manuel a shorter leash to work with than a typical second-year quarterback.
Manuel was playing so badly that the Bills were left with no other choice but to turn to the ultimate journeyman, and Orton has responded by going 3-1 and having the fourth-highest quarterback rating in the league since Week 5. Orton might not get Buffalo to the playoffs, but at least he gives them hope – and that's something there hasn't been much of in Western New York this century.
TENNESSEE TITANS
The Old Boss: Jake Locker
The New Boss: Zach Mettenberger
Diagnosis: The locker door has closed on Jake Locker in Tennessee, and he's stuffed inside it with underwear pulled over his head.
It's amazing to think that Locker was once thought to be a player teams would consider tanking for as a combination of injuries and ineffectiveness sealed his fate in the Music City. (Really, I remember friends hoping their teams would go 1-15 so they could draft Locker).
Is Mettenberger ready for this challenge? Heck no. But the Titans figure it's worth throwing him into the fire now to see if he'll be ready for it come next season. It's probably a sound strategy – no one with the confidence to dress up as White Goodman from "Dodgeball" is going to be shaken by rookie  struggles.
NEW YORK JETS
The Old Boss: Geno Smith
The New Boss: Michael Vick
Diagnosis: The Jets quarterback situation brings to mind Richard Pryor's electoral solution from "Brewster's Millions": Vote "None of the Above."
HOUSTON TEXANS
The Old Boss: Ryan Fitzpatrick
The New Boss: Ryan Mallett
Diagnosis: In football, a Tom Brady education is more valuable than a Harvard education. At 4-5 the Texans find themselves in that no-man's-land where great quarterback play could be enough to vault them into playoff contention and lousy quarterback play will drop them to a decent enough draft spot to pick a good quarterback.
Fitzpatrick is just below-average enough to lead them to 7-9 or 8-8, which does nothing for no one. Might as well see what Mallett can or can't do.
TAMPA BAY BUCCANEERS
The Old Boss: Mike Glennon
The New Boss: Josh McCown
Diagnosis: I'm not sure what the Bucs are trying to accomplish here, but that's what makes them the Tampa Bay Buccaneers.
At 1-7, a 35-year-old career backup isn't going to lead them to the promised land. Yes, he was the starter when the season began, but didn't do a particularly good job at that before he was mercifully injured in a 56-14 loss at Atlanta.
Mike Glennon hasn't exactly set the world on fire – OK, he's a Sterno can at best – but Lovie Smith is sending mixed messages by proclaiming him the team's quarterback of the future while going back to McCown.
In the end, it doesn't really matter who this team's quarterback is, so I guess Lovie can do whatever the heck he wants. But that doesn't mean he is going to make any sense while doing it.
Buccaneers admit mistake, boot Aguayo
In the NFL, it's always better to admit a mistake than to compound it. For the Buccaneers, the decision to burn a 2016 second-round pick on kicker Robert Aguayo has proven to be a mistake. The Buccaneers made the definitive admission of their error on Saturday, cutting Aguayo. He exits with $428,000 in fully-guaranteed salary [
more
]
Source: Mike Florio of ProFootballTalk
Powered by WPeMatico
Did Bucs put too much pressure on Aguayo?
After the Buccaneers surprised everyone by taking a kicker with the 59th overall pick in the draft, G.M. Jason Licht explained the move by heaping superlatives on the player. "I was very excited along with my staff and coaches about Roberto for a very long time," Licht told PFT Live in May 2016. "It's not [
more
]
Source: Mike Florio of ProFootballTalk
Powered by WPeMatico
Broncos holding their breath on Derek Wolfe
Only two days after losing Billy Winn for the year with a torn ACL, the Broncos are now sweating out another potentially serious injury along the defensive line. Via multiple reports, Broncos defensive lineman Derek Wolfe was carted off the field during practice on Saturday. It's being described as a right ankle injury by coach [
more
]
Source: Mike Florio of ProFootballTalk
Powered by WPeMatico