AFC East Race Heating Up
The AFC East isn't the push-over division it once was.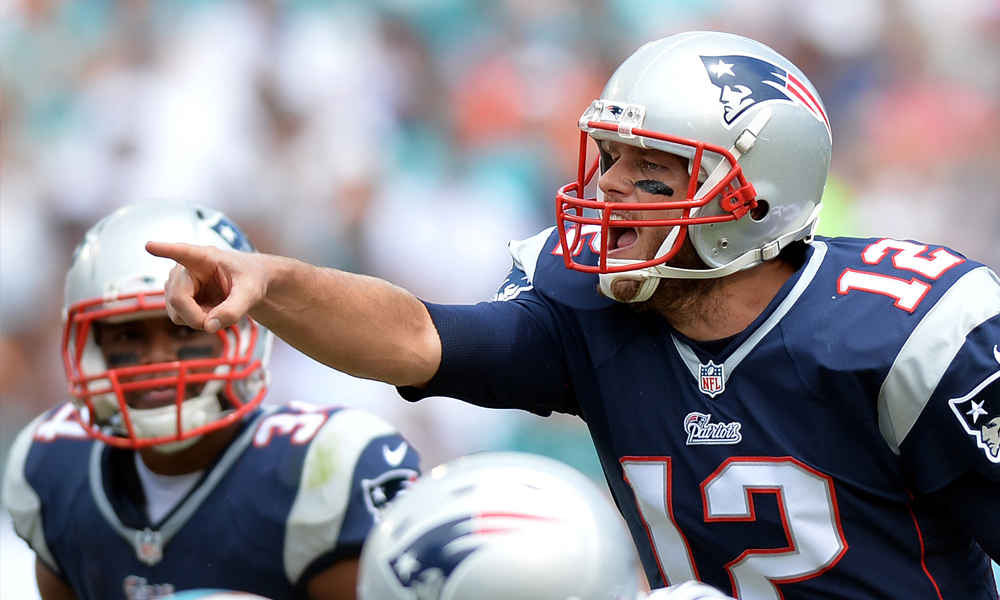 The Miami Dolphins beat up the New England Patriots. Then, Miami got thumped by the Buffalo Bills. Finally, just to keep all things balanced, New England spanked the Bills.
Oh, the parity.
Three teams over .500, three teams coming off of victories, three teams with a chance to be crowned. Unfortunately, there can't be three kings and only one team will reign supreme in the division headed into the playoffs.
What was once a division wrapped up by Week 10 for the Patriots, now has the look of a division that will have a tightly contested finish for the title.
The Bills have flourished under the leadership of Kyle Orton, going 3-1 since the transition, winning some games in last second fashion and dominating the New York Jets, which isn't saying much but a win's a win. Nonetheless, head coach Doug Marrone has been pleased with the veteran quarterback and overall direction of his team headed into their bye.
"What I see, and I'll go back to the same thing, is I see someone that's extremely competitive, that's fully aware of everything that's going on around him," said Marrone. "I think that's a great asset to have. I think that he's always striving; that competitiveness is always striving to get better, first with himself and then with the unit."
"His poise is great," rookie wide receiver Sammy Watkins said after their victory versus the Jets. "He has been great for us."
In New England, the Patriots are getting hot, riding a four-game winning streak headed into their tilt with Peyton Manning and the Denver Broncos before going into their bye week. Outscoring opponents by 71 points during this winning streak, the Patriots are getting back to their offensive dominance and allowing their defense to be aggressive and opportunistic. Quarterback Tom Brady acknowledges this turnaround and understands the importance of playing with a lead.
"I think all these games turn out differently," Brady said. "They're different match ups and everything is different next week. I think like we did four weeks ago when we got our butts kicked against Kansas City, you have to put the game behind you and move forward – understand the things you screwed up and the way that you need to play. I think today we played the way we need to play: we got ahead, we stayed ahead. I think that's probably been the biggest thing in the last four weeks: finally playing with some leads. That's where you can really keep the pressure on and you've got your whole game plan you can still use defensively. You hopefully can turn it into a one-dimensional game like they did today where they've got to throw it a lot. It's pretty tough to come from behind in the NFL, so it's good to get ahead. If we do get behind, we've got to do our best to score more points and try to get the lead back, but it's a pretty good recipe when you're playing from ahead like we have the last few weeks."
Meanwhile Miami is going streaking, winning consecutive games for the first time this season. The Dolphins are improving as a team, but still remain very inconsistent. Their first half struggles remain an issue and the Fins must figure out a way to get past it if they wish to finish strong. Even though they are coming off their second road victory in as many weeks, the Dolphins know they need more.
"We're moving in the right direction and I think we just need to put it together and show up every week. We can't come out and have a first half lie that and expect to win week in and week out. We can't just do it," Ryan Tannehill said after the Dolphins' victory versus the Jacksonville Jaguars.
As one of four divisions in the league with three or more teams over .500, the AFC East still has plenty of ups and downs to go through before the dust settles. With each team still having to face one another again, each will have the opportunity to stake their claim for supremacy head to head, if their daunting schedules respectively don't doom them before hand.
With the way these teams are rounding into form at the right time, figure this to be a hard-fought race to a photo finish.
Did Bucs put too much pressure on Aguayo?
After the Buccaneers surprised everyone by taking a kicker with the 59th overall pick in the draft, G.M. Jason Licht explained the move by heaping superlatives on the player. "I was very excited along with my staff and coaches about Roberto for a very long time," Licht told PFT Live in May 2016. "It's not [
more
]
Source: Mike Florio of ProFootballTalk
Powered by WPeMatico
Broncos holding their breath on Derek Wolfe
Only two days after losing Billy Winn for the year with a torn ACL, the Broncos are now sweating out another potentially serious injury along the defensive line. Via multiple reports, Broncos defensive lineman Derek Wolfe was carted off the field during practice on Saturday. It's being described as a right ankle injury by coach [
more
]
Source: Mike Florio of ProFootballTalk
Powered by WPeMatico
Buccaneers admit mistake, boot Aguayo
In the NFL, it's always better to admit a mistake than to compound it. For the Buccaneers, the decision to burn a 2016 second-round pick on kicker Robert Aguayo has proven to be a mistake. The Buccaneers made the definitive admission of their error on Saturday, cutting Aguayo. He exits with $428,000 in fully-guaranteed salary [
more
]
Source: Mike Florio of ProFootballTalk
Powered by WPeMatico