A Super Bowl Run in Pittsburgh Depends on Le'Veon Bell's Knee
Find out how the Steelers are preparing for the worst with running back Le'Veon Bell's knee injury.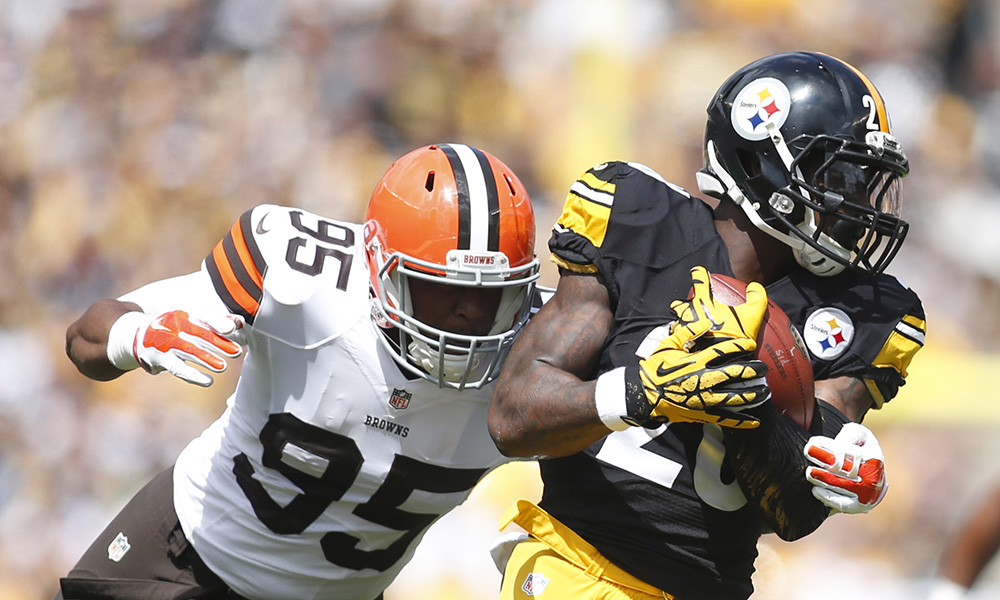 The Pittsburgh Steelers have been accustomed to running the football ever since Franco Harris arrived back in 1972. Since that time Pittsburgh has used their power running game to win a league leading six Vince Lombardi Trophies. The emphasis of the ground game is the life blood to their smash mouth mentality. Without it they are mortal and with it they are a force to be reckoned with.
When second-year running back Le'Veon Bell was hit on the right knee by Cincinnati Bengals' safety Reggie Nelson in the final game of the season, the Black-N-Gold faithful from the front office, coaching staff, players and fans were shaken to their football core.
"He's a really tough guy and a great competitor," said quarterback Ben Roethlisberger regarding his ace running back. "We'll keep him in our thoughts and prayers. I'm not sure what the issue is right now or how he's feeling, or how bad it is. I know if there is a chance that he can be out there he's going to be because that's how he is."
Pittsburgh beat Cincinnati, 27-17 earning their first trip to the playoffs in two years and their first home game since their last Super Bowl run in 2010.  It also marked the first time since 2010 (Rashard Mendenhall) that the team had a running back prior to this year rush for over 1,000 yards. Bell rushed for the fifth-highest single-season total in franchise history producing 1,361 yards.
"Structurally it appears to be fine so we'll see if he'll be available to us here in our next game," said Pittsburgh head coach Mike Tomlin after finishing 11-5 and securing the No. 3 seed in the AFC playoffs. "I don't know that as we sit here today."
Tomlin knows the success of the team in the playoffs runs (no pun intended) on the legs of Bell. He left the locker room with his right knee wrapped in ice and walked cautiously on his apparently sore knee before taking a cart to the players' parking lot.
Rushing the football with success, especially in Pittsburgh has been the fundamental step towards winning Super Bowls. Since Harris arrived in 1972 the team has had six different running backs rush for over 1,000 yards. That list includes Franco Harris, Barry Foster, Jerome Bettis, Willie Parker, Rashard Mendenhall and second-year star Bell. Four of those six have played in the Super Bowl (Harris, Bettis, Parker, and Mendenhall).
"Even with Le'Veon (Bell) going down everybody stepped up," said linebacker Arthur Moats. "Anytime you see a guy go down on our team it sucks. For it to be a player of his caliber that definitely hurts. After that its next man up. We saw Dri (Archer) go in. We we're like he's going to make some plays. Then the same with Josh (Harris) we knew Joshua from doing scout team stuff. So we know what he is capable of."
The two players Moats referred to are rookies Dri Archer and Josh Harris. In their collective careers they have rushed the football just 19 times for 56 yards. Not exactly proven commodities. Earlier this year the team waived veteran running back Legarrette Blount after he was upset with his lack of carries leaving the team extremely thin at the position.
"I'm pretty sure he'll be okay," Josh Harris said of Bell after the Steelers win over Cincinnati. "It is good for me just to show our staff I can do it (rush the football) so we can take some of the load off of him (Bell) and try to make sure he is fresh."
If Bell is able to play and how effective he will be with his right knee wounded are the biggest questions moving forward. The versatility by Bell not only rushing the football but catching it has given the offense another wrinkle helping Pittsburgh rank second in the league in total offense. Bell also set the single-season record for the most yards from scrimmage in team history with 2,215 and caught the most passes by a running back in team history (83). Bell's ability to avoid turnovers was another area in which he excelled this season. He joined Hall of Fame running backs Barry Sanders and Marshall Faulk as the only three players in the history of the NFL to gain over 2,000 yards from scrimmage and not fumble in a season.
It is too early to know if the Steelers' 2014 MVP will be able to suit up against the Baltimore Ravens this Saturday night. Being the driving force behind the resurgence of the Pittsburgh Steelers, no knee in professional sports with be under more scrutiny this week than that of Le'Veon Bell's.
Buccaneers admit mistake, boot Aguayo
In the NFL, it's always better to admit a mistake than to compound it. For the Buccaneers, the decision to burn a 2016 second-round pick on kicker Robert Aguayo has proven to be a mistake. The Buccaneers made the definitive admission of their error on Saturday, cutting Aguayo. He exits with $428,000 in fully-guaranteed salary [
more
]
Source: Mike Florio of ProFootballTalk
Powered by WPeMatico
Did Bucs put too much pressure on Aguayo?
After the Buccaneers surprised everyone by taking a kicker with the 59th overall pick in the draft, G.M. Jason Licht explained the move by heaping superlatives on the player. "I was very excited along with my staff and coaches about Roberto for a very long time," Licht told PFT Live in May 2016. "It's not [
more
]
Source: Mike Florio of ProFootballTalk
Powered by WPeMatico
Broncos holding their breath on Derek Wolfe
Only two days after losing Billy Winn for the year with a torn ACL, the Broncos are now sweating out another potentially serious injury along the defensive line. Via multiple reports, Broncos defensive lineman Derek Wolfe was carted off the field during practice on Saturday. It's being described as a right ankle injury by coach [
more
]
Source: Mike Florio of ProFootballTalk
Powered by WPeMatico