6 Things You Should Know About the NFC North
Six things you should know about the black-and-blue division.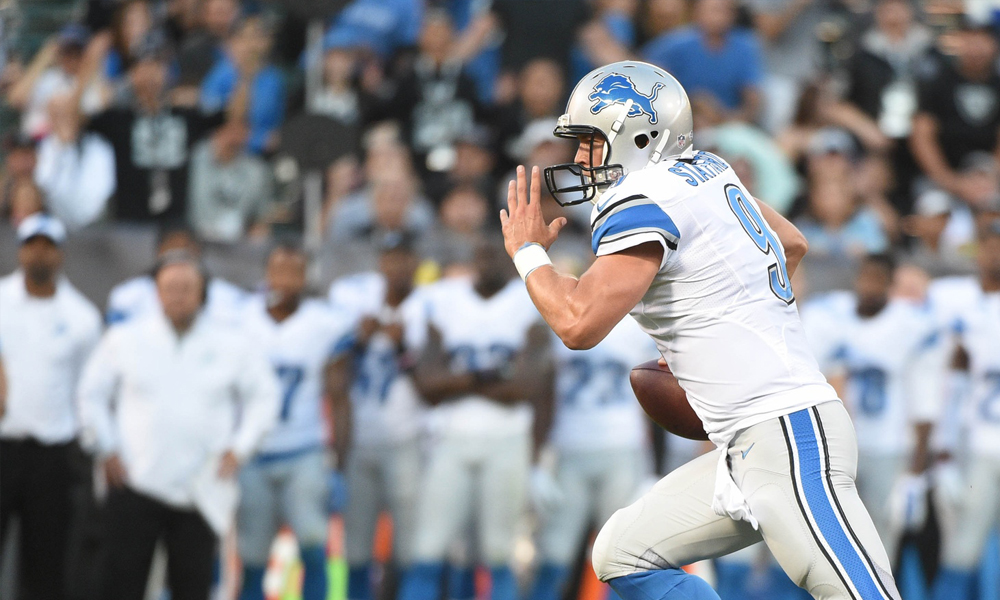 The picture has started to clarify in the NFL's black-and-blue division the past couple of weeks. The Lions and Packers have asserted themselves as the class of the division, the Bears have gone from promising to hopelessly lost, and the Vikings are in a class all their own despite theoretically being in the same boat as Chicago.
Here are the six things we think you should know about the NFC North as the season heads into its second half.
1. The Lions are the team to beat.
Detroit is the only franchise to never have won an NFC North title. The Lions haven't been division champions since winning the NFC Central in 1993, which means Tampa Bay has actually won Detroit's division more recently than the Lions have.
But the Lions have established themselves as the favorites in their first year under coach Jim Caldwell. It all starts on defense, where Detroit has limited opponents to a league-low 15.8 points per game. That stoutness has allowed the Lions to get by without its best offensive weapon in receiver Calvin Johnson for four games. Megatron will return following Detroit's bye this week, and should have a similar affect on the offense as Jimmy Graham's return has had to New Orleans in its last two wins.
Detroit will want to build as much cushion as it can, though. The Lions close the schedule at Chicago and Green Bay, and winning in the clutch hasn't been their forte the past two decades.
2. Jay Cutler is what he is.
… And that's a guy who will throw a lot of touchdowns to go with a lot of backbreaking interceptions. The Bears are 3-0 this year when Cutler doesn't throw a pick. And 0-5 when he does.
Is it really that simple?
No. Chicago has a terrible defense. And as a result, Cutler has to play flawlessly for the Bears to have a chance. Expecting flawless football from Jay Cutler on a consistent basis is like holding a Chicago election without a single case of voter fraud. Don't count on it.
3. Davante Adams could be the difference-maker for Green Bay down the stretch.
Doesn't Aaron Rodgers already have enough weapons?
Fans of NFC North opponents surely think so, but the Packers are 5-3 so obviously he's going to need a little help if Green Bay is going to finish on top of the division. That extra weapon may be developing in rookie Davante Adams, a second-round pick from Fresno State. Adams has 14 catches in Green Bay's last three games, including a team-high seven against New Orleans. If he keeps up the productivity, it may only further help create opportunities downfield for the already dangerous Jordy Nelson and Randall Cobb.
4. The Packers still stink against the run.
The biggest thing killing Green Bay's division title hopes? Opposing teams' ability to keep No. 12 off the field thanks to a porous run defense.
Really, a guy with a peg-leg could probably get 100 yards against these guys. The Packers are allowing 18 more yards per game than any other run defense in the league, as well as an abysmal 4.8 yards per carry. That's not gonna win any playoff games.
5. Adrian Peterson isn't Minnesota's biggest problem right now.
It hurts to no longer have the game's best running back on your side. But it's hard to say Minnesota would be any better if Adrian Peterson was still toting the rock for them. OK, maybe 4-4, but that's all we're conceding.
As much as I want to love Teddy Bridgewater, he's been… not very good. Actually, exceptionally bad would be more accurate. Teddy B is 31st in the league in passing yards, and his QB rating of 71.3 puts him ahead of only Blake Bortles and Geno Smith. Like Bortles, Bridgewater still has a lot of road ahead of him to fix his problems. But the present isn't too pleasant.
6. The Bears haven't won a home game. What?!?
Chicago is 0-3 at Soldier Field, making the Bears the NFL's only multi-win team without a home victory. Season ticket holders would be wise to sell the rest of this year's slate to opposing fans to give the Bears the road-field advantage they so desperately crave.
Buccaneers admit mistake, boot Aguayo
In the NFL, it's always better to admit a mistake than to compound it. For the Buccaneers, the decision to burn a 2016 second-round pick on kicker Robert Aguayo has proven to be a mistake. The Buccaneers made the definitive admission of their error on Saturday, cutting Aguayo. He exits with $428,000 in fully-guaranteed salary [
more
]
Source: Mike Florio of ProFootballTalk
Powered by WPeMatico
Did Bucs put too much pressure on Aguayo?
After the Buccaneers surprised everyone by taking a kicker with the 59th overall pick in the draft, G.M. Jason Licht explained the move by heaping superlatives on the player. "I was very excited along with my staff and coaches about Roberto for a very long time," Licht told PFT Live in May 2016. "It's not [
more
]
Source: Mike Florio of ProFootballTalk
Powered by WPeMatico
Broncos holding their breath on Derek Wolfe
Only two days after losing Billy Winn for the year with a torn ACL, the Broncos are now sweating out another potentially serious injury along the defensive line. Via multiple reports, Broncos defensive lineman Derek Wolfe was carted off the field during practice on Saturday. It's being described as a right ankle injury by coach [
more
]
Source: Mike Florio of ProFootballTalk
Powered by WPeMatico